Past events at MIOT
CME on Optimizing Anticoagulation In Atrial Fibrillation - Translating Evidence Into Clinical Practice - 04 July 2018
04th Jul 2018
MIOT International conducted a CME on "Optimizing Anticoagulation in Atrial Fibrillation – Translating Evidence into Clinical Practice", with an insightful lecture by Dr. John Eikelboom, Associate Professor – Division of Haematology and Thromboembolism, McMaster University, Hamilton, Ontario, Canada.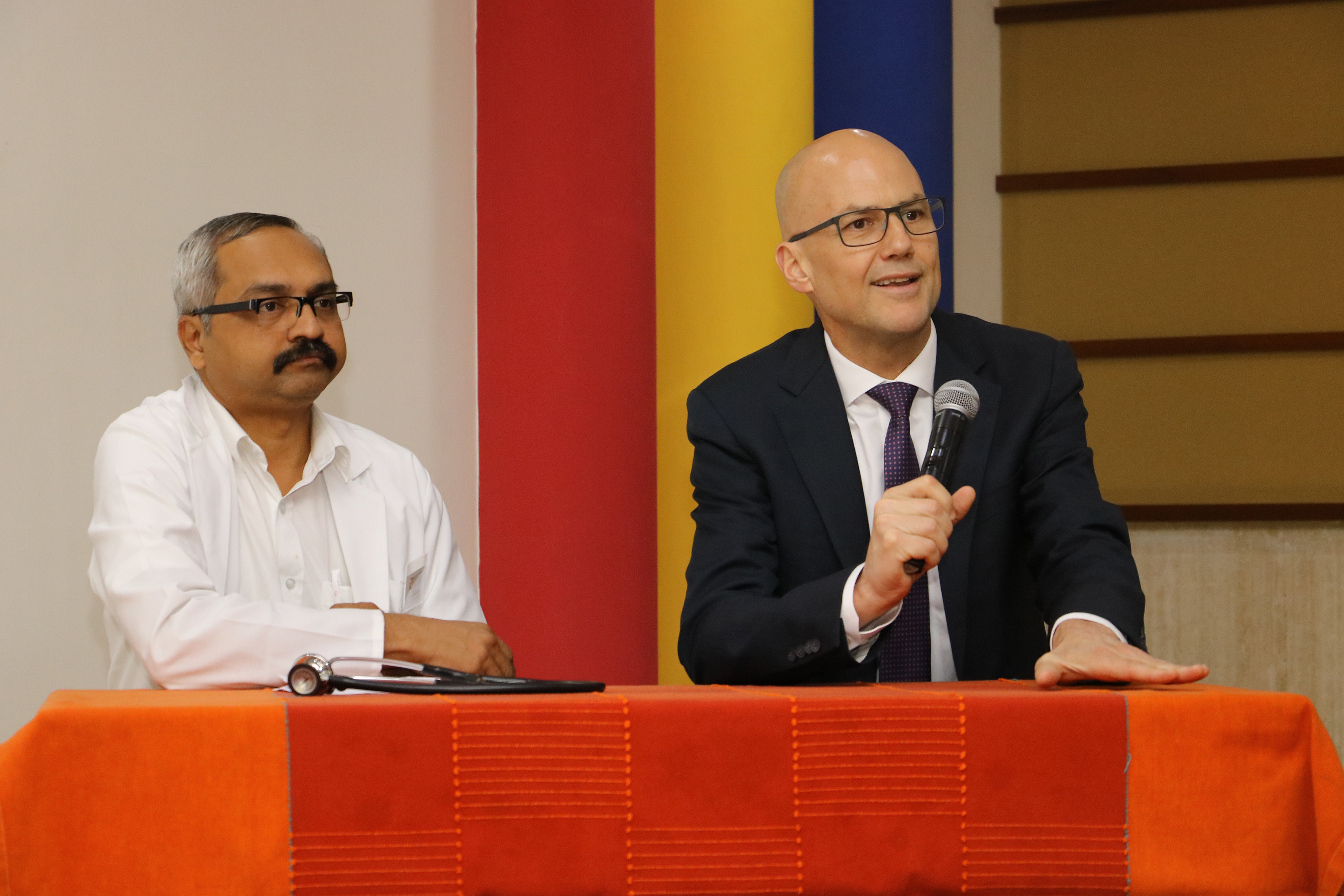 Seen in the photograph from left to right: Dr. K. Jaishankar, Director & Mentor – Cardiology and Electrophysiology MIOT International & Dr. John Eikelboom, Associate Professor – Division of Haematology and Thromboembolism, McMaster University, Hamilton, Ontario, Canada. (Press meet event on 04th July 2018 at MIOT)
More than 100 doctors and delegates attended this scientific program at MIOT International, which was also webcast live across 40 other centres in India.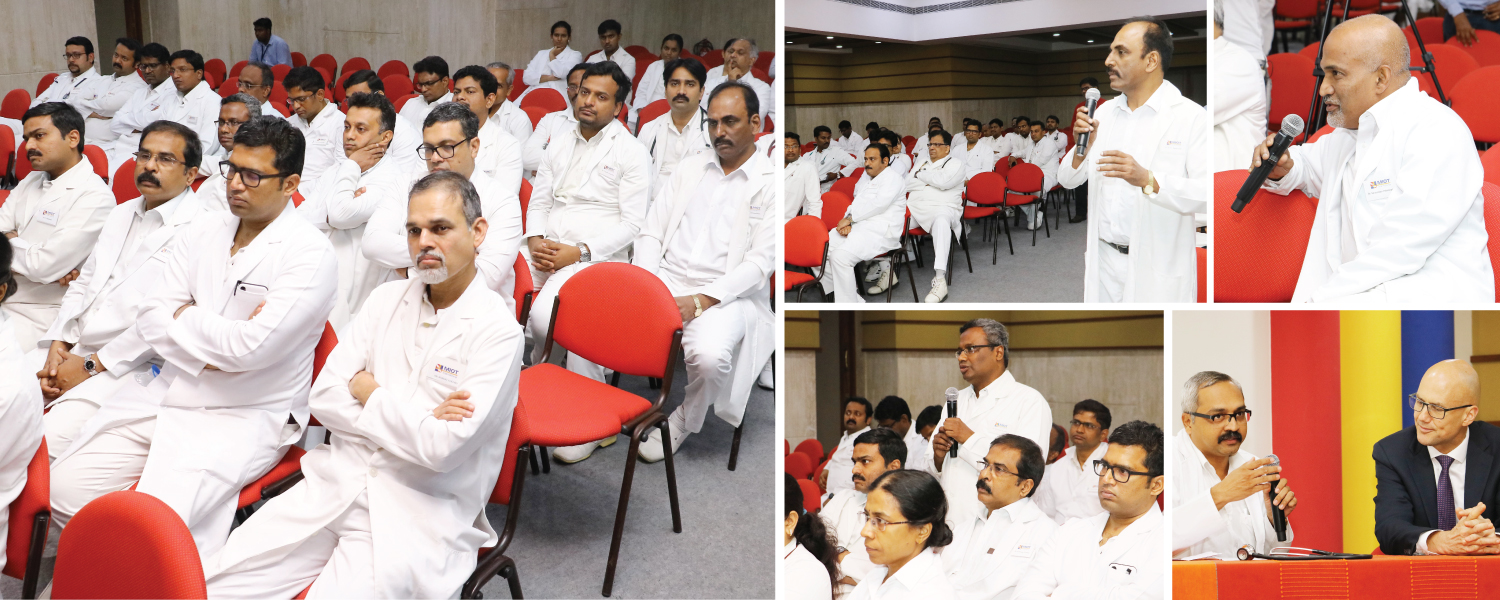 Day and Date: Wednesday, 4th July 2018
Time: 12:45 pm
Venue: Retreat Auditorium, MIOT Hospitals, Chennai
About Dr. John Eikelboom

He holds a Career Award from the Heart and Stroke Foundation, and the Jack Hirsh / PHRI Chair in Thrombosis and Atherosclerosis Research
Serves on the Editorial and Advisory Boards of the Journal of Thrombosis and Haemostasis, and Stroke Journal
Co-authored 500+ articles in peer reviewed journals and ranks among the top 1% of the most cited researchers in Clinical Medicine globally
Landmark trials in anticoagulation: DSMB member for AVERROES, APIXA, RELY, ROCKET-AF, RE-DUAL PCI, ANNEXA-4, REVERSE-AD, COMPASS, ASPIRE and many more.
Itinerary for the Day
01:20 pm
Welcome by Dr. Prithvi Mohandas, Managing Director, MIOT
01:30 pm
Lecture by Dr. John Eikelboom
02:00 pm
Q & A Session
02:45 pm
Vote of Thanks by Dr. Jaishankar, Director & Mentor (Cardiology and Electrophysiology), MIOT

Atrial Fibrillation (AF) – The menace
The human heart has two pairs of chambers, the Atria (upper) and the Ventricles (lower). When the atria beat rapidly and irregularly, and are completely out of sync with the ventricles, it leads to a condition called Atrial Fibrillation (AF).
AF either strikes intermittently or stays on until the right medication or treatment is administered. Though not usually life threatening, AF requires emergency treatment, as the condition is the gateway to far serious complications like heart failure and stroke.
Heart failure or stroke happens when AF causes blood clots to form in the heart. These clots eventually spread to other organs.
That's good enough reason for anyone to never ignore the symptoms of AF. They include –

Palpitations
Fatigue
Dizziness
Chest pain
Shortness of breath
Risks:
1. Who's at risk:

Whether a certain individual is susceptible to AF is subjective. It depends on the following factors that have historically been proven to contribute generously towards the irregular and rapid beating of the heart.

All kinds of heart diseases
Age
Heavy consumption of alcohol
Family history of AF
Obesity
Most chronic conditions
Diabetes, high blood pressure
2. What risk AF poses:

15-20% of all strokes are caused by AF, due to embolism or migration of the clot from the heart. AF related strokes are more severe and affect large areas of the brain.

How to deal with AF:

There are two ways to eliminate AF.

Catheter Ablation (a minimally invasive procedure, which is carried out by an electro physiologist)
Medications, which are most helpful for patients (unfortunately, most patients with AF choose not to subscribe to medications)
There are two factors that contribute towards this.
One is the fear of serious side effects like unstoppable bleeding
The other being the frequent blood tests one has to take to monitor the condition
But with conditions related to the heart, it's always advisable to continue taking medications.
To avert and treat blood clots that can lead to a stroke, medications are generally preferred, along with additional drugs for controlling the heart rate and rhythm, if necessary. Some of the medications prescribed worldwide include
Blood thinners
Rate control drugs
Rhythm control drugs
Patients dealing with existing blood clots or preventing blood clot formations are recommended blood thinners like
Coumadin derivatives – Warfarin
Aspirin
While it's soothing to know that medications help, side effects are not uncommon. For instance, anti-platelets (aspirin) and anticoagulants are roguish enough to increase bleeding tremendously. Some of the other side effects include –

Bleeding gums
Bad headache / stomach ache
Bleeding more with periods
Frequent dizziness
Regular blood blisters
Red / Dark brown / Black urine or stools
Then how do we tackle this?
Novel Oral Anticoagulants (NOAC) to the Rescue
Patients with AF are traditionally known to rely on a Vitamin K Antagonist (VKA), i.e., Coumadin. It's been coming to their rescue for years, whenever they encounter Thromboembolism (it is a scenario where a dislodged blood clot drifts from the heart to obstruct a large blood vessel in the brain, eventually leading to a lethal stroke).
But like the much sought after light at the end of the tunnel, the arrival of Novel Oral Anticoagulants (NOAC) – Apixaban, Rivaroxaban and Dabigatran has transformed the way both physicians and patients perceive the treatment of AF.

These drugs are non-inferior to Coumadin and have a very reliable safety profile, apart from predictable blood levels and convenient dosing
Moreover, they ensure the patients don't require frequent monitoring like the older drugs
NOACs also cause minimal haemorrhage and do not pose a serious challenge in daily clinical practice
These drugs also have antidotes should the need arise for its usage
NOAC: Indications
While NOACs are highly recommended over warfarin, there are three (apixaban, rivaroxaban and dabigatran) of them that have been exclusively designated for the following:

Stroke prevention in non-valvular AF
Prevention of venous thromboembolism (VTE) after knee / hip replacement
Treatment of venous thromboembolism
NOAC – Contraindications
They are not advisable during pregnancy, and in patients with artificial mechanical heart valves and severe kidney failure.
Inference

NOACs supersede traditional drugs like Coumadin and analogues hands down
Their trusted safety profile ensures stroke prevention and more effective blood thinning, apart from minimizing the risk of excess bleeding
In the western world, NOACs have already replaced the older drugs. And they are now a readily available option in our country for stroke prevention, at a cost of around 50-60 per day
Besides, patients can do away with frequent blood tests (e., PT/INR for Coumadin which are not always reliable in dose adjustments) for monitoring, and reduce their trips/visits to the doctor