MIOT Institute of Orthopaedics
Knee Replacement and Revision
Overview
Total knee replacement is offered as part of MIOT's Joint for Life programme which has, in fact, pioneered computer-navigated total knee replacement in the region.
Total knee replacement
Arthritis of the knees is extremely common in India. A knee replacement offers patients a permanent solution to this painful, and often debilitating, condition. At MIOT International Hospital, our surgeons with experience of over 12,000 knee replacements correct every kind of knee deformity, from the mild to the extremely severe, using the most advanced prostheses in the world, including the hi-flex knee which offers maximum flexion. Special anaesthetic techniques, with combined spinal epidural anaesthesia and nerve blocks, enable the department to offer knee replacement to the elderly with multiple, coexisting medical disease conditions.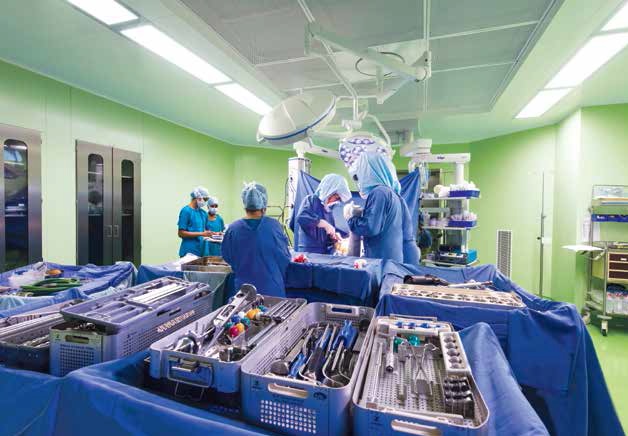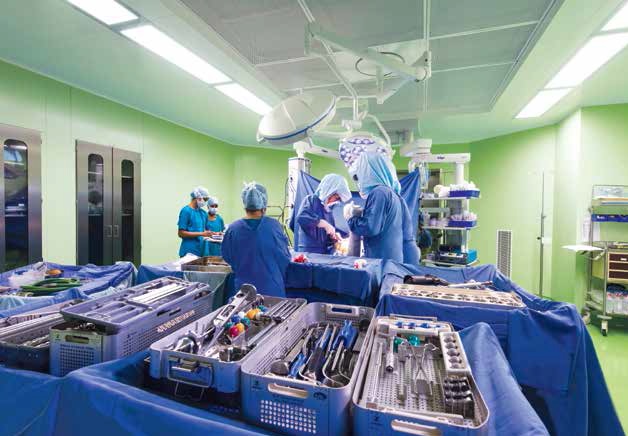 Computer-navigated total knee replacement
MIOT introduced computer-navigated total knee replacement, which helps surgeons balance the ligaments and place the prosthesis with zero error, thereby improving the longevity of the joint. The MIOT Centre for Orthopaedics also offers minimally-invasive total knee replacement, where the procedure is performed through an incision that is just 8 – 10 centimetres wide. Post surgery, patients are put on a Continuous Passive Motion (CPM) machine, they are encouraged to walk the day after surgery, climb staircases in five (5) days and are discharged seven (7) days after the new joint has been implanted. Most patients recover completely in three weeks time.
Revision surgery of the knee
Failure of total knee replacements done elsewhere due to failure of the implant, wear and tear and loosening is rectified at MIOT International by special revision knee prosthesis. Patients with knee replacements, who have accidents and periprosthetic fractures, can also be fitted internally with special implants. The results are excellent and tailor-made to suit each individual patient.
Treatments & Procedures
Computer-navigated total knee replacement
Minimally-invasive total knee replacement
Revision total knee arthroplasty
Meet the Doctors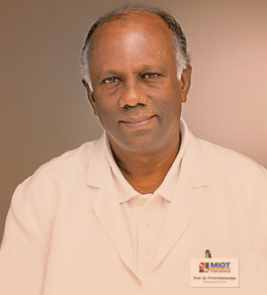 Prof. Dr. P.V.A. Mohandas
Padma Shri Awardee
M.B.B.S., M.S.Orth., M.Ch.Orth (Liverpool, England), D.Orth., D.Sc. (Hon) Chennai, D.Sc. (Hon) W. Bengal
Prof. Dr. P. V. A. Mohandas is the Founder & Mentor of MIOT International, and the Chief Surgeon of the department of Orthopaedic Surgery.
Prof. Dr. Mohandas completed his education at the Madras Medical College, where he later lectured in his chosen speciality. He then went abroad where he qualified further in Orthopaedics and worked in top institutions in Europe. He started MIOT Hospitals after he returned to India, initially as a hospital that focussed only on Orthopaedics and Trauma.
Dr. Mohandas has a long list of achievement in the field to his credit. Most notably, he was the first to perform a total hip replacement in this part of the country, introduced internal fixation of fracture for treatment of compound fractures in India, and pioneered total knee replacement in the country. He is also credited with having introduced modern methods of spine surgery and interventions.
He is one of the founders of the Indo-German Orthopaedic Foundation (IGOF), which promotes the collaboration between orthopaedic and general surgeons of both countries in the speciality.
He is a member of several professional medical bodies, and holds prestigious positions in them. He has also published several papers on various subjects pertaining to his chosen speciality.
Dr. Mohandas has received wide recognition for his contributions to healthcare in India, especially in his chosen speciality. He was awarded the Padmashree for pioneering Joint Replacement in India in 1992. Honorary degrees have also been conferred on him from the MGR Medical University, Chennai and the most recently, the University of Kalyani. He was awarded an honorary membership to the German Association of Joint Replacement Surgeons, at their annual congress in Heidelberg, Germany, and has the distinction of being the first ever surgeon to receive this honour.