LAUNCHING MIOT REHAB CENTRE – 1st of its kind in SOUTH INDIA
MIOT Rehab Centre "1st of its kind in SOUTH INDIA" was virtually inaugurated by Hon'ble Chief Minister of Tamil Nadu Thiru M.K.Stalin from the Secretariat on 25th Feb 2022.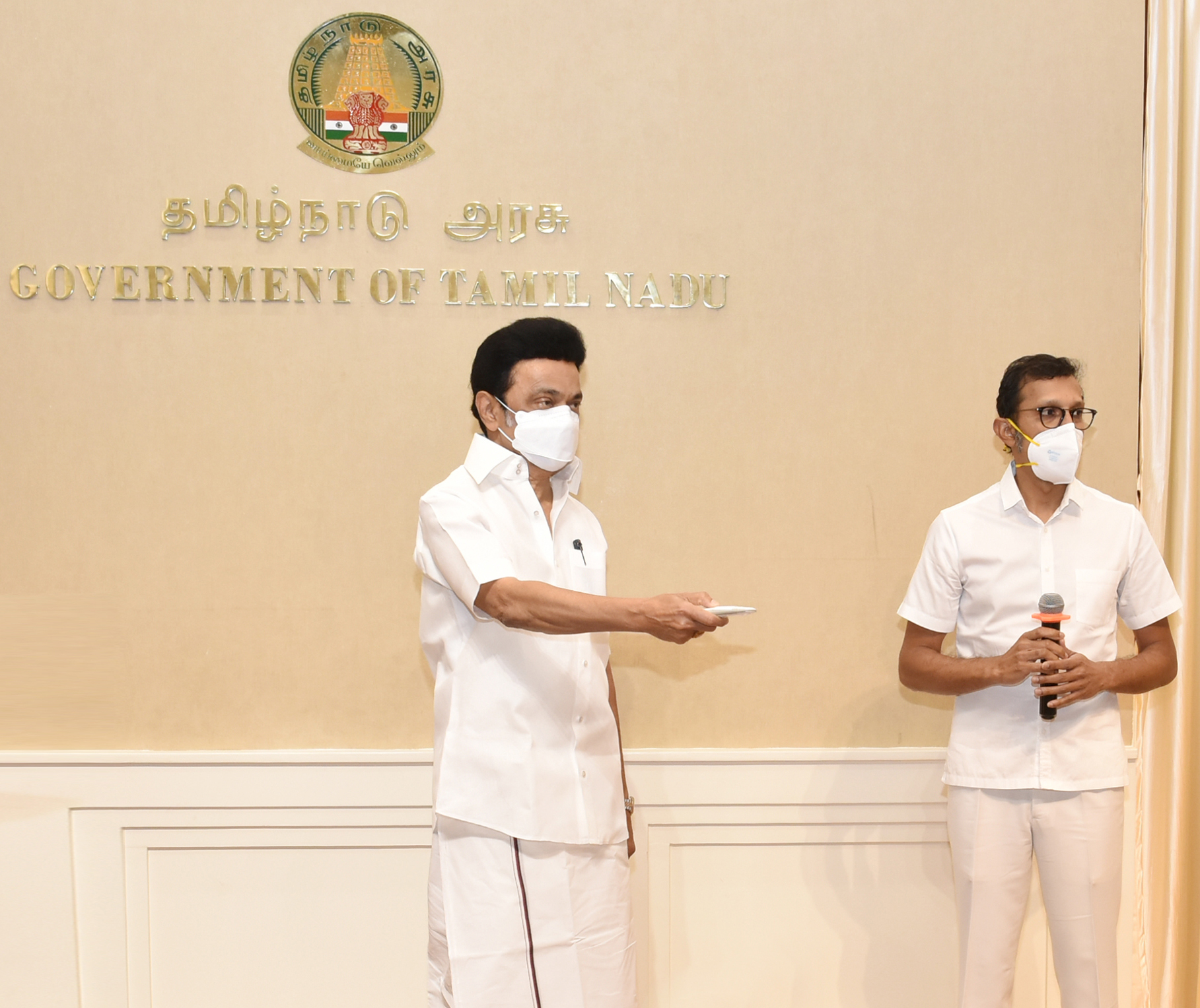 For over 2 decades MIOT International has been a successful and consistent provider of quality and meticulous healthcare in the country. MIOT has been a pioneer in bringing to the country, many firsts in terms of healthcare procedures, treatment, cutting-edge technology and world class infrastructure. Many critical patients were brought back from the clutches of death at MIOT. And this practice was sustained and continued even during the COVID-19 pandemic that had the world locked for over 2 years.
COVID-19's Aftermath
At the onset of the pandemic MIOT took the lead in providing COVID care by opening 500 dedicated COVID beds as early as March 2020. In a very short span of time over 12000 patients were treated and discharged with complete recovery from COVID-19. But when they came back for review, we identified that most of the patients still suffered from a range of breathing problems due to reduced lung function to causing permanent lung scarring called Pulmonary Fibrosis. COVID's impact was not just on the lungs but also neuro problems like stroke, bleeding & clotting disorders and even psychological disorders.
Renewing a lease of life
Observing the increasing effects on the body after a patient has recovered from and its magnitude, it became very evident that cure and care did not end with disease recovery. It had to go beyond hospital treatment and procedure, where a complete analysis of the patient's condition is undertaken and post recovery care must be provided. Only then can it be assured that a patient can return to their normal life and live with ease. This applies not only to COVID 19, but all ailments and diseases.
This inspired MIOT to think of a centre dedicated to the whole body recovery of a patient. Patient and loved one could stay there and treatment provided would be holistic- for the mind as well as the body, to return them to a happy fulfilling life. And thus came to life "MIOT REHAB CENTRE", a complete post hospital recovery and rehabilitation center – 1st of its kind in SOUTH INDIA.


 All the way to recovery
At MIOT Rehab Centre, we have combined all aspects of Rehabilitation be it Respiratory, Neurological (With Neuro modulation), Orthopedics, Cardiac, Vascular and Digestive as well as Mental Well-Being – all under one roof. The vision of the centre is to provide a complete range of physical therapy and rehabilitation services which help patients get back their life (OR) will give patients a second chance to live a near independent life.
Services we offer
Pulmonary Rehabilitation– For Post COVID Sequelae, Chronic Respiratory disorders, etc
Neuro Rehabilitation– For Stroke, Parkinson's Disease, Paralysis, Paraplegia, Quadriplegia, Critical Illness Neuropathy (Post COVID), Multiple Sclerosis, Head Injury, Spine Injury, Parkinson Disease, Vestibular Rehabilitation, etc
Physiotherapy – Sports related injuries, Rehab post fractures and trauma, Arthritis, etc
Occupational Therapy– Helps people of all ages with physical, sensory, or cognitive problems.
Speech & Swallow Therapy– Stroke, Traumatic Brain Injury (TBI), Neuromuscular speech disorders, Head & neck cancer, Neuro degenerative disorders – Motor Neuron diseases, Parkinson's disease, Alzheimer's disease, Ataxia
Neuro modulation– Post DBS for Parkinson's Disease, Post STIMO for Paraplegia, Critical Illness Neuropathy (Post COVID),etc
Counselling – Psychologist counselling for disease related mental well-being especially for Post COVID patients
Cancer Rehabilitation
Acute & Chronic pain management
Cardiac Rehabilitation
Repetitive Strain Injury
Combining technology and Expertise
MIOT Rehab Centre is manned by a dedicated and experienced team comprising of Pulmonary rehabilitation therapists, Neuro rehabilitation therapists, Physiotherapists, Occupational therapists, Speech and swallow therapists and Psychologists under the guidance of treating doctors. The 666 concept of rehabilitation consists of physician supervised multidisciplinary rehab care for six hours of active therapy including physical and mental practices for 6 hours a day, 6 days a week and 6 weeks. The centre functions across an exclusive 3 floor RETREAT BLOCK with dedicated inpatient beds.
Who will benefit
Long term bedridden patients (Paralysis, ICU care, etc)
Immobility due to Neuro, spine or accident related injuries
Patients affected with Post COVID sequelae or other Chronic respiratory disorders
Those suffering from Speech and swallowing defects
State-of-the-art facility
The rehabilitation is supported by state-of-the-art equipment and technology that aid in Core strengthening, Balance and co-ordination, Mobility training, Upper & lower limb strengthening and neuro modulation. Some key facilities at the center include:
1. PULMONARY REHABILITATION
2. TILT TABLE
3. TIGO
4. BALO
5. PLUTO
6. IGAIT
7. NEURO MODULATION
MIOT Advantage
1 st of its kind centre to provide complete post hospital recovery and rehabilitation services
Dedicated and experienced team of rehabilitation therapists with the treating physician's guidance
Multiple faucets of rehab – all under one roof
Can avail the services on OP or IP basis
Exclusive 3 floor BLOCK with dedicated inpatient beds
Latest and state-of-the art technology assisted rehab that aids in faster recovery
Stringent COVID protocols for patient safety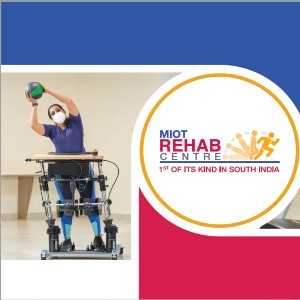 Enquire Now