CHIME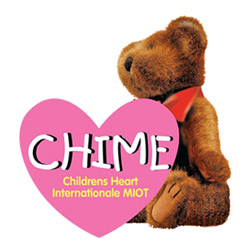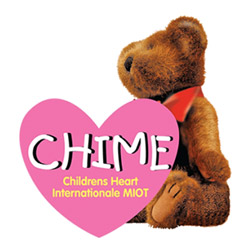 Childrens Heart Internationale MIOT or CHIME is a charitable trust established by MIOT Hospitals to provide funds for free / subsidized heart surgeries for needy children suffering from congenital and rheumatic heart diseases Started in 2007 with the ambitious goal of reaching out and treating children who need heart surgery, but lack the economic means to seek it, CHIME has, in the last sixteen years, worked surely and steadily towards our vision and have been able to touch the lives of over 800 children and their families.
Reaching out to little hearts
Every year, over 250,000 children are born with heart disease in India. 40% of these children require surgery within the first year of their lives. However, only about 10,000 of them receive life-saving treatment every year. Through CHIME, MIOT International reaches out and offers financial support and medical care to children with heart disease, who come from economically backward families.
CHIME has also organised a number of camps within the state and at MIOT International. These have helped us identify and help children with acute heart conditions, from families without the financial resources for treatment.
MIOT provide all the medical treatment with the support of our patrons and well-wishers who, through their generous contributions and goodwill, have been the strength of the programme. MIOT International acknowledges your largesse with gratitude.