Laboratory Services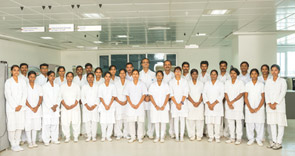 The Department of Laboratory Services at MIOT International offers round-the-clock services in all branches of laboratory medicine. Ranked eighth internationally, the sophisticated 6,000 sq. ft facility has state-of-the-art diagnostic technology and a full-time, dedicated team of pathologists and microbiologists.
Integrated, Sophisticated, Centralised laboratory services
MIOT International laboratory services include clinical pathology, clinical chemistry, endocrinology and serology, haematology, immuno-haematology and coagulation, microbiology, anatomic pathology and cytology, transplantation Immunology, flow cytometry, and molecular diagnostics.
The laboratory adopts International Quality management systems, is staffed with excellent technicians who are mandatorily kept updated with the latest protocols and methodologies, and work closely with laboratory physicians.
Quality assurance:
Accredited to ISO 15189:2015(NABL), NABH MEDLAB program
Sole Indian Member of Clinical Laboratory Standards Institute (CLSI), USA
Participated in COLLEGE OF AMERICAN PATHOLOGISTS EQAS program scoring globally acceptable values for the past 3 years.
Operations:
Total Laboratory automation – 1st in India to adopt
20% quicker turnaround time for basic tests when compared to other hospitals
Total bar-coded system from tubes to result enhancing patient safety
Competent medical professionals 24X7x365
Clinical Pathology

Haematology

Immunology and Molecular Diagnostics

Centralised Laboratory Services
/
The centralised laboratory, right on campus, enables discussion between pathologists, lab-medicine experts, doctors and surgeons. Patients benefit from an accurate and quicker diagnosis which, in turn, means quicker treatment and a shorter hospital stay.
Clinical chemistry, endocrinology and serology
The clinical chemistry, endocrinology and serology division at MIOT International is equipped with three fully-automated analysers with a throughput of more than 2600 tests per hour. Common metabolic panel, electrolytes and esoteric tests are run on these machines.
The division plays an important role in the diagnosis and management of diabetes, obesity and osteoporosis as it has the facilities to run fully-automated chemistry and immunoassay analysers. Biomarkers for thyroid disorders, subfertility and osteoporosis enable physicians and surgeons to manage them. Tumour, hepatitis and certain critical-care markers help to screen, diagnose and prognosticate disease, as well as reduce utility antibiotics. The division also plays a crucial role in the diagnosis of various autoimmune diseases, myeloma and renal diseases, as well as the detection of HIV, HBV and HCV.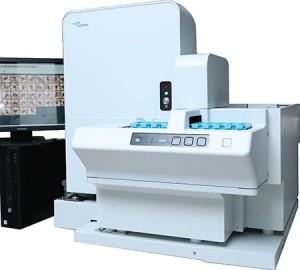 SYSMEX DI-60

Complete Hematology Integration in a Single Platform.
Reduce Review Time for Differentials.
Standardize Your Lab's Differential Results.
Enhance Technologists' Morphology Skills.
Clinical Pathology
The clinical pathology section has a fully-automated urine chemistry analysis along with urine flow cytometry. It enables the early detection of kidney disease and prevention of kidney failure, as well as the identification of abnormalities in urine sediment which helps in early diagnosis of urinary tract infection.
Transplantation immunology and molecular diagnostics
The laboratory's advanced transplantation immunology and molecular diagnostics division supports the organ transplant team with the following:
HLA typing and detection, donor-specific antibodies, panel-reactive antibody identification, flow crossmatch and tissue crossmatch, using advanced multiplex testing systems
Viral loads with its automated RT-PCR machine
Renal and skin biopsies and auto-immune disorder detection with immunofluorescence testing
Flow cytometry studies for immunophenotyping of blood cancer
Therapeutic drug monitoring using the automated immunoassay analyser
Evaluation of genetic markers for cancers using FISH and RTPCR
Anatomic pathology and cytology
The anatomic pathology and cytology division uses a cryostat for its frozen section, which facilitates intra-operative consultations between surgeon and pathologist. Its cytospin facilities aid in cytology and FNAC consultations and immunohistochemistry services are invaluable for challenging cases and in onco-pathology consultations.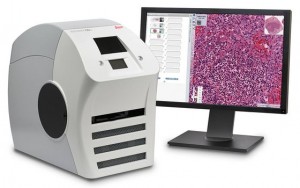 APERIO CS2

Image analysis.
Cancer Research.
Tissue Microarrays.
Cell Biology.
Local & global sharing.
Haematology
The haematology division is equipped with an automated hematology analyser with reticulocyte and body-fluid analysis. These systems enable the detection of haematological disorders like anemia and leukemia. The division is also equipped with:
Capillary electrophoresis for detection of abnormal haemoglobins like thalassemia, haemoglobin S, haemoglobin C, haemoglobin D, haemoglobin E, etc.
Automated Coauglometer for individual factor assay to diagnose and monitor diseases like haemophilia. Some of the tests performed are protein C, protein S, antithrombin III and lupus anticoagulant.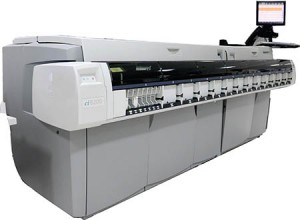 ARCHITECT CI8200
Centre of Excellence in Clinical Chemistry and Hematology

A wide variety of clinical chemistry and immunoassays (250 Assay, 140 tests per hour).
Novel Biomarkers for patients' safety.
Achieving 6 Sigma levels for most of the assays.
Flag bearer of quality.
Diagnostic Suite with artificial intelligence.
Microbiology
The microbiology division at MIOT International is involved in bacteriology, mycology, mycobacteriology and hospital surveillance. The automated blood and body-fluid culture systems and antibiotic sensitivity testing system helps in the early detection of infection. The mycobacteriology section is fully equipped with BS-III labs and renders molecular testing for detection, antibiotic sensitivity and resistance testing for mycobacterium.

College of American Pathologists (CAP's) Laboratory Accreditation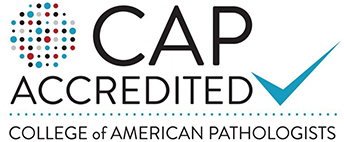 MIOT's Dept. of Lab Medicine becomes the First in Tamilnadu, to be Accredited by The College of American Pathologists(CAP) which includes its wide scope from Clinical pathology to Pathology to most complex Molecular diagnostics inclusive of entire gamut of HLA Testing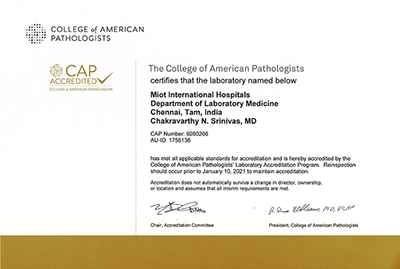 The Accreditation Committee of The College of American Pathologists (CAP) has awarded accreditation to MIOT International Hospitals' Department of Laboratory Medicine based on the results of a recent on-site inspection as part of the CAP's Accreditation Programs.
MIOT has achieved this because of the highest standard of care we provide to all our patients through our laboratory services, the quality control of procedures, the laboratory's well-qualified team, equipment, facilities, safety programs and records, and overall management.
Our laboratory is now part of 8000+ CAP-accredited facilities worldwide.
The College of American Pathologists
As the world's largest organization of board-certified pathologists and leading provider of laboratory accreditation and proficiency testing programs, The College of American Pathologists (CAP) serves patients, pathologists, and the public by fostering and advocating excellence in the practice of pathology and laboratory medicine worldwide.
The College of American Pathologists (CAP) is the world's largest organization of board-certified pathologists, with a mission to ensure that there is excellence in how pathology and laboratory medicine is practiced around the world. The CAP has spent over 70 years promoting excellence in laboratories and advancing the practice of pathology and laboratory science. The CAP advocates laboratory improvement programs such as Proficiency Testing (PT) and accreditation programs which foster best global practices in pathology and laboratory medicine.
CAP Laboratory Accreditation Program (LAP) is an internationally recognized program and a leader in the industry. According to the CAP, they accredit "the entire spectrum of laboratory test disciplines using the most scientifically rigorous customized checklist requirements." These checklists are developed from rigorous accreditation standards that are more stringent than or equal to the requirements of the Clinical Laboratory Improvement Program (CLIA). They are designed to not only cover regulatory compliance requirements but to also assist laboratories in achieving the highest standards of excellence for positively impacting patient care.
As of 2018, the CAP has 21 checklists – an All Common Checklist that contains a core set of requirements applicable to all areas that perform laboratory tests and procedures, a Director Assessment Checklist, a Laboratory General Checklist, and discipline-specific checklists. These checklists contain approximately 3000 requirements against which laboratories are assessed on their overall management and operation. The checklists are reviewed yearly to ensure that they are up-to-date with advancements in medicine, technology and laboratory management while maintaining the rigor of the program and the high standards of patient care for which they are known.
CAP accreditation is also recognized by The Joint Commission as "Gold Standard" in patient safety. The CAP currently accredits more than 8000 laboratories of which approximately 437 are international.
MIOT Laboratory is one among them. The South India's quaternary Hospital "Complex testing Laboratory" to get the status with wide menu including Molecular diagnostics, Range of Histopathology services including Immunohistochemistry and Transplantation Immunology.
Advantages of CAP accreditation
The CAP is an internationally recognized organization known for its advancement of quality in laboratory medicine.
Accreditation by the CAP is therefore seen as an attestation to quality laboratory practices and comes with many advantages:

Helps laboratories to meet and exceed global requirements of Good Clinical laboratory Practices (GCLP).
Use of the most comprehensive scientifically endorsed laboratory standards ensures laboratories are compliant with regulations.
Detailed, customized checklists provide laboratories with a clear path as to what to do and how to do it
Comprehensive evaluations ensure that test results are always accurate and thus patients diagnoses are also accurate
Inspections are conducted by expert teams of multi-disciplinary laboratory professionals
Laboratories are driven to provide the highest standard of services
Numerous valuable educational and training resources are provided by the CAP
Accreditation by the CAP is a symbol of quality that increases the value of the laboratory to organizations, patients, and customers. CAP-accredited laboratories around the world can demonstrate excellence in patient care and confidence in laboratory practices.
CAP accreditation checklists are detailed and stringent, indicating exactly what is required from laboratories to be compliant with the accreditation program. As such, the laboratory is required to have numerous policies and procedures such as those to ensure quality laboratory testing and patient safety.
Policies & Procedures are needed to address areas such as:

Validation of test systems
Analytic quality control
Quality management of pre and post-analytic processes
Proficiency testing
Communication to various stakeholders – clinicians, patients, administration
The Accreditation of CAP brings in culture of Quality and Patient safety binding to the vision of MIOT –"Putting Patients First"
Sigma metric verification of performance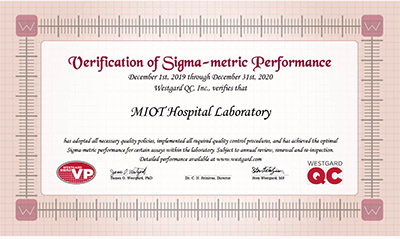 MIOT Hospitals becomes the 1st laboratory in India to achieve the Sigma Verification of Performance. MIOT has proved being a living example of a department showing great courage to "think out of the box " by implementing Sigma across all phases of the laboratory testing process from the time of lab test billing to reporting of patient results. 
The word Sigma is a "measure of reduction errors in a work process". Sigma is a numerical grading system starting from 1 to 6 and above. "Higher the grade of Sigma, lesser the number of errors, which ultimately signifies better quality". The Sigma concept was introduced into the world of industry in 1980 to improve quality and it became a dictum in industrial sector that when the quality of a product or a process reaches a Sigma score of "six" (SIX SIGMA), the product or process has reached "world-class quality "!! .
The idea behind implementation of Sigma in the field of Clinical Laboratory Medicine was conceptualised in early 2000 by Sir. James Westgard, considered as the 'Father of Quality of Modern Laboratory Medicine'. The key objectives of this ideology was to bring in an order to objectively monitor, measure and reduce the errors in results reported by a Clinical Laboratory, since more than 70% of clinical decisions are made based on the Laboratory results.
Westgard Corporation initiated a sigma certification program in the USA for medical laboratories a decade back. Many medical testing laboratories from around the world have enrolled for this program and achieved Six Sigma certification from Westgard, except laboratories from India. The Department of Laboratory Medicine, MIOT Hospitals is the first in India to drive the noble initiative in implementing the concept of sigma in hospital practice and having succeeded in achieving Six Sigma certification from Westgard Corporation.
Implementation of sigma as a quality tool across all phases of testing in a clinical laboratory significantly helps to improve patients ' safety, by reducing the errors and improving the quality of results reported to patients.
The widespread fear in the minds of many clinical laboratories moving in the path of national accreditation bodies like National Accreditation Board for Medical Testing and Calibration Laboratories (NABL) and international accreditation bodies like the College of American Pathologists (CAP) regarding the use of sigma in quality management shall be eradicated from their minds, since none of the accrediting bodies are against the use of quality tools like sigma or lean as a part of quality management system.
The Department of Laboratory Medicine, MIOT Hospitals has ultimately succeeded in becoming the first Indian laboratory to receive Westgard Six Sigma certification and implementing Sigma as part of laboratory practice across all phases of testing process for patient safety.
For more information on certification : https://www.westgard.com/sigma-vp-miot-india.htm
NABH Accreditation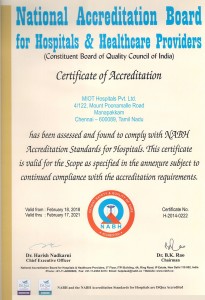 MIOT International is accredited by the National Accreditation Board for Hospitals & Healthcare Providers (NABH), established by the Quality Council of India. The board has established exhaustive healthcare standards for medical institutions in the country with stringent objective elements, all of which MIOT Hospitals is compliant with.
 Valid until: Feb 17, 2021
NABH Medical Lab Certification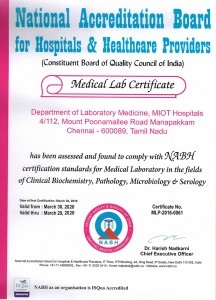 Department of laboratory Medicine, MIOT hospitals has been assessed and found to comply with NABH certification standards for medical laboratory in the fields of Clinical Biochemistry, Pathology, Microbiology & Serology.
 Valid until: March 29th 2022
NABL Certificate of Accreditation
National Accreditation Board for Testing and Calibration Laboratories Certificate of Accreditation – Department of laboratory Medicine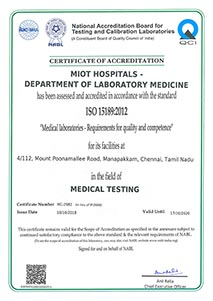 National Accreditation Board for Testing and Calibration Laboratories (NABL) is an autonomous body under the aegis of Department of Science & Technology, Government of India, and is registered under the Societies Act 1860. NABL provides laboratory accreditation services to laboratories that are performing tests / calibrations in accordance with ISO/IEC 17025:2005 and ISO 15189:2012 for medical laboratories.
NABL accreditation system complies with ISO/IEC 17011:2004 and Asia Pacific Laboratory Accreditation Cooperation (APLAC) MR001. Based on evaluation of NABL operations by APLAC in 2000, NABL has been granted signatory member status by APLAC and International Laboratory Accreditation Cooperation (ILAC) under their Mutual Recognition Arrangements (MRAs).
Certificate No: M-0666 (MIOT Hospitals dept. of lab medicine)
Valid until: 17th October 2020
Scope of testing
Clinical Biochemistry
Hematology & Immunohematology
Clinical pathology
Microbiology & Serology
Histopathology & Cytopathology
MIOT International is Recognized as a Member of CLSI
MIOT International is Recognized as a Member of CLSI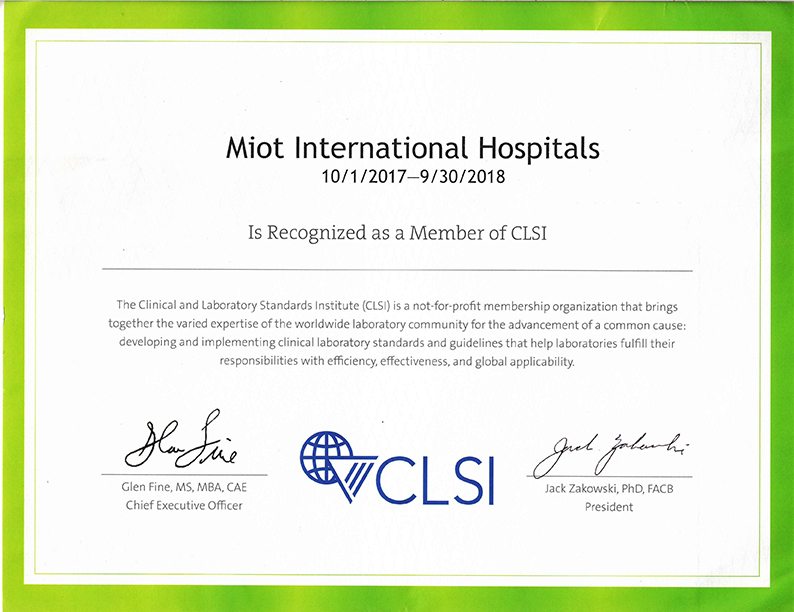 The clinical and laboratory Standards Institute (CLSI) is a not-for-profit membership organization that brings together the varied expertise of the worldwide laboratory community for the advancement of a common cause: developing and implementing clinical laboratory standards and guidelines that help laboratories fulfill their responsibilities with efficiency, effectiveness and global applicability.