Overview
The Department of Interventional Radiology uses minimally-invasive, image-guided procedures to diagnose and treat diseases of nearly every organ system. MIOT's interventional radiologists perform Pinhole Surgery to treat a number of conditions including stroke, brain aneurysm, aortic aneurysms, fibroid embolisation, tumour intervention, and more.
A diagnostic and therapeutic speciality
Most people have heard of keyhole surgery. However, interventional radiology is both a diagnostic and therapeutic speciality, where procedures are performed through a puncture the size of a pinhole, using the body's natural highway system – the network of veins and arteries. There is no cutting, bleeding or need for anaesthesia.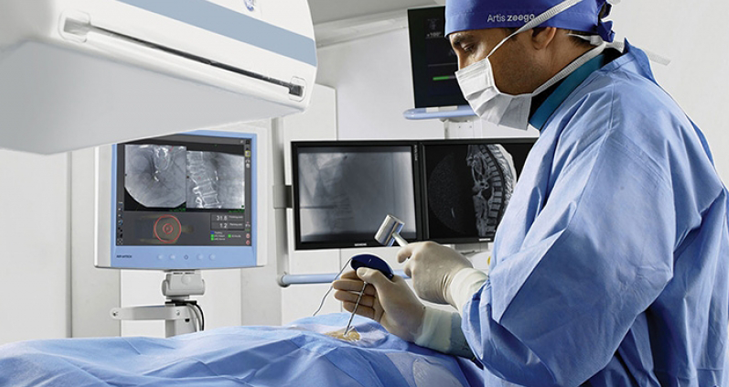 Our interventional radiologists work alongside cardiovascular surgeons, oncologists, neurosurgeons, hepatobiliary surgeons, gastroenterologists and other specialists. Their goal is to diagnose and treat patients using the least invasive techniques in order to minimise risk to the patient and improve health outcomes. It is routinely used in procedures that involve the heart, kidneys and eye, and in the treatment of tumours, stroke and more.
No-incision procedures
Interventional radiology procedures are usually performed using needles and catheters that are as thin as a strand of hair. The interventional radiologist uses advanced imaging modalities to guide them to the diseased organ or area. The benefits to patient are many: less risk, physical trauma, and pain, fewer chances of infection, shorter hospital stay and a quicker recovery when compared to open surgery. Many conditions that once required open surgery are now treated by our interventional radiologists.
The Department has the latest state-of-the-art flat panel digital subtraction angiography unit with peripheral table and 3D rotational angiography. We also have a radio-frequency ablation unit (RITA) and a laser-ablation unit.
Treatments & Procedures
Neuro-endovascular stenting for acute ischemic strokes
Embolisation of brain aneurysm / AVM / fistulae
Angioplasty and stenting for stroke prevention
Endovascular stent-grafting for repair of aortic aneurysms in the chest and abdomen
Peripheral Vascular Interventions
– Angioplasty and stenting for blocks in the aorta, lower and upper limb vessels
– Laser-ablation of varicose veins
– Embolisation of vascular malformations
– Fibroid embolisation
Intervention for tumours (oncologic)
– Ultrasound and CT-guided biopsies (with fluoroscopy and robotics)
– Radiofrequency tumor-ablation for cancers of the liver, Lungs and bones
– Palliative therapy for inoperable liver tumours
Yttrium-90 therapy for liver cancer
Meet the Doctors
Dr. K. Murali
An interventional radiologist with almost twenty years of experience in the field, Dr. K. Murali trained in interventional radiology at the prestigious Sree Chitra Tirunal Institute of Medical Sciences and Technology after completing his basic training in radiology.
Dr. Murali performs endovascular interventions in most of the blood vessels, the most notable being coil-embolisation of brain aneurysms, onyx-embolisation of brain arteriovenous malformations, and revascularisation.
In addition to complex neurovascular interventions, he is also an expert in the endovascular treatment of thoracic and abdominal aortic aneurysms, and routinely performs complex and hybrid procedures in both the thoracic and abdominal aortae.
The other peripheral vascular interventions he performs include carotid and vertebral stentings, stenting of iliac and lower lumbar vessels, stenting of venous occlusions, embolisation of peripheral vascular malformations and acute revascularization of both arterial and venous occlusions.He also deals with acute emergencies such as massive gastrointestinal bleeds, lung bleeds and postoperative bleeds, and performs procedures like chemo-embolisation to cause liver tumours to shrink.
Prior to joining MIOT International, Dr. Murali was a Professor of Radiology at Sri Ramachandra Medical College & Research Institute. He has written extensively on his subject and has eighteen research publications to his credit. He has also made numerous scientific presentations at various national and international scientific meetings.