Overview
The Department of Interventional Radiology uses minimally-invasive, image-guided procedures to diagnose and treat diseases of nearly every organ system. MIOT's interventional radiologists perform Pinhole Surgery to treat a number of conditions including stroke, brain aneurysm, aortic aneurysms, uterine fibroid, tumour intervention, and more.
A diagnostic and therapeutic speciality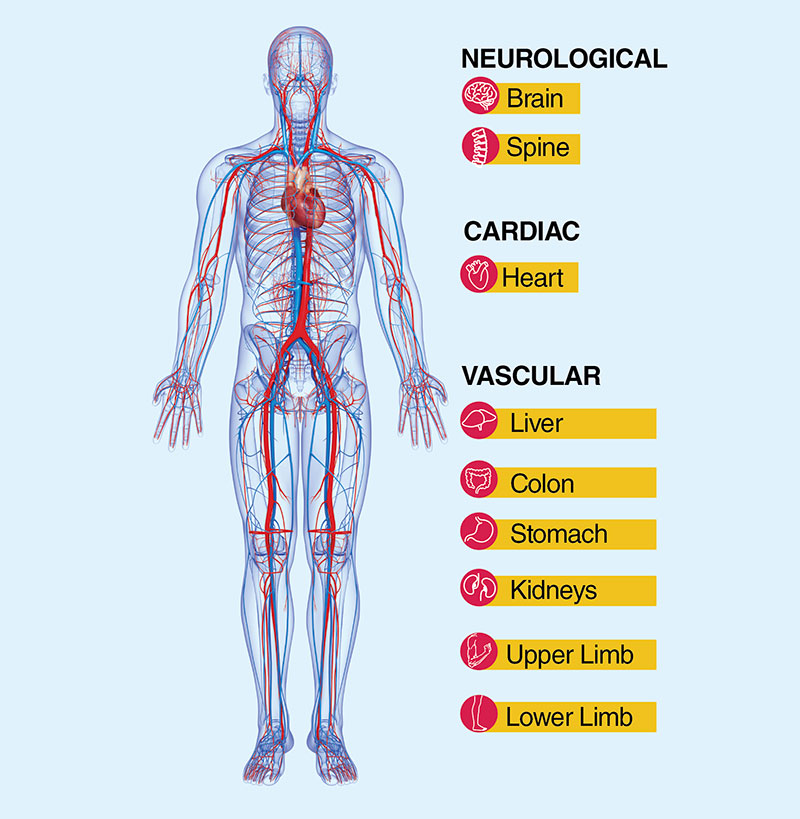 Most people have heard of keyhole surgery. However, interventional radiology is both a diagnostic and therapeutic speciality, where procedures are performed through a puncture the size of a pinhole, using the body's natural highway system – the network of veins and arteries. There is no cutting, bleeding or need for anaesthesia.
Our interventional radiologists work alongside cardiovascular surgeons, oncologists, neurosurgeons, hepatobiliary surgeons, gastroenterologists and other specialists. Their goal is to diagnose and treat patients using the least invasive techniques in order to minimise risk to the patient and improve health outcomes. It is routinely used in procedures that involve liver, brain, kidneys and in the treatment of tumours, stroke and more.
No-incision procedures
Interventional radiology procedures are usually performed using needles and catheters that are as thin as a strand of hair. The interventional radiologist uses advanced imaging modalities to guide them to the diseased organ or area. The benefits to patient are many: less risk, physical trauma, and pain, fewer chances of infection, shorter hospital stay and a quicker recovery when compared to open surgery. Many conditions that once required open surgery are now treated by our interventional radiologists.
The Department has the latest state-of-the-art Biplane flat panel digital subtraction angiography unit with cone beam CT technology. We also have a radio-frequency ablation unit and a laser-ablation unit.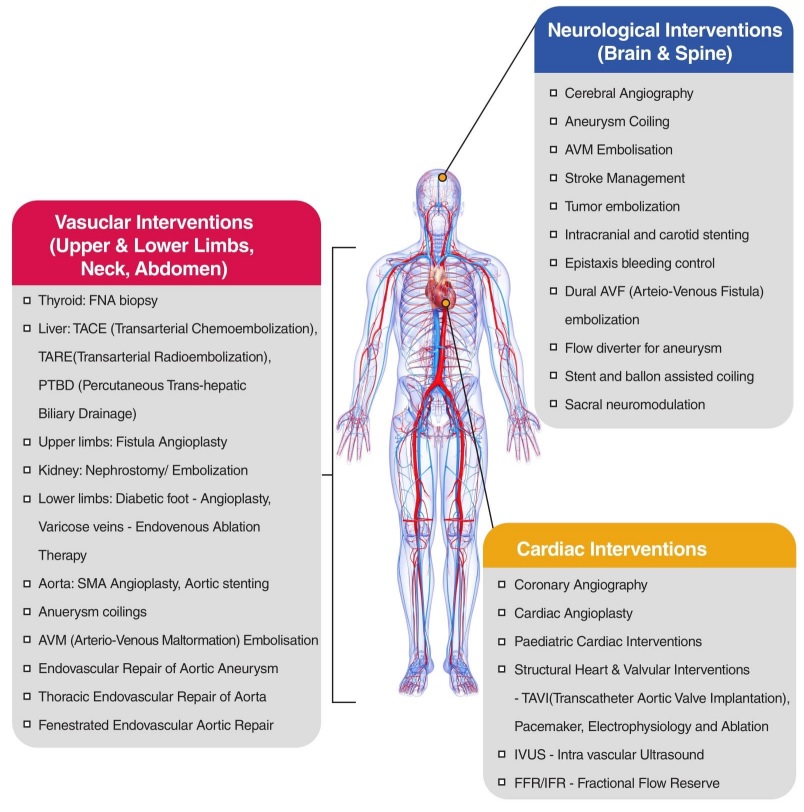 Treatments & Procedures
Vascular interventions:
Lower limb and angioplasty/stenting (including subintimal and infrapopliteal angioplasty, SAFARI technique),
Acute lower limb thrombolysis / mechanical thrombectomy
Lower limb atherectomy procedures
Upper limb angioplasty and stenting
Aortic stent grafts for thoracic / abdominal aneurysmal disease and dissection
Deep Vein Thrombosis- thrombolysis and venous stenting
Haemodialysis access / central venous angioplasty, stenting, thrombolysis
IVC filter insertion and removal
Endovenous laser ablation for varicose veins
Embolisation for vascular malformations.
Oncological interventions:
Transarterial Chemo-embolisation (cTACE, bTACE, debTACE)
Transarterial Radio-embolisation- TARE (Y90 spheres – Sirtex , Theraspheres)
Portal vein embolisation
Thermal ablation (radiofrequency/ microwave) of liver, kidney and lung tumours
Cryoablation of renal and bone tumours
Vertebroplasty / cementoplasty for augmentation of musculoskeletal tumours
Palliative / pre-operative tumour embolisation
Liver Interventions:
Biliary drainage, biliary stenting, biliary brush cytology
Biliary stone removal
Percutaneous cholecystostomy
Transjugular portosystemic stent shunt (TIPSS)
Hepatic Venous portal gradient measurement
Liver and renal cancer radiofrequency (RF) /micro wave ablation
Plug assisted retrograde Transvenous obliteration for gastric varices.
Emergency interventions:
Embolization for bleeding due to trauma, tumour,
Embolization for bleeding from gastrointestinal tract,
Embolization for haemoptysis
Genitourinary interventions:
Nephrostomies and ureteric stenting
Ureteric embolization for bleeding
Prostate artery embolization for benign prostatic hyperplasia
Testicular vein embolization for varicocoeles
Fallopian tube recanalization for infertility
Uterine artery embolization for fibroids, adenomyosis
Ovarian vein embolisation for pelvic congestion syndrome
Gastrointestinal interventions:
Radiological guided percutaneous gastrostomy / gastrojejunostomy insertion
NJ tube insertion
PARTO
GI stenting
Venous access:
PICC
Tunneled and non tunneled central catheters for IV access or dialysis.
Venous Ports
Biopsies and drainages:
Image (CT/US/ PETCT) guided biopsies (including transjugular liver biopsy and bone lesions)
Image guided fine needle aspiration of thyroid nodules, nodes.
Image guided drainage of pleural effusion, ascites including long term Pleurex drains
Intra-abdominal collections, liver / kidney/ psoas collections.
Meet the Doctors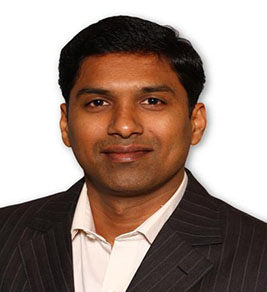 Dr. Karthikeyan Damodharan
Director - Vascular & Interventional Radiology
Dr Karthikeyan Damodharan is a well experienced vascular and interventional radiologist with over 15 years of specialist experience. Dr. Karthikeyan practices at MIOT International. Dr. Karthikeyan completed his MBBS from Madras Medical College in 2001. He did his post graduate training in the United Kingdom. He completed his MRCP (UK) in 2003 from the Royal College of Physicians, Edinburgh, FRCR (UK) in 2007 from the Royal College of Radiologists, London, FAMS in 2017 and European board certification in Interventional Radiology (EBIR) in 2019. He has done fellowship in vascular intervention at Leicester and further honed his skills by doing 1 year fellowship in advanced interventions at the prestigious Cleveland Clinic, USA.
Dr Karthikeyan Damodharan was invited to become a Fellow of the Interventional Radiology Society of Europe (FCIRSE) in 2019 based on his qualifications, experience and academic contribution in the field of Interventional radiology. He is a member of Indian Society of the vascular & interventional radiology (ISVIR), British Society of interventional radiology, Singapore Radiology society, Interventional radiology society of Singapore. He has published several articles in peer reviewed international journals and has been invited to speak at international radiology conferences.
He has worked as a consultant in the UK, senior consultant at Singapore before coming to India. He was the clinical lead for the interventional radiology service at Sengkang General Hospital in Singapore.
Some of the procedures performed include:
lower limb arterial and venous angioplasty/stenting/ thrombolysis, dialysis fistula angioplasty/ stenting/ thrombolysis, Laser ablation for varicose veins, IVC filter insertion/ retrieval, Liver and renal cancer radiofrequency (RF) /micro wave ablation, TACE (chemoembolization), Y90-TARE (radio embolization), TIPSS(transjugular intrahepatic stent shunt ), PARTO, uterine fibroid embolization, prostate artery embolization, CT and Ultrasound guided biopsies and drainages of collections.