Overview
The Neurosurgery Department at MIOT International provides comprehensive care to the patients requiring Brain, Spine, Spinal cord and Nerve Surgery. With collective experience of more than 30 years and extensive international exposure in countries such as USA, Switzerland, Germany, Sweden and Japan, the team is highly skilled and experienced in performing most delicate operations on the brain and the spine. The surgical results are on par and even better than the international bench marks. Interdisciplinary care makes sure that, most complex of situations are handled in a methodical and best way. No delay, round the clock emergency care is provided to those patients who need it.
Highly Advanced Technology and Sophisticated Operation Theaters – SAFE NEUROSURGERY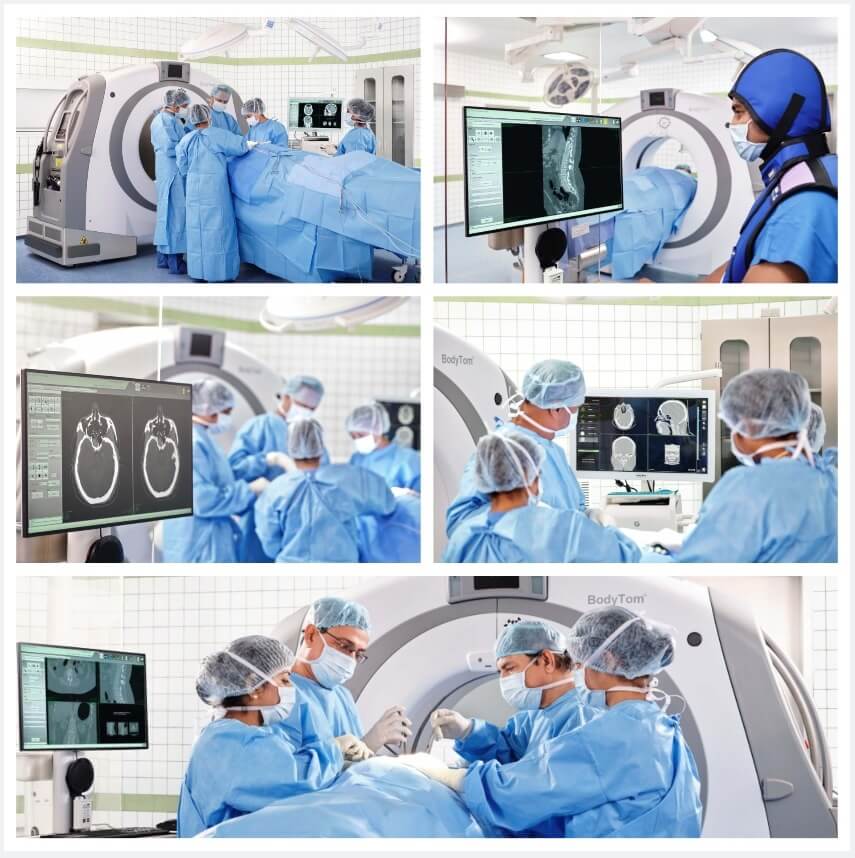 The Centre is one of the few handful centers in India and Asia that possesses imCT (Intraoperative mobile CT) which enables Neurosurgeon to plan, perform and assess the surgical procedure in the most precise, effective and safe manner. Apart from iCT the theatre is well equipped with Computer guided Surgery, advanced operating Microscope with filters that distinguishes tumor tissue with the normal, CUSA, high Speed Drills, advanced Neuroanaesthesia machines, intraop Neuromonitoring, HD Endoscopes, Microdoppler probe, radiosurgery etc. All surgeries at MIOT International are performed in modular operating theatres with advanced Laminar Air Flow systems, which ensure 99.9% infection-free environments. International quality operating suits, used by the operating team, and the sophisticated ICU wards keep infection levels much below global standards.
Wide spectrum but focused care  and Under One roof comprehensive care
Complete range of diseases or illnesses that requires a neurosurgical procedure is provided. Each member of the team has a focused interest, thereby ensuring, the best expertise available to tackle each condition. The Neurosurgery team is backed by experts in Neurocritical care, Neurorehabilitation which makes the post operative care round the clock, more efficient and effective.
Keyhole Surgery for the Brain and Spine, Paralysis reversal procedures – Ace factors
The department strives to build the operative strategy around adopting the principles of keyhole and minimally invasive surgery for both the brain and spine related disorders. This approach uses selecting most precise corridor to operate, often via an endoscope or microscope, high end navigation tool, imCTetc, thereby minimizing the impact on the normal structures. This translates into less tissue trauma, better cosmetic outcomes and shorter stay in the hospital. The department of Neurosurgery also performs rare, cutting edge procedures related to paralysis reversal such as nerve transfers, neuromodulation done only in few centers across the world
Treatments & Procedures
Brain cancer: Excision of brain tumours, CT-guided biopsy of brain tumours and computer-assisted brain surgery
Functional neurosurgery: Deep Brain Stimulation (DBS) for Parkinson's disease, tremors and dystonia; spinal cord stimulation for chronic intractable pain, intrathecal baclofen pump (ITB) for spasticity in conditions such as cerebral palsy, spinal cord injury etc.
Spine lesions: Microdiscectomies for disc prolapse, cervical lumbar disc replacement, excision of spinal cord tumours, and surgery for failed back syndrome
Craniovertebral junction anomalies: Correction of basilar invagination, Chiari malformations, atlanto-axial dislocations, dens fractures, syringomyelia etc.
Epilepsy surgery: Surgery for drug resistant epilepsy, resections, temporal lobectomy, hemispheric disconnection, functional hemispherectomy, deep brain stimulation and vagal nerve stimulation.
Trigeminal neuralgia: Microvascular decompression, retrogasserian ganglion glycerol injection neurectomies & stereotactic radio surgery.
Cerebrovascular lesions: Clipping or coiling of aneurysms and arteriovenous and malformations excision/repair of meningo/meningomyelocele preoperative embolisation for highly vascular lesions and brain tumours.
Paediatric neurosurgical procedures: Correction of split cord malformations and spina bifida, excision of brain tumours and CSF drainage procedures for hydrocephalus
Surgery for head injury and stroke: Evaluation of critically ill patients with ICP monitoring, surgery for intracranial clots and decompressive craniotomy
Endoscopic neurosurgery: Endoscopic excision of tumours including pituitary tumours, intraventricular tumors and endoscopic discectomy
Infections of the brain, including aspiration of brain abscesses.