MIOT Institute of Cancer Cure
Surgical Oncology
Overview
Surgery is the most important component in the treatment of solid-organ cancers. Without it, cure is not a realistic possibility. At the MIOT Institute of Cancer Cure, our surgeons work to preserve as much of the patients' organs as possible in order to give them a better quality of life.
New-age treatments for conservation
In the effort to preserve the patient's organ(s) while eliminating the disease, the onco-surgeon works closely with the medical and radiation oncologists to ensure the optimal outcome in each case.
This is accomplished by adopting a conservative approach, using various pre-operative treatments such as interventional radiology, radiofrequency ablation, chemotherapy and radiation. These treatments shrink the tumours and minimise the surgical field, allowing for keyhole surgery which is minimally invasive. This not only enables the surgeons to save the organ, but also reduces scarring.
In the early stages of several cancers, surgery alone may suffice to cure the patient of the disease. In more advanced stages, chemotherapy and/or radiation may be needed before or after surgery to achieve an optimal result.
The surgical team at MICC includes plastic surgeons and surgeons from other specialities, who help reconstruct organs and limbs.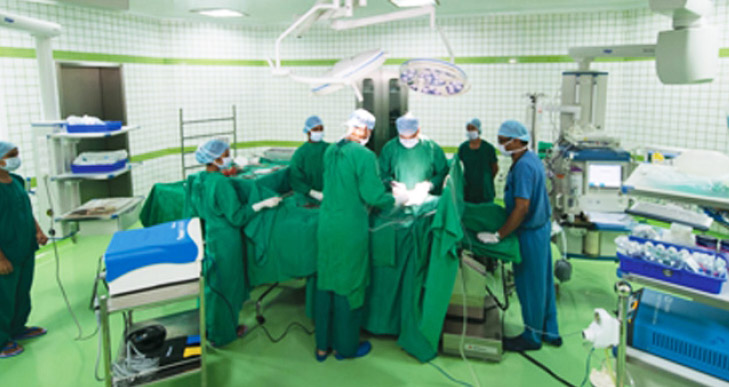 Other surgical services
Surgical oncology at MIOT also includes diagnostic procedures such as biopsies and endoscopies, placement of chemo-ports or implantable devices for the administration of chemotherapy, and treatment of complications that require surgical intervention.
Palliation of symptoms, such as breathing difficulty due to throat tumours, obstruction of the intestine or stomach, etc., are also dealt with by the surgical oncologist.
All surgeries are performed in dedicated, cutting-edge theatres and our patients recover in specially demarcated ICUs.
Treatments & Procedures
At the MIOT Centre for Cancer Cure, the following are treated through surgical oncology:
Head and neck tumours: mouth, throat, voice box, salivary gland and thyroid cancers
Chest cancers: oesophageal [food pipe] and lung cancers
Gastrointestinal cancers: stomach, large and small bowel, liver, gallbladder and pancreatic cancers
Genitourinary tumours: kidney, adrenal and bladder cancers
Gynaecological cancers: affecting the ovaries, uterus, cervix and external genitalia
Sarcomas (tumours of the muscles, nerves and bones) and skin cancers
Meet the Doctors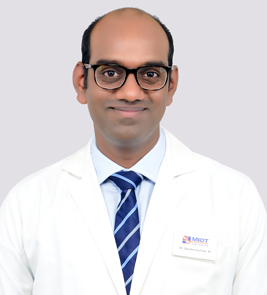 Dr. Senthil kumar
MBBS, M.S (General Surgery), M.Ch (Surgical Oncology)., FMAS
Director of Surgical Oncology
Dr. Senthil kumar is a well-qualified and immensely trained surgical oncologist. He completed his super speciality training (M.ch surgical oncology) from Tata Memorial Hospital (TMH), Mumbai. Apart from his 4 years of experience at TMH, he has also worked in some of research institutes like JIPMER, Pondicherry and Cancer Institute Adyar, Chennai. He has also obtained his fellowship in minimal access surgery.
Dr. Senthil has completed his under graduation (MBBS) from Tuticorin Medical College, Tuticorin. He completed his general surgery training (M.S) from Coimbatore Medical College, Coimbatore.
He has extensive training and experience in treating all types of malignancies like breast cancers, gynaecological cancers, gastrointestinal cancers, head and neck cancers, soft tissue cancers, urological cancers and thoracic cancers. His areas of special interest include breast, gynaec and gastrointestinal malignancies.
He is an expert in the field of breast conservation surgery for cancer breast and has special expertise in oncoplastic procedures of breast. He also performs local flap reconstruction procedures of breast. Swelling of arm is a common disabling morbidity of axillary dissection following breast cancer surgery. He is one of few surgical oncologists in the country to advocate sentinel lymph node biopsies routinely for all early breast cancers. This helps patient to do all normal activities of arm right from first day of surgery. MIOT is a centre of excellence where such technologically advanced procedures can be done with ease.
He routinely performs cytoreductive surgeries for cancer ovary and endometrium. He has special interest in laparoscopic gynaec oncologic procedures. He does fertility preserving cancer surgeries as and when possible. He specialises in the treatment of recurrent ovary cancers, where surgeries are extensive and requires multi organ resection.
Surgery of cancers spread to peritoneum is technically demanding and exhaustive. He is one of the few surgical oncologists to practice complete peritonectomy and HIPEC treatment routinely for cancers spread to peritoneum. HIPEC is the last ray of hope for such patients and at MIOT we offer the best intensive care following HIPEC.
His other area of excellence is in treatment of gastrointestinal (GI) cancers like oesophagus, pancreas, stomach, colon and rectum. He has keen interest in minimally invasive colorectal surgeries and sphincter preserving rectal cancer procedures. Even in advanced GI cancers with help of latest chemo and radiotherapy facilities at MIOT, tumour shrinkage is achieved and he does brilliant conservative surgeries for all types of cancers.
He routinely  performs all advanced and complex procedures like HIPEC, total exenteration of pelvis, retroperitoneal lymph node dissections(RPLND), esophagectomies, Whipple's procedure, composite resections of oral cavity cancer to name a few. At MIOT, all these major procedures are performed with least morbidity and hence we have excellent cure rates.
Achievements
He is a university gold medallist in general surgery. He has also received distinctions in many subjects. He has published many original research articles in national and international journals. He has many oral and poster presentations at international conferences. He has authored book chapter about advanced pancreatic cancer resections.
He is an active member of voice of tobacco victims (VOTV), a social welfare organisation which crusades against tobacco products. In the interest of public, MIOT routinely organises cancer awareness campaigns and screening programmes and he is a part of all these social activities.
As a person dedicating his life to the quest of cancer, he firmly believes that cancer patients should face all their challenges with loads of self-confidence and positive attitude.