Deep Brain Stimulation (DBS)
A New Chance at Life
Thousands of caregivers share their agony as they watch their loved ones, afflicted with movement disorders like Parkinson's, dystonia and essential tremors struggle with the simplest of tasks – buttoning a shirt, holding a glass or just crossing the room. However, with the cutting-edge procedure, DBS (Deep Brain Stimulation) now adopted around the world, over 1,50,000 patients have had a new lease of life. Let us find out more from the MIOT Specialists who have had amazing results with Deep Brain Stimulation at MIOT Hospitals, Chennai, India.
What causes movement disorders like Parkinsons, Dystonia & Essential Tremors?
Each body movement requires a series of smooth interactions between the brain, spinal cord, nerves and muscles. Movement disorders set in when the signals which ensure these smooth interactions get distorted by some abnormality in the brain function. The breakdown shows up as symptoms like trembling hands, slow walk, frozen muscles, slurred speech, expressionless faces, loss of balance etc. These become severe over time, leaving the person completely dependent on the caregiver for his needs.
How does Medication work?
Medications work for a while by reducing symptoms. But they have serious side effects and add to the original problem, over time. Also the body develops resistance to the medication after a point.
Is that where Deep Brain Stimulation comes in?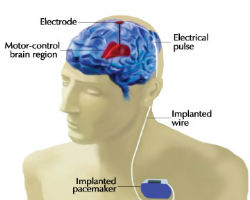 Yes. If the patient is a suitable candidate, he can go in for Deep Brain Stimulation (DBS), which is a safe and well established therapy. We implant electrodes in the motor related areas of the brain through a keyhole procedure. They are connected to a pacemaker like device (IPG) placed beneath the skin near the collar bone, which is in turn linked to a remote with the patient. When the remote turns the IPG "ON", it generates electrical impulses which are sent to the affected parts of the brain via the electrodes. This resets the distorted signals and restores interaction, reducing symptoms by almost 70-80%.
How long does it take for symptoms to reduce?
Almost immediately! Amazingly you see symptoms, disappear or reduce on the operating table. However the final change is apparent only once the device settings and medication are adjusted and can vary from person to person.
What are the advantages of  Deep Brain Stimulation (DBS)?
It returns control over movements to the patient, restoring his independence, confidence & dignity. Deep Brain Stimulation is a reversible procedure and the strength of the electrical impulse can be adjusted to the severity of the symptoms. There is no risk of brain tissue damage as in a surgery. Most importantly, it reduces medication and its side effects by over 50%, in most cases.
Reasons for Effective results for Deep Brain Stimulation at MIOT International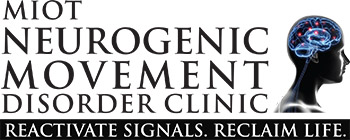 We offer a combination that few hospitals in India have today which is essential for Deep Brain Stimulation (DBS).
Team of experienced experts (Neuro physician, Neurosurgeon, Neuroradiologist, Neuromodulation specialist, Neuro rehabilitation specialist, Nuclear medicine, Neurointensivist, Rehabilitation Therapists & Counsellors)
State-of-the-art technology which diagnoses Parkinson's accurately at an early stage.
Advanced imaging facilities on campus which help our surgeons map the affected centres and plan the surgery in minute detail.
Dedicated surgical suites, equipped with cutting-edge stereotactic surgical equipment.
Stringent infection-control practices that ensure bacteria-free environments which protect patients from infection.
Enquire Now
If you have a loved one with Parkinson's, Essential Tremor or Dystonia, bring them for consultation & evaluation with our specialists to the exclusive MIOT Deep Brain Stimulation (DBS) Clinic.
*Patient's name has been changed to protect his/her privacy
Deep Brain Stimulation (DBS) - Exciting Developments in Neurology

Our home revolved around my wife, Rani*. Even after being diagnosed with Parkinson's, she insisted on taking care of everything. All her initial discomfort was hidden behind a warm smile. A full time nurse and housekeeper was appointed only when the constant tremors and imbalance in walking made it impossible for her to carry on. Parkinson's replaced those happy smiles with vacant, expressionless stares which I could neither recognize nor handle. I had to do something.
Hope at MIOT
We were referred to MIOT by my friend. The doctors found Rani to be a good candidate for Deep Brain Stimulation (DBS) a procedure I had read about but had apprehensions. MIOT had all the facilities, no doubt, but it was the confidence, transparency and patience of their experienced Deep Brain Stimulation (DBS) team which convinced us to go ahead.
Amazing Difference
The changes were visible on the very first day after the procedure, but now they are more apparent. Almost tremor free, she is back to simple cooking, takes care of herself and goes on long walks with us and even accompany her daughter for shopping - all within a month. For me, though the best part has been coming home everyday to that 'special smile' I thought had been lost forever. Today, Rani joins the family of over 1,50,000 people around the world who have had a new lease of life after Deep Brain Stimulation (DBS).

"When I was first diagnosed with Parkinson's, I did not realise the extent to which it would affect me. The medicines helped me continue working- they 'managed' the tremor in my hand and the 'imbalance' in my walk. But one day I could neither get up nor turn around and needed help for everything. To me, it was the end of the world."
Light Ahead
A good friend brought me to MIOT in Chennai. The doctors advised a new treatment - Deep Brain Stimulation (DBS) as I was a suitable candidate. I was initially worried but there was no other solution. We were also assured by their facilities, the expertise of the doctors and their willingness to address all our queries and worries.
Complete Turn Around
The entire treatment took time, but I am glad I took their advice. It's unbelievable, but true- I am back at work, walk about 1 ½ kms every day and take care of myself. I am in control once again. Mr. Anand* joins the family of over,1,50,000 people around the world who have had a new lease of life after Deep Brain Stimulation (DBS) surgery.