Overview
MIOT International's Department of Pulmonology and Sleep Medicine provides diagnostic and therapeutic services for the entire spectrum of pulmonary diseases, breathing and sleep disorders. From routine assessments of chronic cough and shortness of breath, to specialised cancer care, our specialists offer patients customised care, sometimes in conjunction with other specialists.
Advanced end-to-end pulmonary care
The Department provides advanced care for respiratory diseases such as bronchial asthma, COPD, bronchitis, lung cancer, acute and chronic respiratory failure, interstitial lung diseases, pulmonary hypertension, pneumonia, tuberculosis, pleural disease, occupational lung diseases, allergies, sleep disorders, snoring, advanced lung diseases, and more.
It also offers round-the-clock emergency care for respiratory failure, pulmonary embolism, pneumothorax, chest injuries, etc.
Our ultra-modern Pulmonology Function Lab performs advanced lung function tests and studies such as spirometry, lung volumes, lung diffusion capacity, respiratory drive, bronchoprovocation testing, allergic skin tests, airway resistance and chest wall compliance.
Diagnostic and therapeutic bronchoscopy
Diagnostic and therapeutic bronchoscopies are undertaken in the Department's dedicated Bronchoscopy Suite with its state-of-the-art video bronchoscope.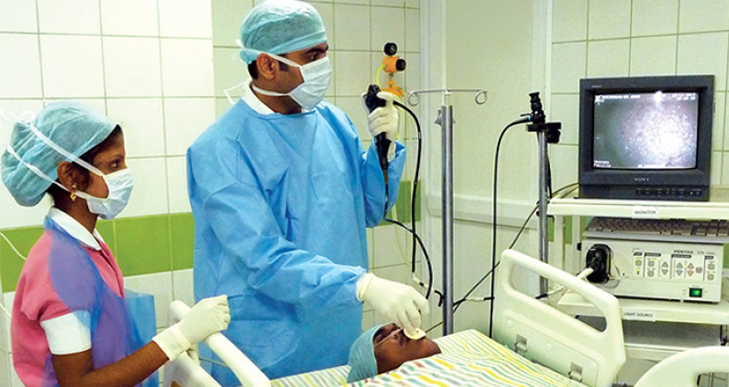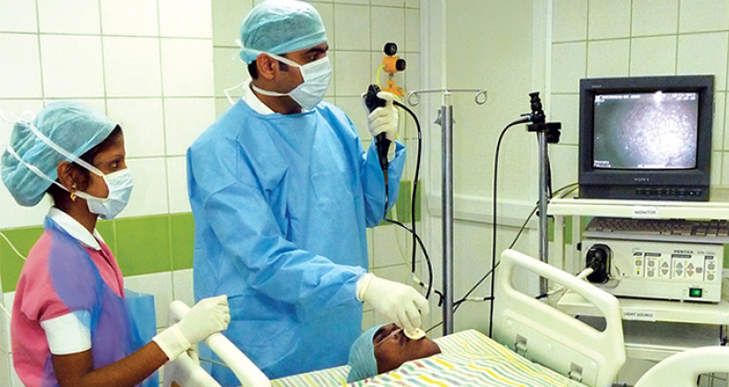 Our expert pulmonologists perform employ such advanced bronchoscopy techniques as foreign-body removal, trans-bronchial lymph node needle aspiration, bronchial stents, electrocautery for endobronchial lesions and endobronchial brachytherapy. Its services also include interventional procedures like thoracoscopy, chest drainage and ultrasonography / CT-guided lung and pleural biopsy.
Skin-allergy testing, asthma education and counseling, as well as treatment of all types of allergic respiratory disease are among the department's myriad services. Advanced therapies like monoclonal antibodies (anti-IgE) are also offered.
Emergency and rehabilitation services
The department's sleep lab offers comprehensive services in the diagnosis and management all types of sleep disorders, including sleep apnea, snoring, narcolepsy, etc.
A fully-equipped, dedicated respiratory ICU, with advanced ventilators, BiPAP machines and trained nurses, manage critical patients with respiratory failure.
Specially-trained respiratory physiotherapists work to rehabilitate patients with chronic pulmonary disease (COPD, etc.).
The department's rehabilitation services also include counselling and assisting smoking de-addiction along with postoperative pulmonary rehabilitation.
Treatments and Procedures
Pulmonology Studies
Spirometry
Lung volumes
Diffusion capacity
Respiratory drive
Bronchoprovocation testing
Allergic skin tests
Airway resistance
Chest wall compliance
Diagnostic and therapeutic bronchoscopy
Interventional pulmonology
Foreign body removal
Trans-bronchial lymph node needle aspiration
Bronchial stents
Electrocautery for endobronchial lesions
Endobronchial brachytherapy
Thoracoscopy
Chest drainage
Ultrasonography CT guided lung and pleural biopsy
Asthma and allergy clinic
Treatment of all types of allergic respiratory disease
Asthma education and counselling
Skin-allergy testing
Sleep lab
Diagnosis and management all types of sleep disorders including sleep apnea, snoring, narcolepsy, etc.
Pulmonary rehabilitation centre
Rehabilitation for chronic obstructive pulmonary disease (COPD)
Postoperative pulmonary rehabilitation
Counselling and assisting smoking de-addiction