MIOT Institute of Orthopaedics
Joint Replacement and Revision Surgery
Overview
At the renowned MIOT Hospitals Joint for Life programme, our experienced surgeons use the latest techniques and materials to find the perfect implant for every patient – one that suits their age, anatomy and lifestyle, and fits comfortably, enabling them to return to an active life.
Restoring mobility
Genetics, nutrition, activity and lifestyle are the cause for changes, over time, in our bones and joints.  You could need a joint replacement surgery for a number of reasons: injury, bone disease, reduced blood supply, the wearing out of the joint due to wear and tear associated with age, etc. A joint replacement is a permanent solution to relieve pain and restore movement in the affected joint. Today, medical advancements have made it possible to replace our natural joints with artificial ones that are made from metal, polymers, ceramic or plastic. In the MIOT Joint for Life Programme, our expert surgeons perform replacement surgery of the knee, hip and shoulder. Backed by over 40 years of experience and more than 40,000 replacement surgeries and counting – MIOT Hospitals use current technologies and treatments to find that right implant to give you a joint that will last a lifetime.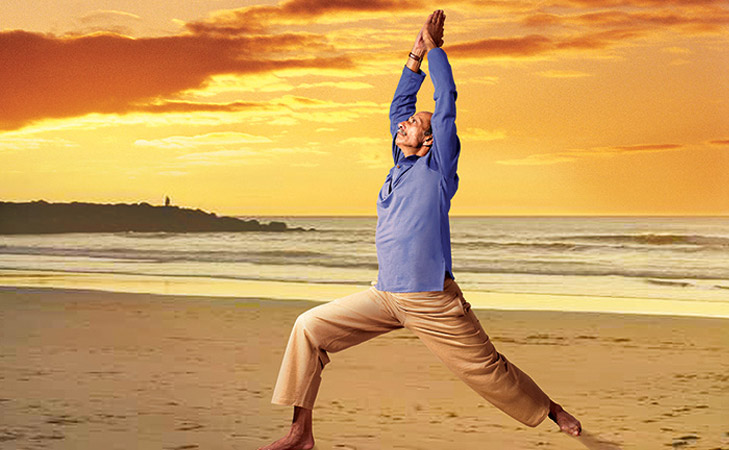 Getting the right bond
A joint replacement surgery is considered a success when the implant bonds completely with the patient's natural bone, resulting in stability and ease of movement. The key to any successful joint replacement surgery is to find the perfect implant to replace your worn-out joint. Accurate placement of the implant and an infection-free environment are the other critical factors. Getting the right bond is completely dependent on the experience and expertise of the surgeon and involves four crucial steps. They are:
A detailed and accurate assessment of the bones and joints
Finding and customising the implant so that it suits your age, physical activity and lifestyle
Deciding on the surgical approach which will yield the best results
Devising the right post-surgical physiotherapy regime
Choosing the right time and centre
The timing of the surgery is another factor that affects its outcome. Once recommended, it is advisable to have the replacement done at the earliest rather than wait until your condition worsens and you are all but completely immobile. As you postpone surgery, the continuous pain and discomfort reduces your mobility, which in turn weakens the muscles around the joint and affects quality of bone. When choosing a centre for your replacement surgery, picking a high-volume medical centre with a good track record is a wise decision. You can then rest assured that it will have experienced specialists, advanced infrastructure, infection-free environments, trained nursing staff and experienced physiotherapists, who will ensure the best results.
Advanced facilities, expert surgical teams
All surgeries at MIOT International are performed in
modular operating theatres
with advanced Laminar Air Flow systems, which ensure 99.9% infection-free environments. Total body exhaust suits, used by the operating team, and the sophisticated ICU wards keep infection levels much below global standards. The chances for infection are further reduced as most surgeries are performed using minimally-invasive techniques, where the procedure is performed through incisions as small as 8 – 10 centimetres. Our dedicated surgical teams, trained in these specialised procedures, are led by highly-skilled orthopaedic surgeons who have had extensive training and experience in hospitals devoted to joint-arthroplasty in the USA, Germany, Switzerland, UK, Italy and Australia. After surgery, our experienced team of twenty physiotherapists works with each patient, one-on-one, to restore their mobility and comfort. All these factors ensure that our patients recover faster, need a shorter stay at the hospital, and go back to their normal routines easily, without the necessity of a repeat surgery later.
A centre for revision surgery
When the bond used for the joint replacement is not right, you could have pain, discomfort, dislocations, infections, internal fractures, and limited movement, necessitating a second surgery (revision surgery). This is more difficult, more expensive and takes longer to recover from. Revision surgery is replacement surgery that needs to be redone; the old orthopaedic implants are removed and are replaced with new components. To do this, surgeons have to use the bone beyond the area that was used for the previous implant or find an implant that will grip an existing bone differently. An implant will not 'take' on dead bone. If the bone is not viable, surgeons may have to reconstruct it using a graft from another part of the body. Revision surgery requires specialised equipment and skills to extract the damaged implants and deal with fragile bones. MIOT International is one of only a few centres that perform this procedure in India. We first plan how to remove the existing implants without damaging the patient's bone further. We also assess the viability of the bone to determine if reconstruction is required. The implants that we use for revision surgery are different from those used for replacement surgery, and are chosen carefully to match your age, lifestyle, activity and the condition of your bones.
Meet the Doctors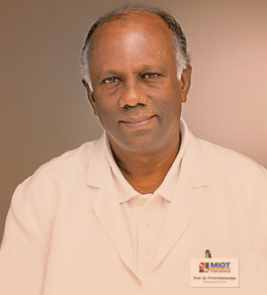 Prof. Dr. P.V.A. Mohandas
Padma Shri Awardee
M.B.B.S., M.S.Orth., M.Ch.Orth (Liverpool, England), D.Orth., D.Sc. (Hon) Chennai, D.Sc. (Hon) W. Bengal
Prof. Dr. P. V. A. Mohandas is the Founder & Mentor of MIOT International, and the Chief Surgeon of the department of Orthopaedic Surgery.
Prof. Dr. Mohandas completed his education at the Madras Medical College, where he later lectured in his chosen speciality. He then went abroad where he qualified further in Orthopaedics and worked in top institutions in Europe. He started MIOT Hospitals after he returned to India, initially as a hospital that focussed only on Orthopaedics and Trauma.
Dr. Mohandas has a long list of achievement in the field to his credit. Most notably, he was the first to perform a total hip replacement in this part of the country, introduced internal fixation of fracture for treatment of compound fractures in India, and pioneered total knee replacement in the country. He is also credited with having introduced modern methods of spine surgery and interventions.
He is one of the founders of the Indo-German Orthopaedic Foundation (IGOF), which promotes the collaboration between orthopaedic and general surgeons of both countries in the speciality.
He is a member of several professional medical bodies, and holds prestigious positions in them. He has also published several papers on various subjects pertaining to his chosen speciality.
Dr. Mohandas has received wide recognition for his contributions to healthcare in India, especially in his chosen speciality. He was awarded the Padmashree for pioneering Joint Replacement in India in 1992. Honorary degrees have also been conferred on him from the MGR Medical University, Chennai and the most recently, the University of Kalyani. He was awarded an honorary membership to the German Association of Joint Replacement Surgeons, at their annual congress in Heidelberg, Germany, and has the distinction of being the first ever surgeon to receive this honour.