Overview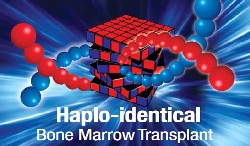 MIOT International caters to the specialised haematological needs in all specialities under one roof through the MIOT Institute of Haematology, Haemato-oncology and Bone Marrow Transplant. Over the years MIOT has developed as a centre of excellence in Leukemia, Myeloma and Lymphoma treating all types of complex and relapsed cases. The centre's comprehensive, state-of-the-art facility is easily the most advanced in the country and is headed by an expert team of highly qualified specialists who have worked in some of the best medical centres across the world.
Medical Milestones

First hospital in the country to do T- Replete Haplo – Identical Bone Marrow Transplant.
First and one of the biggest centre in Tamil Nadu to have a valid bone marrow transplant license.
MIOT stood second in Adult Bone Marrow Transplants in Tamil Nadu during the year 2016.
MIOT has in-house Flow Cytometry, stem cell processing and Cryopreservation facility
The center has done transplants in nearly all transplantable hematological conditions like Leukemia, Myeloma, Lymphoma, Thalassemia and Sickle cell anemia.
Haemato-Oncology & Bone Marrow Transplant centre has completed more than 294 Bone Marrow Transplants since 2013 with a success rate on par with the best centres in the world.
The center has treated all kinds of Haematology patients including complex anaemia, bleeding disorders and all kinds of blood and lymph nodal cancers including advanced staged ones.
Online Enquiry
Haemato – Oncology
MIOT Hospitals is a tertiary referral center which receives complex haematological malignancies like Refractory Acute Leukemia, Lymphoma, Myeloma, etc.
MIOT Hospitals recently performed a complex cardiac surgery in severe hemophilia patient, first of its kind procedure in Literature. Read More..
General Haematology
MIOT provides a comprehensive diagnostic setup for all types of general haematological problem. The unit manages severe thrombocytopenia, complex anemia and bleeding/ clotting disorder.
MIOT is the only unit in India which provides automated red cell exchange for sickle cell patients (>80) undergoing major surgery and also can treat high parasite index malarial patients. We closely work with our Neurology colleagues and provide plasma exchange with the state of the art machine. Outcomes from these procedures for complex neurological cases have been excellent with nearly 100% success rate.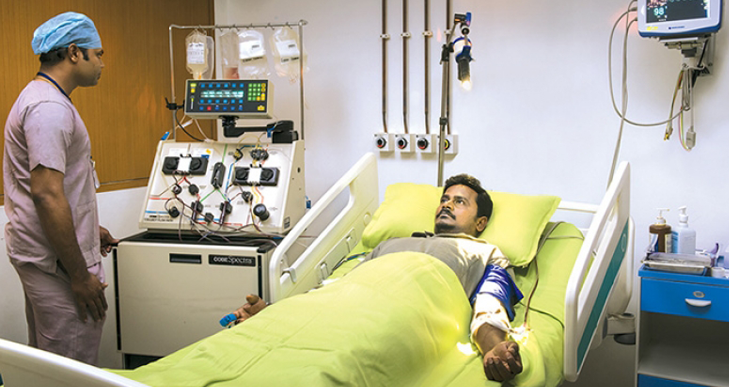 Blood studies and treatments
Blood studies are crucial to the diagnosis and treatment of a number of diseases and medical conditions. In addition to comprehensive blood studies, the Institute also treats the entire gamut of blood and blood-related disorders – anaemias, bleeding and clotting conditions, bone marrow failure syndromes, inherited and congenital conditions and blood cancers – in both adults and children.
Bone marrow transplants
The MIOT Institute of Haematology, Haemato-oncology and Bone Marrow Transplant has successfully performed all types of bone marrow transplants – autologous, allogeneic, umbilical cord blood transplants, as well as the highly complex haploidentical transplants – across age groups, and to international standards. In autologous transplants, we use the patient's own peripheral blood stem cells. A syngeneic transplant involves transplanting bone marrow or peripheral blood stem cells from an identical twin. An allogeneic transplant is done with donor bone marrow or peripheral blood stem cells that are a 100% match to the patient. These cells may come from a family member or someone who is unrelated to the patient. A bone marrow transplant can also use stem cells taken from umbilical cord blood.
Haploidentical transplant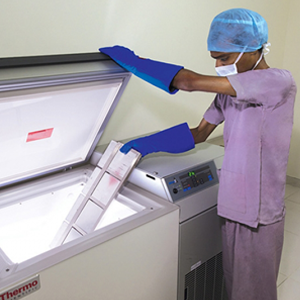 In a haploidentical transplant, we use donor cells that are at least a 50% match to the patient instead of perfectly matched cells and modulate the patient's immune system to accept them. This means a donor can often be found in the family, among parents, children and siblings.
MIOT International is one of the few centres in the world that performs haploidentical transplants.
Diagnostic and treatment facilities on par with the best
Every specialist team at MIOT International is supported by cutting-edge diagnostic and treatment equipment. Our sophisticated laboratory facilities, ranked 8th internationally, are manned by expert specialists and technicians, including internationally trained haemato-pathologists.
State-of-art apheresis machines are used for stem cell, platelet and other component collection and also for certain therapeutic procedures. The Centre's cryopreservation unit (processing and freezing unit) for stem cells ensures long-term storage in a completely aseptic environment. After bone marrow transplantation, patients are kept isolated in the five, dedicated, HEPA-filtered, pressure-controlled, 100% infection-free individual rooms with en-suite facilities.
Blood Bank
The MIOT Blood Bank is a state-of-the-art, 24-hour facility that offers the entire spectrum of services from blood collection to testing and component separation. Its services are organised according to functional areas, each handled by skilled and experienced staff.
Our blood bank handles over 30,000 units of blood every year, and more than 600 transfusions every month. Whole blood as well as blood components are available. Stringent practices ensure that every unit that leaves the blood bank is safe for patients.
Treatments and Procedures
Treatment and management of,
Anaemia
Thalassemia
Thrombocytopenia
Bleeding and clotting disorders
Blood cancers like leukemia, lymphoma, myeloma.
Bone marrow transplant, including complex transplants such as,
Haploidentical transplants
Umbilical cord blood transplants
Treatment of all clotting disorders,
Haemophilia
Von Willebrand's disease
Treatment of complex general haematology cases such as,
Neutropenia (low white cells)
Thrombocytopenia (low platelets)
Treatment for Various types of anaemia including,
Thalassemia
sickle cell disease
Blood and blood product support including,
Single-donor apheresis platelets and leucodepleted and irradiated blood products
Bone marrow biopsy
Bone marrow harvest
Intrathecal chemotherapy
Diagnosis of haematological problems such as,
Reporting on bone marrows
Blood films
Flow cytometry
Inpatient, outpatient and day-care chemotherapy for complex haematological cancers like leukemia, myeloma, lymphoma etc.
Meet the Doctors
Dr. Chezhian Subash
MBBS, MRCP, FRC (Pathology)
Dr. Chezhian Subash is the Consultant Haematologist and BMT Physician at MIOT International.
Having trained in India and the UK, Dr. Subash has extensive experience in general haematology, laboratory haematology, haemato pathology and transfusion medicine. His areas of interest are primarily haemato-oncology and bone marrow transplant; he is also a specialist in treating myelomas and lymphoma, besides alternate donor transplant and mismatched transplants.
Instrumental in setting up bone marrow transplant and haemato-oncology/haematology centres, Dr. Subash has successfully gained accreditation for them from renowned bodies such as the Joint Accreditation Committee of ISCT (International Society for Cellular Therapy and EBMT European Bone Marrow Transplant). He also participates in external quality assessment schemes like NEQAS.
As an honorary Senior Clinical Lecturer for Hull York Medical School Dr. Subash taught house officers and senior house officers besides undergraduate students. He was also clinical supervisor/mentor for two specialist registrars during their speciality training rotation.
Dr. Chezian Subash has several papers and presentations to his credit and has been recognised for his work. Of special note is the Maharaja of Cochin Prize for Proficiency in Physiology and the Dr. K. C. Paul Prize for Proficiency in Clinical Medicine.
He is also a member of several professional associations.
Dr. Subash is aided by a young and enterprising team:
Dr. Kishore Kumar
MBBS MD DM Clinical Haematology (PGIMER)
Dr. Durai Prabhu
MD(Physician)
Dr. Mohammed Muzamil
MBBS
Dr. Mithula
MBBS