Patient Safety & Quality
At MIOT International Putting Patients First is our mission. We are committed to fulfilling this mission by providing our patients with the highest standards in patient safety and quality of service.
Patient safety comes first
We ensure patient safety through the practice of evidence-based medicine and stringent infection control.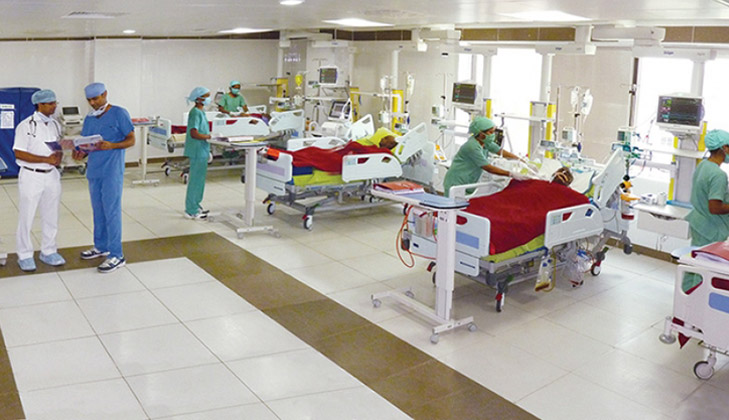 Evidence-based medicine is defined as 'the conscientious, explicit and judicious use of current best-evidence in making decisions about the care of individual patients'. At MIOT, this translates into accurate diagnoses made through thorough examination as well as the use of the latest medical technology which enables specialists to determine a course of treatment that is best suited for the individual patient.
Keeping infection at bay
Again, infection-control is a high priority at MIOT International. Our modern, modular OTs are completely sterile, as are our state-of-the-art ICUs and HEPA-filtered wards. The hospital is designed with laminar air-flow systems to ensure the flow of fresh air throughout. There are separate entrances for in-patients, out-patients, emergency patients, and between OTs and ICUs in order to minimise infection.
All blood and blood products that are used in the course of treatment are leucodepleted to make them safer for patients. All materials used in the OTs, ICUs and patient rooms are sterilised by the Automated Central Sterile Supply Unit. Every effort is also made to ensure that all common areas are kept as clean and germ-free as possible.
Service Standards
MIOT has set five benchmarks for patient care: Courtesy, Efficiency, Individuality, Education and Timeliness of Service.
Courtesy describes the way we approach our patients and their families: we strive to treat everyone with respect and courtesy.
Efficiency in MIOT International, which is not only high-tech, but also high-touch in the treatment of patients, is achieved by continually upgrading our systems so that no time is wasted.
Individuality is ensured because we are dedicated to meeting the unique needs of every patient and his/her family through individualised care in a comfortable and healing environment.
Education and retraining are emphasised at MIOT. Our continuing education programmes for physicians and team members ensure that our patients receive the best possible care.
Timeliness of service is possible because we waste no time in delivering the right care to our patients. Explanation of plans and procedures are given in the language the patient understands and all patient queries are clarified patiently.