About Chairman
We strive to surround our patients with compassion and dignity, and touch each mind, body and spirit with caring hands – this is the task we have set ourselves. This is our life's work.

   – Mrs. Mallika Mohandas, Chairman, MIOT International
Supportive wife, proud mother, doting grandmother, savvy business woman, capable Chairperson of MIOT International. These are all hats that Mrs. Mohandas wears, every day, and she wears them all very well.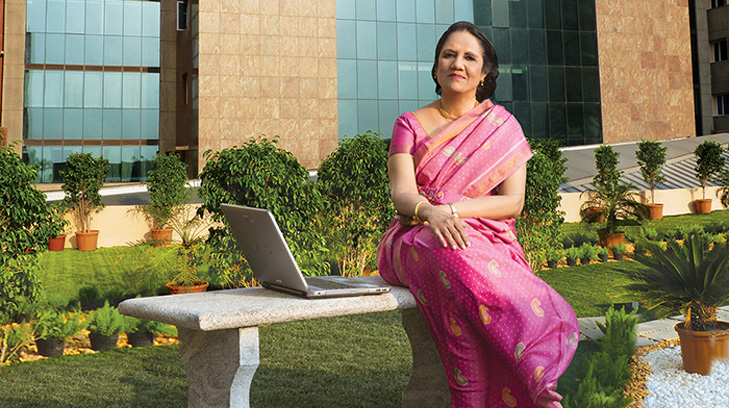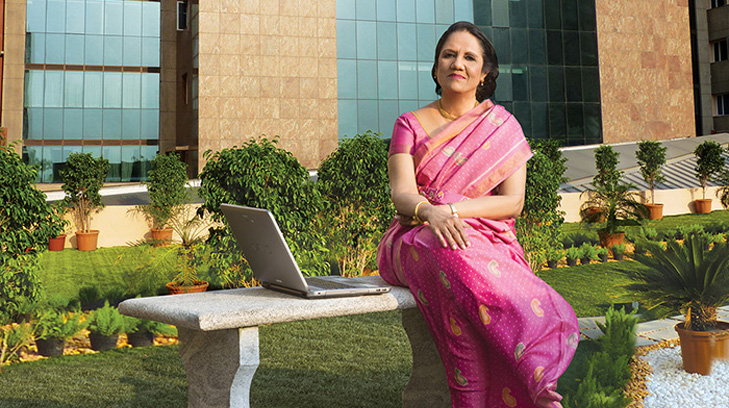 Mrs. Mallika Mohandas' foray into healthcare began as a pillar of support and more to her husband, and renowned surgeon, Padmashri Prof. Dr. P. V. A. Mohandas, the 'Father of Orthopaedic Surgery' in India. At 65 years, not content to rest on his laurels he decided to establish a new hospital in Chennai. His was a vision of medical excellence that would meet and exceed international healthcare quality standards, while providing compassionate care and ultimate patient satisfaction. A formidable undertaking by any standards, it brought out the hitherto unknown leader in Mrs. Mohandas to the fore. Rather than merely support, she stepped up to the task and took charge, hands on, looking into every detail, both big and small, to bring it to fruition.
Mrs. Mohandas exceptional talents for organising and leadership were soon recognised when she was appointed as Executive Director of MIOT Hospitals. That was fifteen years ago, and she has not looked back since.
Mrs. Mohandas's day starts at the crack of dawn, and the better part of it is spent at MIOT International. Under her capable leadership as Chairperson of the Board of Directors, the hospital has grown from strength to strength, offering patients the latest treatments that Medical Science has to offer, as well as educating a new generation of would-be healthcare providers.
Today, MIOT International is a 1000-bed bustling hub of activity, offering care across 63 specialities, chosen by patients from over 130 countries for its world-class care. A passionate advocate for raising standards of patient care, Mrs. Mohandas is the Chairperson of the MIOT School & College of Nursing and the MIOT Academy of Allied Health Sciences. And Mrs. Mohandas's special initiatives – the Children's Heart Internationale MIOT (CHIME) and MIOT Organ Drive – touch many lives in the general community. If anything is a testament to her abilities and success, this would be it.
What really drives her is her passion for MIOT. "It is home", she says, "to those who come here for care when they are at their weakest and most vulnerable. Therefore, it is up to me and the MIOT family to make sure that they receive the best medical care that we can give them, and are as comfortable and relaxed as possible while they get it. Patients respond better when there is a feeling of trust and comfort."
MIOT International certainly is atypical when compared to most hospitals. This is visibly evident from the minute one walks through its doors. Bright colours, airy rooms, walls covered with art, comfortable waiting areas, the greenery all around, and no 'hospital smell'. All details that bear Mrs. Mohandas's stamp. And that's just the tip of the iceberg.
The hospital's modalities for imaging, radiology, laboratory and transfusion medicine are among the best in the world. The surgical suites and systems are a surgeon's dream. Infection control is a priority, not just in the OTs and ICUs, but across the hospital, which reveals special attention to its design – separate corridors, entrances and exits, sophisticated air filters and airways, state-of-the-art sterilization systems and more. All of it is not random coincidence, but part of her concentrated effort to make the best care available. A quest in which she has left no stone unturned, where no detail has been too small or insignificant. It is the result of hours and hours of research, of consulting with top architects, of visiting other top institutions across the world and a delicate balancing act in making the right choices, always with the patient as the priority.
In the healthcare realm, great facilities are only as effective as the people within. Mrs. Mohandas' leadership style is very evident here – a gentle but iron fist in velvet glove. She's a stickler for protocol, punctuality, doing things the way that they are supposed to be done. Inflexible when it comes to maintaining MIOT's meticulous standards, yet compassionate and kind. She leads from the front, not from behind a desk, with passion and enthusiasm. So no one is surprised when she decides to personally check on the tiny patients in the Paediatric ward, takes a moment to reassure a worried caregiver, or stops to touch base with the nurses as she makes her rounds. Her employees – her MIOT family as she calls them – take their cue from her. It's little wonder then, that MIOT International has earned the reputation of being on par with the world's best healthcare institutions.
When asked to pick one thing that she was most proud of in MIOT International, a smile lights her face as she says, "that would be our institute for cancer care." As with all her other undertakings at MIOT International, it is the product of much study and thought, a restful, calm centre, manned by a dedicated and very competent team of doctors, nurses, nutritionists and technicians. "When we started, we set out to address the gaps that we found when we visited other cancer hospitals", she explains. "Now, patients diagnosed with cancer tell us that they don't feel like they are entering a cancer ward. They feel comforted and stress free. To me, that is the reward of all the thought and effort that went into creating that space."
Mrs. Mohandas' determination to meet challenging goals and achieve them gracefully, but without compromises, has made MIOT International, a reality. Personally overseeing every aspect of an institution that redefines medical standards across the country, she has demonstrated that strength can co-exist with grace. Is she ready to slow down or call it a day any time soon? No, not at all. She still has many aspirations and plans for MIOT International. Some are already in the works, others are seeds of ideas that she hopes to nurture and bloom. She is grateful to her husband and children for their constant support and encouragement, but her work at MIOT is its own reward. And she is far from done.