Brochures
MIOT International Brochure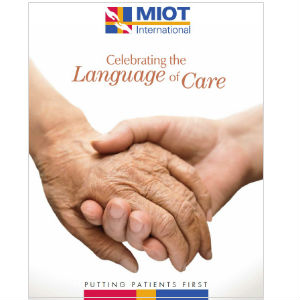 MIOT International, a quaternary care multispecialty hospital attracts patients from 129 countries who seek our expertise in moving towards wellness. A 1000-bed facility, 300 full-time doctors offering superlative treatment in 63 Specialities, MIOT proudly lays claim to a team of world-class professionals who use our state-of-the-art infrastructure and cutting-edge technology to heal and give hope to our patients.
Celebrating the Language of Care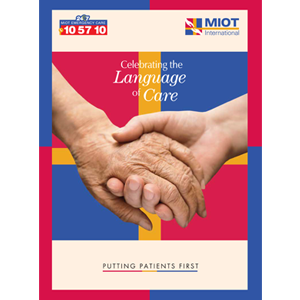 MIOT is one of the few centres in the country today to constantly integrate the latest treatment modalities and facilities into ongoing treatments for every speciality. This minimizes or replaces invasive procedures, reduces medication and keeps patients pain free and comfortable.
MIOT Institute of Orthopeadics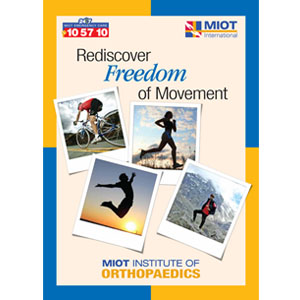 MIOT Institute of Orthopeadics is a world renowned centre of excellence that treats every type of disease, injury or deformity in Bones, Joints and the Spine under four distinct divisions: Joint Replacements, Upper Limb Procedures, Spine Surgery and Sports Injury Treatments. The center is backed by over 37 years of experience and more than 37,500 replacement surgeries and still counting.
MIOT Institute of Cardiac Care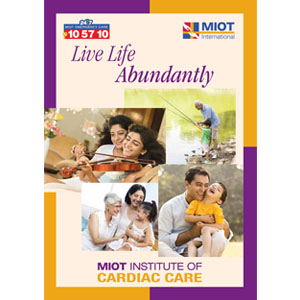 The MIOT Institute of Cardiac Care approaches the 'heart' as a complete 'organ system', critical for the lifelong vitality and well being of a person. It hence offers specialized expertise, world class infrastructure and awareness initiatives to Keep you heart healthy & treat the entire spectrum of diseases that can affect every part of the heart.
MIOT Center for Interventional Cardiology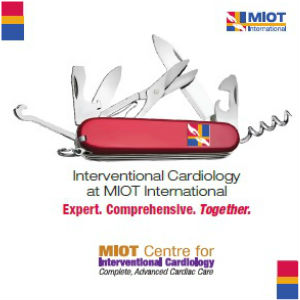 The MIOT Centre for Interventional Cardiology offer patients the latest and complete range of minimally-invasive treatments to intervene – prevent, diagnose and correct various conditions of the heart, at all stages. Our expert and experienced Interventional Cardiologists, each of them a super-specialist in a specific area, have trained in leading international centres and are available 24×7.
MIOT International Heart Failure Clinic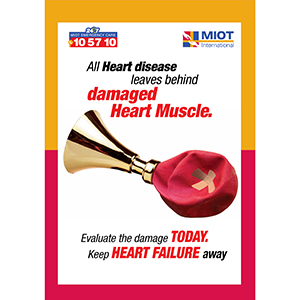 All Heart disease leaves behind damaged Heart Muscle. Evaluate the damage TODAY. Keep HEART FAILURE away.
The MIOT Institute for Cancer Cure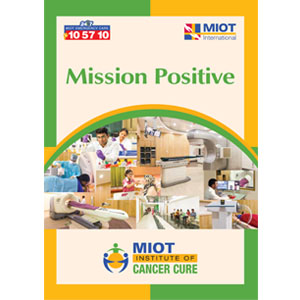 The MIOT Institute for Cancer Cure (MICC) is a Centre of Excellence that offers patients across age groups, complete treatment from diagnosis to cure, under one roof – in an environment that is positive and respects their dignity. Our cutting edge treatments are customised for definite results since cancer affects each of us differently.
MIOT Institute of Nephrology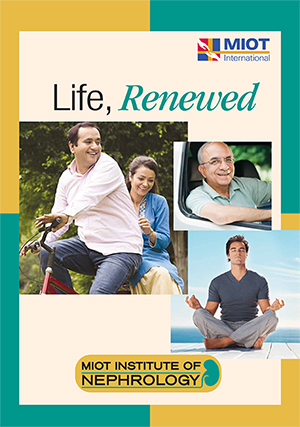 The MIOT Institute of Nephrology, a Centre of Excellence at MIOT, offers end-to-end treatment for the entire spectrum of kidney ailments, including general nephrology, dialysis and kidney transplants
MIOT Gold Standard Liver Transplant Programme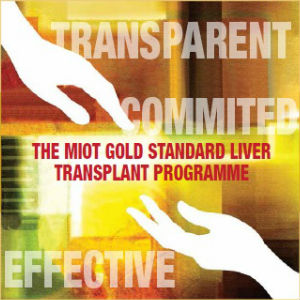 MIOT Gold Standard Liver Transplant Programme, where our patients experience complete care under one roof, with all the emotional support they need, and total transparency at every stage of their journey to recovery. This booklet gives you a glimpse into our Transplant programme. We hope it will help you make the right choices when it comes to specialised care for yourself or a loved one.
Deep Brain Stimulation (DBS)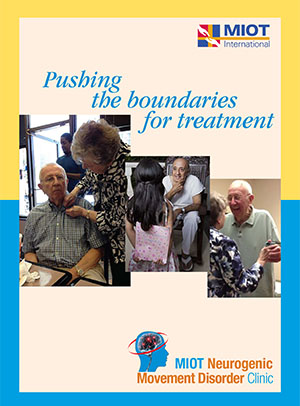 Thousands of caregivers share their agony as they watch their loved ones, afflicted with movement disorders like Parkinson's, dystonia and essential tremors struggle with the simplest of tasks – buttoning a shirt, holding a glass or just crossing the room. However, with the cutting-edge procedure, DBS (Deep Brain Stimulation) now adopted around the world, over 1,50,000 patients have had a new lease of life.
MIOT Stroke Restore Center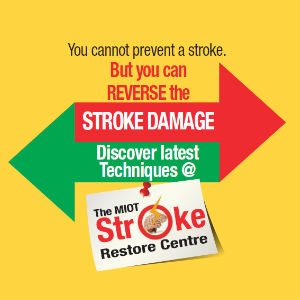 High blood pressure, high cholesterol, diabetes, smoking, poor diet and lack of exercise, being overweight or obese (particularly around the abdomen), heart disease and drinking too much alcohol increase STROKE risk. You cannot prevent a stroke but you can REVERSE the STROKE DAMAGE. Discover latest Techniques at the MIOT Stroke Restore center.
Sleep Apnoea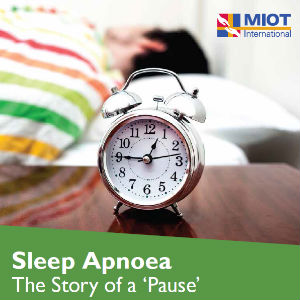 Apnoea is a disorder where there is an ABNORMAL PAUSE in breathing while asleep. MIOT International is one of the few centres in the country today offering comprehensive diagnostic facilities and specialised expertise to correct the entire range of factors causing Apnoea.
3T MRI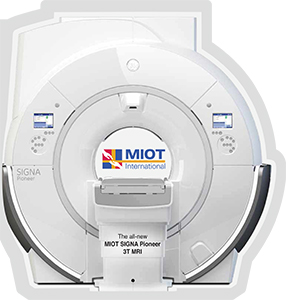 The all-new MIOT SIGNA Pioneer 3T MRI understands what you expect from an MRI machine and is everything that you wanted it to be. This highly sophisticated machine strives every inch of the way to be extremely patient-friendly while taking MR imaging to a whole new level.
3D Digital Mammography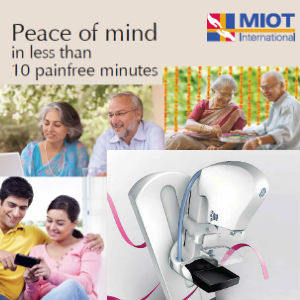 The state-of-the-art 3D Digital Mammography System from GE Healthcare is available only in very few hospitals in India. Built on an upgradeable platform, which can move from basic screening to advanced diagnostic procedures in a matter of minutes, the system is ideal for first time & repeat screeners as well as those seeking a conclusive diagnoses.
GE IQ PET/CT at MIOT International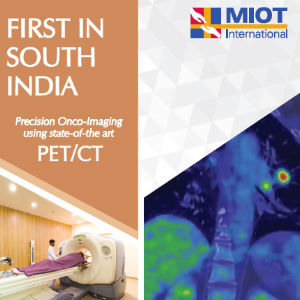 The GE IQ PET/CT at MIOT International (1st of its kind in South India) offers Superior Image Quality and Intelligent Quantitation enabling the Physician to discover and diagnose cancer confidently. Now, we can detect even minute abnormalities and offer accurate diagnoses and monitoring to our patients.
Unlock Your Mind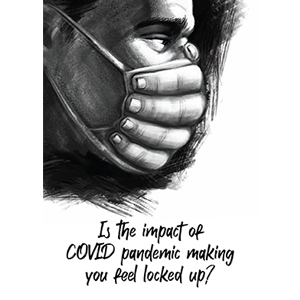 MIOT Hospitals presents 'UNLOCK YOUR MIND', a COVID-specific emotional support programme to get patients and attendants back on track from Post-Traumatic Stress Disorder caused by COVID. The initiative introduces patients & attendants to psychiatry specialists at MIOT Hospitals, who share their expertise on dealing with emotional issues brought on by COVID through consultations.