Radiology and Imaging Sciences
Imaging, the 'visual inspection of internal organs without an incision', is integral to making an accurate diagnosis, charting a treatment course and planning every aspect of a surgery. MIOT's Department of Radiology and Imaging Sciences is one of the most advanced facilities in the country and on par with healthcare institutions in the West.
750 HD CT Scan

Magnetic Resonance Imaging (MRI)

Sophisticated Imaging Equipment
/
NABH Accreditation – Medical Imaging Services
NABH Accreditation Medical Imaging Services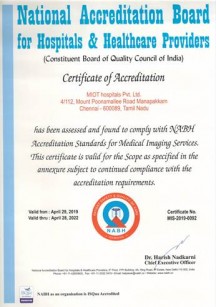 MIOT International has been assessed and found to comply with NABH accreditation standards for medical imaging services.
Valid until: April 28th 2022

Ultrasonography Modalities
Sophisticated Imaging Equipment
The department of Radiology and Imaging Sciences at MIOT International is equipped with sophisticated imaging equipment, which includes multiple digital X-Ray units, multiple portable X-Ray units with computerised radiography, colour Doppler ultrasound units, 750 HD Whole Body CT Scan, 1.5 T Whole Body MRI HDxt, digital mammography with contrast-enhanced mammography and tomographic mammography with stereotactic biopsy and bone-mineral densitometry.
Ultrasonography Modalities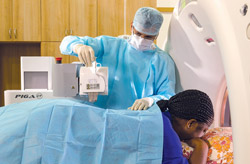 MIOT International has a 4D ultrasound with colour Doppler as well as portable 3D colour Doppler and intra-operative colour units. These enable physicians and surgeons to get a better view of the abdomen, chest, thyroid, breast, scrotum and musculo-skeletal system. They also enable liver elastography, which is performed routinely.
We use the most recent ultrasound machines to perform routine as well as special ultrasound imaging, as well as ultrasound guided biopsies.
750 HD CT Scan
MIOT is the first hospital in India to have a 750 HD CT scan with dual energy imaging. Patients benefit as the high-resolution, high-definition images aid in accurate diagnosis, there is minimal radiation exposure, and the whole body can be scanned in under a minute. This also translates into greater comfort for the patient.
Magnetic Resonance Imaging (MRI)
The state-of-the-art 3T MRI enables Imaging of the whole body, including routine studies of the breast, small joints, brain and spine. Specialised studies such as spectroscopy, diffusion tensor imaging, MR angiography, and MR mammography are also carried out.
4D Echocardiography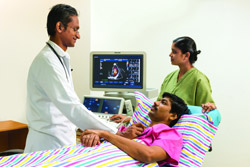 4D echo machines like the IE 333, which have a transesophageal probe, are helpful for patients who require a valve replacement.
Digital Mamma-tomography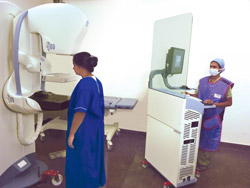 For the first time in the country, digital mamma-tomography and contrast-enhanced mammography is available at MIOT International. This enables the detection of lesions hidden even in dense breasts as well as the differentiation between scar tissue and recurrent tumours. This aids the detection of multicentric tumours in the early stages. Lesions identified using mammography are screened with ultrasound equipped with elastography and all suspicious lesions are biopsied, employing either an imaging ultrasound or imaging the specialised stereotactic biopsy system. Early detection translates into early treatment and a better chance of a normal life.
Services Offered
Special Studies performed using the 750 HD CT
Whole body angiograms including coronary angiogram
Perfusion studies – brain, liver etc
Colonography, colonoscopy
Renal stone characterisation
Dynamic 4D angiogram
Kinematic studies of joints
Studies of flow in calcified vessels
Applications of the 1.5T HDxt
MR angiography
MRCP
MRI perfusion and diffusion studies
MR spectroscopy
Ultrasound Services
Routine ultrasound examinations
Obstetric scan with 4D imaging and foetal echocardiography
Abdominal, peripheral and renal doppler
Superficial parts ultrasound and sonomammography
Trans vaginal and trans rectal scan
Ultrasound guided fine needle aspiration and biopsy