MIOT Institute of Cancer Cure
It takes a team to fight cancer. Doctors, nurses, counsellors, nutritionists, physiotherapists, lab-personnel, radiologists, technicians, researchers, engineers and scientists. Family and friends too, and others who have walked in your shoes. At the MIOT Institute of Cancer Cure, we know what it takes to beat cancer. And we believe in cancer care that does not give up.
The MIOT approach to cancer care
Cancer is the most dreaded diagnosis in the world. At the MIOT Institute of Cancer Cure, we combine new approaches, specialties, technologies and medications with dedicated care, to offer patients speed, convenience and the best possibility of a cure.
The person who receives a diagnosis of cancer needs not only medical advice but also emotional support. We take a holistic view of cancer treatment at MIOT, and work to give our patients a positive experience from diagnosis to cure.
The Institute provides a soothing, world-class ambience with comprehensive, state-of-the-art facilities, which ensure that our patients are comfortable and receive the right treatment without losing time. They benefit from a threefold-advantage: sophisticated diagnostic and imaging facilities right on campus; a team of specialists who are available round the clock; and all modes of treatment under one roof. We treat all types of cancer across age groups.
In MICC's armoury are the sophisticated Dual Head Gamma Camera with its advanced workstation, and the 64-slice PET CT, which give our specialists detailed information about various organ systems in as little as 15 minutes.
We offer our patients the revolutionary TrueBeam STx, the most advanced radiotherapy in the world.
MICC's 24-hour lab, spread across 6000 sq. ft, is ranked 8th in the world. Manned by expert technicians, it has high-level automation and stringent quality-control systems in place.
MIOT's experienced oncologists are abreast with the latest oral and injectible drugs, including those that target and cure specific cancers.
Watch MIOT Institute of Cancer Cure Video
Download Brochure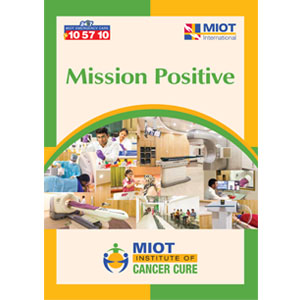 Cancer cure starts with an accurate and definite diagnosis that gives specialists the direction they need to use for treatment. At MIOT, we have the latest and most comprehensive set-ups for diagnosing and staging cancer in all its forms. The sophisticated laboratory, manned by expert technicians, enables the study of the disease at a molecular level. This gives our patients a head start as our oncologists are able to formulate, track and adapt their treatments based on their response.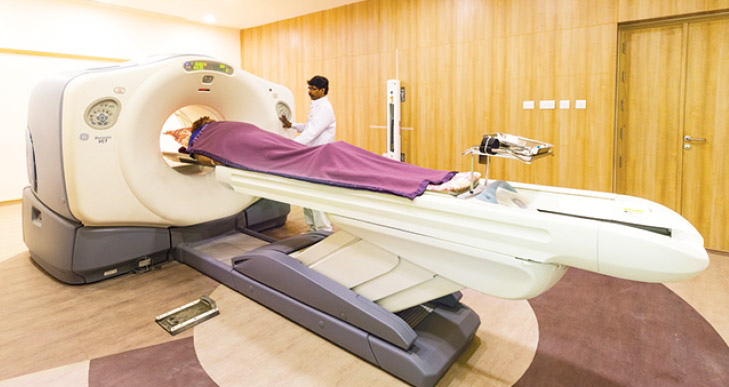 The cure actually begins in the laboratory. MICC's 24-hour lab, spread across 6000 sq. ft, is ranked 8th in the world. Manned by expert technicians, it has high-level automation and stringent quality-control systems in place to help identify and grade cancer tissues. Genetic probes enable specialists to recommend drugs or a line of treatment that would be most effective against the disease. This not only gives patients an edge over the cancer, but also enables our oncologists to track and adopt different treatments based on the patient's responses.
Sophisticated facilities for detecting gastrointestinal and liver cancers include endoscopy, minimally-invasive biopsies and more. Supported by our expert and empathetic staff, they keep our patients comfortable through fast and painless procedures.
At the MIOT Institute of Cancer Cure, we favour a multidisciplinary approach to cancer care. In order to treat the disease completely, whilst also minimising trauma during treatment, we formulate a customised treatment plan for every patient, which combines the latest procedures and specialised treatments on a case-to-case basis.
There are three primary treatment modalities for cancer: chemotherapy, surgery and radiotherapy. The most effective course is determined by our Tumour Board, which is comprised of specialists from the three treatment modes – medicine, surgery and radiation – as well as specialists from gastroenterology, orthopaedics, neurosurgery, cosmetic surgery, interventional radiology, etc.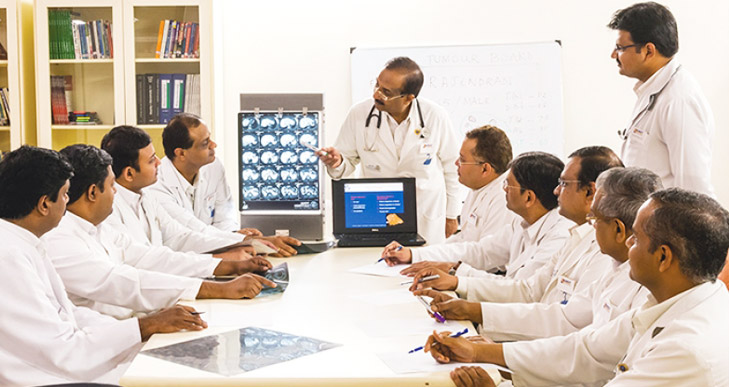 Armed with detailed diagnostic information about each patient's case, the Tumour Board meets thrice a week to formulate a comprehensive treatment plan for every patient, and keep tabs on them as treatment progresses. The Institute is supported by a dedicated team of nurses, nutritionists and counsellors, who help patients complete their treatment as planned.
The best minds on every case
In the care and cure of cancer, MIOT favours an approach that draws on the expertise of our specialists from all departments. A Tumour Board, comprising oncologists, pathologists, radiologists, reconstructive surgeons and other specialists, discusses every case and formulates a treatment course that is conservative, sensitive and most suitable for the individual patient. This means that patients benefit from a comprehensive treatment plan and are able to receive all their treatments, from diagnosis to cure, at the Centre.
Specialists from the MIOT Institute of Haematology, Haemato-oncology and Bone Marrow Transplant form part of the Tumour Board and work in synchrony to plan and treat patients with blood and germ-cell cancers.
ESMO Patient Guidelines
These guidelines are designed by to assist patients, their relatives and caregivers to better understand the nature of different types of cancer and evaluate the best available treatment choices.
Click the cancer type to download the guidelines
NCCN Patient Guidelines
Guides for Patients are designed to assist patients, their relatives and caregivers to better understand the nature of different types of cancer and evaluate the best available treatment choices
Click the cancer type to download the guidelines
Patient Success Stories (Case Studies)
1. Acute Leukemia (In Near End Stage Cancer) Treated With Haplo-Identical Transplant
This is a story of a nine year old, single male child from Madurai. His father is a daily wage labourer and mother is a housewife. In June 2012, he presented to a local hospital with the complaints of fever and significant pallor (an unhealthy pale appearance).
Diagnosis:
On evaluation, was found to be suggestive of acute leukemia and was referred to a state run tertiary referral centre. The diagnosis of Acute Myeloid Leukemia was confirmed with further investigations.
ACUTE MYELOID LEUKEMIA (AML) is a type of blood cancer characterized by rapid growth of abnormal white blood cells that build up in the bone marrow and interfere with the production of normal blood cells.
Treatment at 3rd party private hospital:
He was started on standard initial high dose chemotherapy, which was repeated twice in view of induction failure. Then he received three more cycles of High dose consolidation which literally drained his father's left over property. Allogeneic transplantation was far ahead of his luck. In an allogeneic transplant, stem cells are collected from a full 10/10 matching donor and transplanted into the patient to suppress the disease and restore the patient's immune system.
Leukemia relapse:
He got discharged in remission, but in a matter of eight months his cancer came back. This time most of the centres offered palliative care or re-induction with higher regimens but followed by Matched Unrelated Donor (MUD) transplant.
This unrelated donor transplant is done, if you don't have a good match in your family, a donor might be found in the general public through a national registry. But finances lessened his chance of thinking about MUD (matched unrelated donor) search in international registries (normally cost Rs. 20L) as the Indian registry search was in vain. He was randomly treated by multiple centres with different combination of drugs in a motive to give few more days to him.
Referral to MIOT:
Since MIOT is affiliated to a national not-for-profit organization active in funding for cancer affected children, he was referred to us. The situation was, we had a heavily pre-treated Relapsed Acute Myeloid Leukemia (near end stage cancer) with no sibling donors and a limited funding to carry out an allogeneic transplant.
Treatment at MIOT:
Re-induction chemotherapy was done. This remission was meaningless if not consolidated with a transplant. In India the cost to acquire MUD cells from international donor programs would literally exhaust their available limited funding. Now the family was motivated for a cure psychologically but not financially.
Single male child!
We came up with the revolutionary idea of doing transplant from a half matched donor, i.e mother or father. We chose his mother as donor and proceeded with Haplo-identical transplant.
Post-transplant, he was put on Chemotherapy which he tolerated well.
A haplo-identical transplant is a type of allogeneic transplant. It uses healthy, blood-forming cells from a half- matched donor to replace the unhealthy ones. The donor is typically a family member. This type of transplant ensures donor availability to nearly all our patients. Parents, Siblings and sometimes children can be used as donors reducing the cost for procuring third party stem cells.
Today:
Now it's nearly 5 years post-transplant, he is in remission with regular follow-ups and all the drugs have been stopped. Except for a mild hyperpigmentation, his physical and psychosocial development parameters are within normal limits.
He is giving his board exams and NEET this year with an aim to become a haematologist!!!
2. Advanced Stage Breast Cancer With HER2+Ve Treated With Modified Radical Mastectomy
A 54 year old lady came to MIOT in December 2013 with a lump in her left breast region. She was a tailor by profession and the most contributing member in the up-liftment of their family. Life had just started treating her fairly, with her daughter married happily and her son settled in a job. But it did not last long.
Diagnosis:
By the mid of November, she noticed a lump in her left breast region that was gradually increasing in size. A little worried, she went to a local hospital nearby. The Doctor advised for a mammogram test. The reports were suggestive of Breast cancer, so she was immediately referred to MIOT.
Treatment Plan at MIOT:
At MIOT, PET scan and Biopsy was taken, which confirmed locally advanced Breast cancer. Her molecular testing showed an aggressive type of cancer Her2+ve. The treatment was planned to start with Chemotherapy followed by surgery. Jan 2014, chemotherapy was started. She had 4 cycles of chemotherapy. By March 2014, she was taken for surgery- Modified Radical Mastectomy.
HER2 (HUMAN EPIDERMAL GROWTH FACTOR RECEPTOR 2) is a gene that can play a role in the development of breast cancer. HER2-positive breast cancers tend to grow faster and are more likely to spread and come back. But there are medicines specifically for HER2-positive breast cancers.
RADICAL MASTECTOMY is a surgical procedure involving the removal of breast, underlying chest muscle and lymph nodes of the axilla as a treatment for breast cancer.
Post surgery
Post surgery her recovery was gradual. She then underwent, 4 cycles of chemotherapy followed by Radiation (IMRT) for 1 month and targeted therapy for 1 year henceforth.
INTENSITY-MODULATED RADIATION THERAPY (IMRT) is an advanced mode of high-precision radiotherapy that uses computer-controlled linear accelerators to deliver precise radiation doses to a malignant tumour or specific areas within the tumour. The TARGETED THERAPY is only for HER2+ve patients to generally act on destroying only the HER2 genes.
Recovery:
A PET scan was taken by July 2015 after completion of her treatment which showed no remnants of cancer. After 3 months, she started her work again. For the past two and half years she is on regular follow up. Her latest PET scan taken in November 2017 shows her disease free. She is all healthy and back to her normal life. Now she helps other breast cancer patients in the form of counselling and moral support.
3. Stage 3 Rectum Cancer Treated Successfully, Along With Saving The Transplanted Kidney
A 58 year old gentleman from Kerala was a survivor of renal transplant for last 22 years. He was on regular medications and perfect follow up for over two decades.
Diagnosis:
In January 2016, he developed loose stools and blood in stools on and off. He planned to evaluate himself during his next check up with his nephrologist. The following month he saw his nephrologist and was advised a colonoscopy. The colonoscopy revealed a tumor in rectum (terminal part of large intestine) and on further evaluation with MRI and CT scans he was found to have a locally advanced disease, which means the disease has spread in the local area only and not elsewhere.
The real challenge:
Protocol wise he is a candidate for pre-operative radiation and chemotherapy, as it will help in shrinking the tumor size. But, the real challenge was in delivering the radiation only to his rectum without affecting his only functioning transplanted kidney. The problem is that the transplanted kidney lies in close proximity to rectum.
The tolerance dose for a transplanted organ in patients exposed to immunosuppression may be much lower. Therefore the renal transplant should be exposed to as low a dose as possible on the one hand, but without compromising that to the target volume (Cancer Rectum) on the other, in order to obtain a high cure rate A primitive method of radiation would damage his transplanted kidney and make him dialysis dependent again. Neither he could avoid radiation as the cancer was advanced; hence it will relapse again and kill him.
Treatment Plan:
To tackle this very rare and unique case scenario, many oncology teams would have deferred radiation and went ahead with direct surgery. But at MIOT, with our latest true beam machine and expert oncology team we were able to deliver targeted radiation only specifically to the rectum without radiation scatter affecting the transplanted kidney by using IMRT with SIB Technique.
INTENSITY-MODULATED RADIATION THERAPY (IMRT) is an advanced mode of high-precision radiotherapy that uses computer-controlled linear accelerators to deliver precise radiation doses to a malignant tumour or specific areas within the tumour.
The patient finished 50Gy in 25 fractions in 5 weeks and had near complete response of the cancer in the follow up scans. A mean dose of less than 4Gy is tolerated by the transplanted Kidney but we delivered a mean dose of only 1.38Gy to the Kidney and the mean dose to the Ureter was only 4.98Gy which is remarkably low and we could save the kidney from the harmful effects of radiation.
He then underwent a very technically demanding surgery in June 2017, which involves complete removal of the cancer of rectum without damaging the transplanted kidney and also to restore the normal pathway for his nature`s calls. The patient underwent a three hour long surgery and had perfect kidney function in the intra operative and post operative period.
Recovery:
He was mobilised the very next day and started on normal diet from day three of surgery. PET scan was done post surgery, which showed no evidence of cancer. He comes for regular check-ups. A recent PET scan taken on 30th Nov also depicts the same.
At MIOT Institute of Cancer Cure not only was this patient was cured of cancer but with its state of art facilities we were able to preserve his only functioning transplanted kidney which has given him a life of nearly 22 years so far.
4. Stage 3 Breast Cancer Treated Successfully
A 42 year old lady came to MIOT in November 2014 with a lump in her right breast region. She was working as a newsreader in a private channel in Chennai.
Diagnosis:
In Feb 2014, she had fever which leads her to examine her own body to check the temperature. On examining, she found a very small lump in her right breast region. Her elder sister was diagnosed with breast cancer and was in treatment during that time. So with no further delay, she went to a known pathologist, and took a biopsy that was suggestive of Breast cancer.
Mis- guidance:
Her colleagues told her that, cancer can be cured by Siddha medicines and asked her to take treatment. She was also aware that chemotherapy will make her lose her hair, which will spoil her career. Taking everything to her mind, she made the decision of visiting a Siddha Doctor and was on treatment for 6 months. But during that period, the lump started growing in size and had pain on touch. This is when she knew that she had made a wrong choice.
Approach to MIOT:
Her relative referred her to MIOT. Here, she met the Gynaecologist 1st who advised her to take Mammogram and PET scan. She confirmed a Stage III Breast cancer involving her left breast region. She was sent to the Oncology team who planned on starting with Neoadjuvant Chemo-radiotherapy followed by surgery.
NEOADJUVANT CHEMORADIOTHERAPY is the administration of therapeutic agents before a main treatment. Neoadjuvant therapy aims to reduce the size or extent of the cancer before using radical treatment intervention, thus making procedures easier and more likely to succeed.
Treatment done:
She started with 4 cycles of Chemotherapy by November. Her surgery was done in January 2015. She underwent modified radical mastectomy of her right breast. Post surgery, she was discharged home on the 2nd day. In March, she underwent 4 cycles of chemotherapy and 1 month of radiotherapy. Her recovery was uneventful.
MODIFIED RADICAL MASTECTOMY is a surgical procedure involving the removal of breast, underlying chest muscle and lymph nodes of the axilla as a treatment for breast cancer.
Recovery:
A PET scan taken 1 week post treatment, showed no evidence of tumour in the region. She joined back work in from August 2015. Her win over cancer made her confident than she can conquer anything. Something that she feared all her life was driving a car, which now she says that she has learnt it and drives by herself to work daily.
She comes for review visits every 3 months. PET scan taken recently shows no signs of cancer. She said" Losing a breast has not affected me in anyway. It is just a part of a body. I am not handicapped because of it".
5. End Stage Naso-Pharyngeal Cancer Declared Incurable Elsewhere Treated Successfully
A 24 year old young man an active 2nd year student of clinical Pharmacy, played soccer (a Goal keeper) and was active on social media like any other college goer.
Diagnosis of Naso-pharyngeal carcinoma:
His problems started by March 2015, when he started experiencing difficulty in swallowing and a swelling in the neck region. The long history of repeated scans, blood tests and biopsies began. By April 2015, he was diagnosed with Naso-pharyngeal carcinoma at a hospital in Cairo. Within the next few days, he was operated and then started on concurrent chemotherapy with radiotherapy.
Worsening condition:
He developed severe toxicity due to secondary infection, something that the Doctors there did not anticipate and his immunity levels were compromised. He had to stop treatment even before the planned chemotherapy with radiotherapy cycles were over.
A CT Scan done by August 2015 showed that cancer has spread to the lungs and was informed that his disease was not curable. Being a student of clinical Pharmacy and the information he gathered in social media, he decided to dig deeper and fight cancer. He was again planned for chemotherapy, even which he did not complete.
Closed doors:
By this time, he had developed severe lung infection leading to lung abscess and a fistula. He went home with a very weak body (Body weight 33kg) and a foul smelling drain tube hanging from his chest. His father was given the idea that cancer has taken away his son and he is dying already. A college going football player and a student of Clinical pharmacy- Now rendered with a very poor quality of life. But then he did not give up.
Last hope- MIOT:
He arrived at MIOT Hospitals on 04.08.2017. He was severely emaciated and was breathless on admission. He was previously treated at several hospitals in Sudan, Cairo and at one point informed that he has incurable and terminal stage cancer. He came to MIOT International for opinion on further management or at least a removal of his drain tube.
Multidisciplinary team at MIOT evaluated him. His initial PET CT scan done here showed extensive disease involving Naso-pharynx, neck nodes and multiple lung metastasis (cancer that spreads to a different part of the body from where it started). Multiple biopsies done from all three places turned positive for cancer. Preliminary tests and previous reports showed that he had HPV (Human Papilloma virus) – positive Nasopharyngeal cancer. The only ray of hope in his case was that, HPV Positive head and neck cancers have better prognosis and good cure rates
Treatment done:
Cardio thoracic team and pulmonology team of MIOT International started Specific Antibiotics for his lung infection and he started recovering. Simultaneously he underwent treatment for cancer cachexia (marked weight loss in patients with cancer that cannot be reversed by normal nutritional support). The boy started improving and his infection was getting controlled. The Cardiothoracic team undertook the Herculean task of closing his chest drain and allowing the fistula to close since infection was responding to broad spectrum antibiotics.
Now, once his chest tube site started healing, the next work was to handle his major issue- cancer. The Oncology team was determined to go ahead and treat him with chemotherapy. He was put on chemotherapy on 13.09.2017.
Progress to betterment:
He started improving drastically. His chest wounds started healing. After 3 cycles of chemotherapy his weight was 70kg, which indicated that his immunity is bouncing back to normal. An Interim PET-CT Scan done on 13.11.2017, showing Complete Regression with no Cancer remnant seen in lungs, lymph nodes or Naso-pharynx!!
He is all smiles and celebrations and is keen on completing three more cycles and flying back home. Victorious!!
6. High Grade (Stage 4) Diffuse Large B- cell Lymphoma treated with Chemotherapy
Mrs. Rama, 55yrs old housewife came to MIOT on 5th Feb 2014 with her Ultrasound scan reports suggestive of a cancer in her abdominal region. It was in the mid of Jan, her friends noticed that her body and eyes appeared yellow. They thought it could be jaundice.
She went to meet her family Doctor, who told her to check her bilirubin count. From her reports, it was found that her bilirubin count was above 17 mg/dl (normal level: 0.3 to 1.2 mg/dl). Due to the alarming increase, she was asked to take an Ultrasound which showed a lump larger than the size of a mango at the opening of pancreas obstructing the bile duct.
Approach to MIOT:
Her family Doctor referred her to MIOT. Once she met the doctors here, she was advised for a biopsy which confirmed, High Grade(stage IV) Diffuse Large B-cell Lymphoma. She was well aware of the effects and consequences of the disease as her mother-in-law was recently diagnosed with Colo-rectal cancer. The doctors told her that, the lump was obstructing her bile duct, resulting in high levels of bilirubin leading to Obstructive Jaundice.
Lymphoma is a cancer that starts in white blood cells called lymphocytes, which are part of the body's immune system. DIFFUSE LARGE B-CELL LYMPHOMA is a cancer of B cells, a type of white blood cell responsible for producing antibodies.
Treatment plan at MIOT:
She was planned for only 6 cycles of chemotherapy because she was young and cannot undergo surgery. With no further delay, she accepted for the treatment. The doctors were very surprised onto why she dint ask for any further clarifications. She simply said" Everything happens for a reason. I am not sure why I got it, but I am very sure that I can get out of it".
Treatment done:
By end of March, her chemotherapy was started. She was put on "R-CHOP" regimen, a combination of four drugs used in chemotherapy. With her children not in the country, her husband taking care of his mother, Mrs. Rama's mother stayed as the biggest pillar of support mentally throughout the treatment. She completed her 6 cycles by July.
Recovery:
She was taken for an Ultrasound after a week, which showed no evidence of any lump in that region. Her blood investigations were normal. After 3 months, she was back to her normal life and stood as a pillar of strength by her mother-in-law till her last breath. For the past two and half years she is on regular follow up and is completely free of the disease.
Mrs Rama says "Before cancer I had long hair, but after that I was bald. To be frank, I liked the bald look of mine. As hair started growing, my son tried different haircuts for me. My war against cancer that I won left me a sweet note that change is good. I am enjoying the short hair now".

7. Stage 2 Colorectal Cancer treated with Neoadjuvant chemo radiotherapy and Abdominoperineal resection
Mr. Karthik, 40yrs male came to MIOT hospital in June 2012 complaining of blood discharge in stools. He was working as a manager in a health care firm, the only contributing member of his family. He had a 5months old son and his wife was pregnant. He was very eagerly awaiting the birth of his next kid.
In March 2012, he started experiencing general weakness, tiredness, headache and persistent loose stools. Not taking them seriously, he ignored them. Once there was blood discharge along with stools, he came to MIOT, referred by his colleagues.
Diagnosis:
The doctor advised him for blood tests and Ultrasound scan. The reports told that his HB was 4g/dL, which was very low than normal and his scan showed the presence of a growth in the abdominal region suggestive of cancer. On PET scan, cancer in the Colo-rectal region was confirmed. He was diagnosed with Stage II Colorectal Cancer progressing to stage III, starting from the colon region and extending into the rectum.
Treatment Planned:
1st step was to give rest to the rectum and anal canals by bypassing its functions. Overall Oncology management was to give Neoadjuvant chemo radiotherapy followed by surgery. Radiotherapy planning was done with IGRT technique and was delivered with hospital image guidance protocol.
NEOADJUVANT CHEMORADIOTHERAPY is the administration of therapeutic agents before a main treatment. Neoadjuvant therapy aims to reduce the size or extent of the cancer before using radical treatment intervention, thus making procedures easier and more likely to succeed. IMAGE-GUIDED RADIATION THERAPY (IGRT) is the use of imaging during radiation therapy to improve the precision and accuracy of treatment delivery.
Treatment Done:
Diversion colostomy was done by inserting a tube in the region which will take care of the anal function followed by Neoadjuvant Therapy. He had very good response to the therapy that the tumour shrank to a very small size. Then the patient was taken up for surgery- Laparoscopic Abdominoperineal resection by December. As the entire rectum and anus were removed, a colostomy bag was attached to perform its function.
An ABDOMINOPERINEAL RESECTION is a surgery in which the anus, rectum, and sigmoid colon are removed. This procedure is most often used to treat cancers located very low in the rectum or in the anus.
Recovery:
Post surgery, he was put on 2 more cycles of chemotherapy and radiotherapy for 2 month. A PET scan taken after 2 weeks showed no remanence of the tumour. Blood test taken, showed that his HB levels had increased to 9mg/dl. He was back to work in 2 months.
Mr. Karthik said that even though he had a strong willpower to fight cancer, something that shook him during the treatment was, when he was unable to lift his 1yr old son, who will come crawling towards him and look up into his eye with all the love. He says" Your body will give you signals that something is wrong, don't ignore them. Early diagnosis and treatment is very important".
Today:
He is on review for the past 5yrs. A recent PET scan showed him completely disease free. His HB is also within normal limits. Now he is the Vice president of the same firm. Cancer never crippled him, it thought him to grow harder and stronger.
Mr. Karthik said "I am not a cancer survivor. I am a Cancer Conqueror!!!"