MIOT Advanced Centre for Gastrointestinal and Liver Diseases
Surgical Gastroenterology
Overview
The surgical treatment of all patients with diseases of the digestive tract comes under the purview of the Department of Surgical Gastroenterology.
High-end, high-precision surgery
MIOT International's trained and expert surgeons perform open and advanced minimal-access surgery (laparoscopy or thoracoscopy). They also do revision surgeries on patients who have had complications from earlier operations.
MACGILD's cutting-edge surgical infrastructure can be matched by very few centres in the country. For laparoscopic surgery, our surgeons use sophisticated HD-system optics, power systems such as harmonic scalpel, Enseal, Ligasure and APC, and high-precision operative imaging systems such as laparoscopic ultrasound, and more.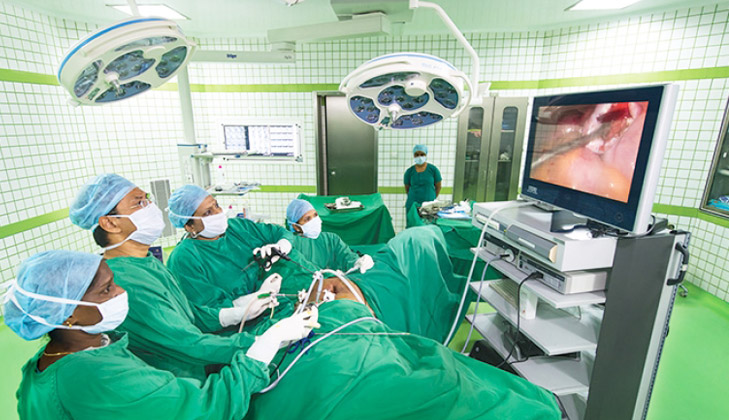 The equipment and instrumentation for open surgery is similarly high-end and includes intra-operative ultrasound and CUSA, in addition to dedicated and completely infection-free OTs and ICUs.
From ulcers to cancers
The Department's specialists treat:
Upper GI conditions such as severe gastro-oesophageal reflux disease (GERD), cancer of the oesophagus and stomach, complicated duodenal or gastric ulcers, and upper GI bleeding that is not controlled by endoscopy.
All diseases of the colon and rectum, from polyps and rectal prolapse to uncontrolled ulcerative colitis and cancers of the colon and rectum.
Other abdominal conditions, such as treatment of various tumours of the abdominal cavity and gastrointestinal lining (the mesentery, mesocolon and retro-peritoneum).
Treatments and Procedures
Nissen 360o floppy fundoplication
Partial fundoplication
Heller's seromyotomy
Excision of osesophageal diverticulum
Oesophagectomy
Truncal vagotomy and gastric drainage
Pyloroplasty
Closure of duodenal / gastric perforation
Resection of GIST
Colectomies for cancer and benign diseases
Total Mesorectal Resection
Abdominoperineal Resection
Total proctocolectomy and ileal pouch-anal anastomosis
Rectopexy
Colostomy
Ileostomy
Resection and anastomosis of small intestine
Adhesiolysis for intestinal obstruction
Closure of intestinal perforation
Splenectomy
Adrenalectomy
Removal of intra-abdominal and retroperitoneal cysts
Staging laparotomy
De-vascularisation
Lienorenal shunt
Warren's shunt