Liver Transplant
The success of a liver transplant depends on the quality of the donor organ and also the right facilities and expertise. At MIOT International, these include a world-class surgical &intensive care team, sophisticated imaging and radiology facilities, advanced laboratory services, surgical and ICU facilities, a dynamic blood bank, specially-trained nursing staff, Transplant coordinators and nutritionists.The MIOT Liver Transplant team has about 3 decades of experience in Liver surgery and is able to give Liver transplant outcomes as par with international standards. The MIOT Advanced Centre for Gastrointestinal and Liver Diseases through its MIOT Gold Standard Liver Transplant Programme (MGST) has successfully performed 124 Liver transplants since the inception of the programme. MIOT Hospitals is as a Referral Centre for Liver Transplantation.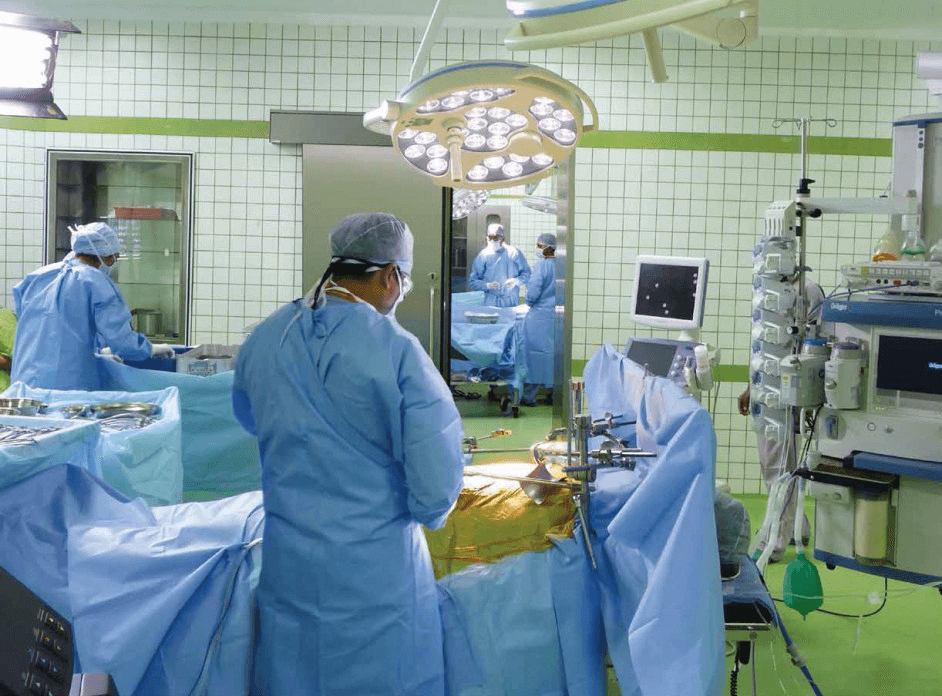 The MIOT Hepato Pancreatico Biliary Centre for Surgery and Transplantation holds the world's latest operating theatre technologies to control manage and regulate blood flow so crucial to success in HPB Surgeries.
Watch the video to know more about the department of HPB and the functions of Liver, Pancreas, Gallbladder, Bile Ducts and Liver Transplant.
Online Liver Transplant Enquiry
The Silent Organ
Your body cannot function if your liver stops working. Unfortunately, you remain largely unaware that your liver is damaged because there are no indicators until the damage is severe. You could need a liver transplant if your own liver can no longer eliminate drugs, toxic substances from your body; make immune factors that help you resist infections, or make new body proteins. Liver diseases such as advanced cirrhosis, liver cancers, inherited and congenital diseases and the like are common reasons for a Liver Transplant. Contrary to popular perception, liver transplant is not a last resort; the procedure is curative when performed earlier in the disease phase.
The secret to a successful transplant
The liver is the second most-transplanted organ. During liver transplant surgery, surgeons remove the patient's diseased liver and replace it with a healthy liver from a donor. The donor-liver could come from a cadaver or a living donor (Cadaveric liver transplant or Living donor liver transplant). Most Liver transplants are done with a cadaveric organ. The success of a transplant depends on the condition of the donor-liver and the conditions under which the transplant has been done. With the right facilities and expertise, over 90% of adults and about 95% of children who undergo a liver transplant survive the surgery and go on to lead normal, productive lives.
Why Liver Transplant at MIOT International
MIOT International is one of the best Hospital for liver transplant in Chennai India. MIOT has both the facilities and the expertise necessary for this complex, life-saving procedure. The MIOT Advanced Centre for Gastrointestinal and Liver Diseases through its MIOT Gold Standard Liver Transplant Programme (MGST) has successfully performed 96 Liver transplant surgeries since the inception of the programme. Our multidisciplinary liver transplant team includes hepatologists, India's top transplant surgeons and anesthetists who specialise in liver surgery, besides haematologists, oncologists, interventional radiologists and infectious disease specialists. MIOT Hospitals is also expertise in paediatric liver transplants which has performed several liver transplants in children.

Renowned Hepatologists & Transplant specialists, who share the patient's journey – from diagnosis to cure.
Pulmonologists, Cardiologists and Nephrologists to ensure that other organ systems are brought up to satisfactory health, if required.
Expert Interventional Radiologists for insertion of stents and catheters during surgery.
Pathologists and Haematologists to monitor the patient's condition before and after the surgery.
Dedicated Anaesthesiologists, who not only keep the patient pain-free and comfortable, but also ensure the delicate balances of body enzymes, hormones & blood levels.
Intensivists for round-the-clock care during the crucial post-op phase.
Transplant co-ordinators, Nutrition specialists and dedicated nursing staff, who care for and support both patients and caregivers, 24×7.
Each one, committed to restoring their ailingbodies and bringing joy back to lives.
An Integrated Approach
Bleeding is one of the biggest complications in liver surgery. A crucial aspect of liver surgery, therefore, is controlling, regulating and managing blood flow and clotting. MIOT's liver transplant surgeons do this with cutting-edge equipment such as the Intra-op Cell Salvage Device, Rapid Infuser System, Cavitron Ultrasonic Suction Aspirator, Intra-operative Ultrasound, Veno-venous Bypass Circuit and ROTEM Thromboelastogram, which help to control and monitor bleeding, conserve the patient's blood and preserve circulation of blood to the heart. This integrated approach has earned MIOT International recognition as a referral centre for liver transplantation.
Fighting infection and infection control are paramount in transplant surgery. At MIOT International, every care is taken to create a completely sterile environment. Laminar air-flow and HEPA filters ensure that the air in the OTs, ICUs and recovery areas is clean, fresh and germ-free. Intelligent sensor-based technology maintains a 99.9% bacteria-free environment in the state-of-the-art, modular, dedicated twin-operation suites (a facility available in very few liver transplant centres in India) and adjoining surgical ICUs. This limits exposure to the rest of the hospital and offers an added layer of protection. The Automated Central Sterile Supply Unit ensures that there is zero manual handling of materials used in our OTs, ICUs and patient rooms. Leuco-depleted blood and blood components are provided to patients requiring blood transfusions to eliminate the risks of infection in the treatment of liver disease.
MIOT Gold Standard Liver Transplant Programme (MGST)
Over the past few years, we have seen a steep increase in the incidence of liver disease. Since conditions of the liver rarely show symptoms, they are often diagnosed at an advanced stage, when the only recourse is a Liver Transplant.
Most patients who receive such a diagnosis find themselves in a spiral of despair warring with hope. For them, every day is a challenge: while they wait for a donor organ to become available, through the surgery and their recovery. They need sound medical care and empathetic emotional support at every stage. At MIOT International, this is precisely what we offer patients as we share their journey from diagnosis to cure.
Once a patient chooses to do his transplant under the MIOT Gold Standard Liver Transplant Programme (MGST) we are committed to giving him a good outcome. Our unified focus remains on ensuring the patient's long-term survival and giving him a good quality of life, post-transplant. This starts with a 'no-compromise' stand on donor organ choice for our patient and providing an optimum environment for his surgery and recovery. An effort led by our renowned specialists, who adopt the latest Liver transplant surgery techniques and facilities and follow stringent international protocols. They are aided by highly trained support teams.
This wholly collaborative approach, with such a high level of medical expertise, is what allows me to proudly inform you that today we can safely offer 90% success in this most challenging speciality. It is an effort which allows us to reunite families with their loved ones, often in cases where once there was no hope.
Our Goal
Return patients with End-stage Liver Disease to a good quality of life for the long term.
Our Commitment

Internationally acclaimed, experienced team of full-time Liver specialists.
Accurate assessment and projection of the patient's condition & recovery, before Transplant.
Donor organ that matches international specifications.
Safest environment for transplant surgery and recovery, with the lowest infection rate (0.06%), in India.
Complete transparency with patients and caregivers at every stage.
Compassionate and positive care environment that preserves patient dignity at all times.
Comprehensive, Comfortable, Conclusive it begins with an accurate assessment
Meeting the Gold Standard Making the call to accept or reject
New Age Theatres besting the complications of surgery
A top-notch support system
Fighting the unseen enemy patient safety first and always
Focussed on the long-term where no effort is too great
Liver Transplant Contact Details