Hepato-Pancreato-Biliary Surgery
MIOT Advanced Centre for Gastrointestinal and Liver Diseases
Overview
Treating the body's most complex organ system
The hepato-pancreato-biliary system is comprised of the liver, pancreas, gallbladder and bile ducts. Together, they are responsible for over 3600 functions in the body, including processing food, absorbing nutrition and disposing off toxins and waste.
Delayed symptoms are a characteristic of most diseases related to the hepato-pancreato-biliary system and few health care institutions offer the highly specialised care that they require, particularly in surgery and transplants. The MIOT Hepato-Pancreatico-Biliary Centre for Surgery and Transplantation has the experience, expertise and infrastructure to take on the challenge.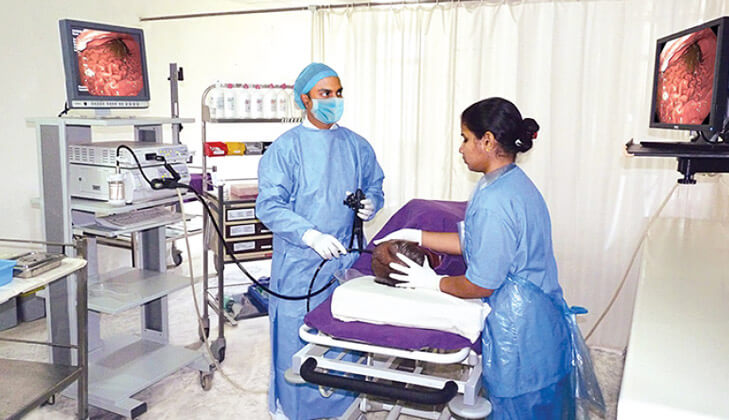 Liver Transplant
The success of a liver transplant depends on the quality of the donor organ and also the right facilities and expertise. At MIOT International, these include a world-class surgical & intensive care team, sophisticated imaging and radiology facilities, advanced laboratory services, surgical and ICU facilities, a dynamic blood bank, specially-trained nursing staff, counsellors and nutritionists.
Rooting out disease
Our surgeons use sophisticated imaging and screening techniques to root out disease in the early stages and are supported by MIOT International's world-class, 24-hour laboratory. Endoscopy is used for both diagnosis and treatment at the Centre.
Cholangioscopy (SPYGLASS system) enables endoscopists to enter and visualise the biliary and pancreatic ducts and obtain target biopsies of suspected cancer lesions. It is also used to target and fragment stones using a laser beam.
Endoscopic Retrograde Cholangio-pancreatography (ERCP), a specialised procedure, is performed with fluoroscopy and contrast injection, to examine and treat conditions of the bile ducts and pancreas.
Endoscopic Ultrasound (EUS), a hybrid of both endoscopy and ultrasound, helps to identify stones and early cancer in the bile duct and pancreas and aids in the treatment of liver diseases.
Our interventional radiologists perform trans-jugular liver biopsy and pressure studies in patients with advanced liver disease and portal hypertension.
Trans-jugular intra-hepatic portosystemic shunt (TIPSS), a percutaneously-created connection within the liver between the portal and systemic circulation, is done for patients with advanced liver disease.
Detecting liver disease – early and painlessly
Liver fibrosis is usually identified through a liver biopsy, an invasive procedure that can cause bleeding and pain. However, at MIOT International, patients have the option of a new, painless and rapid scan for identifying liver fibrosis at an early stage, called Acoustic Radiation Force Impulse (ARFI) Imaging (also called fibro-scan). The system picks up even the tiniest anomalies and allows for the early detection and treatment of disease. This is especially beneficial to patients with fatty liver, diabetes, obesity, alcohol-abuse and viral hepatitis.
Turning minefields into safe zones
One of the biggest challenges surgeons face in liver surgery is haemorrhage because of the difficulty in suturing or sealing hepatic tissue. In pancreatic surgery, the complexity of the organ's location, as well as its multiple channels to transport the digestive juices, bile and blood, make surgery difficult.
The MIOT Hepato-Pancreato-Biliary Centre for Surgery and Transplantation performs surgery and transplants of the liver, pancreas and biliary tree, with excellent results.
Sub-super-specialisation, advanced technology and the development of new surgical and anaesthetic techniques have helped to significantly counter the risks of surgery on these organs. Our experienced surgeons – some of the best in the country in this speciality – perform laparoscopic surgeries on the liver, gallbladder or pancreas regularly, using cutting-edge, high-definition laparoscopy equipment, including the harmonic scalpel, which allows them to visualise and approach difficult areas confidently.
Catching them early
Screening to root out disease in the early stages is one of the Centre's most vital services. Liver diseases are diagnosed through liver-function tests and an ultrasound scan as part of a Master Health Check for pancreatic maladies through imaging and detailed blood studies at our sophisticated laboratory. We use tumour-markers to pick up cancer of the liver and pancreas. Advanced diseases can be picked up with a computerised tomography (CT) scan, magnetic resonance imaging (MRI) or magnetic resonance cholangiopancreatography (MRCP).
The Diagnostic tests for the diseases of the hepato-pacreato-biliary system.
Disease and Diagnostic Tests
Gallstones – Ultrasonogram
Bile Duct Obstruction – Magnetic Resonance Cholangiopancreatography (MRCP), Endoscopic Retrograde Cholangio Pancreatography (ERCP), Endoscopic Ultrasound (EUS), Ultrasonography
Cancer Of The Bile Duct – Magnetic Resonance Cholangiopancreatography (MRCP), Endoscopic Retrograde Cholangio Pancreatography (ERCP), Endoscopic Ultrasound (EUS), CT scan
Liver Disease, such as Viral Hepatitis – Liver-function tests, Ultrasound
Advanced Liver Disease – Fibroscan (ARFI), Liver-function tests, Ultrasound
Liver Cancer – CT scan, MRI, Liver-function tests, Ultrasound scan, Tumour markers
Acute Pancreatitis – CT scan, S. Amylose, Endoscopic Retrograde Cholangio Pancreatography (ERCP)
Chronic Pancreatic Disease – CT scan, Endoscopic Retrograde Cholangio Pancreatography (ERCP)
Pancreatic Cancer – CT scan, Endoscopic Retrograde Cholangiopancreatography (ERCP), Tumour markers, Endoscopic Ultrasound (EUS)
MIOT Liver Gym
Lifestyle, habits and illness may have damaged your liver over the years. You may not have had any warning signals as your liver can work in complete silence until it is 90% damaged. At this point, your entire system shuts down and a liver transplant becomes your only option.
Steep increase in incidence
What you may not know is that liver disease is growing at an alarming rate in India today, with one in every five people affected. Another cause for concern – the affected age group is getting younger. And its effects are obvious both at the workplace and at home.
The solution within
The solution, surprisingly, lies in the liver itself. Most people don't know that Liver is the only organ that can regenerate – even if is severely damaged, with conscious lifestyle changes and medical support, if need be.
Herein lays our chance to reverse the damage we're doing to ourselves –The MIOT LIVER GYM.
Treatments and Procedures
Biliary system
Laparoscopic cholecystectomy
Laparoscopic /open bile duct stone removal
Repair of bile duct injuries
Excision of choledochal cyst and bile ducts cancers
Pancreas
Whipple's procedure
Pancreatectomy (central, distal, subtotal, total)
Pancreatojejunostomy
Frey's procedure
Pancreatic necrosectomy
Cystenterostomy and cystogastrostomy for pseudocysts of pancreas
Pancreatic tumour e-nucleation
Liver
Hepaticojejunostomy
Liver resection for liver cancers and hydatid cysts
Hepato-pancreato-duodenectomy
Radiofrequency ablation of tumours
Laparoscopic procedures
De-roofing of cyst
Hepatectomy
Metastasectomy
Liver Transplant
The liver is the second most-transplanted organ. During liver transplant surgery, surgeons remove all, or part of, the patient's diseased liver and replace it with a healthy liver from a donor. The donor-liver could come from a cadaver or a living donor. Most transplants are done with a cadaveric organ. 
Meet the Doctors
Dr. Surendran Rajagopal
MBBS, MS, MNAMS, M.Ch
Dr. Surendran Rajagopal is the Director of the MIOT Hepato-Pancreato-Biliary Centre for Surgery and Transplantation.
One of India's foremost and most renowned hepato-pancreato-biliary surgeons, Dr. Surendran has over two decades experience in this speciality. Before he joined the MIOT family, he was Director, Institute of SGE and Centre for GI Bleed and Hepato-Biliary-Pancreatic Diseases (an ISO 9001-2000 organisation) at the Government. Stanley Medical College and Hospital, and Senior Consultant for Gastrointestinal Surgery at Apollo Hospitals.
During the course of his illustrious career, he established the only successful liver transplant in government sector anywhere in India. He also established the Cadaver Maintenance Programme – the first of its kind in the whole world – and the Stem Cell Programme at Government Stanley Hospital.
Dr. Surendran Rajagopal has published extensively on his speciality and also participated in, and made presentations at, a number of workshops, CMEs and conferences. He is a member of several organisations: Association of Surgeons of India; Indian Society of Oncology; Indian Association of SGE; International Gastro-Surgical Club; the Indian Chapter of Hepato-Biliary-Pancreatic Society; and the Association of Colorectal Surgeons of India.
Dr. Surendran has won numerous awards and accolades for his work. He was adjudged Best Outgoing Student of Stanley Medical College in 1975 and named Best Doctor by the Government of Tamil Nadu in 2002. He has also received the Special Mention Award from the Government of Tamil Nadu in 2010 and an honorary degree – D Sc (Hon) – from Tamil Nadu Dr. M. G. R. University.