MIOT's COVID-Free Green Zone
At the height of the pandemic, the fear of the unknown enemy was understandably high among the general public. With patients themselves postponing their treatment because of COVID-19, they were at a high risk of developing further complications.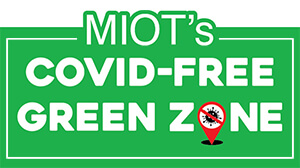 To reiterate the importance of timely treatment and firstly make non-COVID patients feel safe and comfortable in a hospital environment, MIOT Hospitals created a one-of-its-kind COVID-Free Green Zone. This exclusive zone with 2 dedicated buildings for world-class healthcare is located 100 metres away from the Testing area to help prevent any cross-contamination.
MIOT was the first private hospital in Tamil Nadu to keep COVID Care and non-COVID Care in separate building on its premises. The management took extraordinary measures to ensure that the COVID Care Block had a dedicated team of doctors and caregivers, separate entrance & exit and kitchen. Till date, more than 7000 patients from all walks of life have been treated successfully at MIOT Hospitals for COVID-19 alone.
Simultaneously, a team of full-time doctors and caregivers dedicated only to non-COVID Care were assigned to spearhead the COVID-Free Green Zone. They offered the highest level of care across 63 specialities. Till date, thousands of patients were successfully treated in this sterile environment during the pandemic.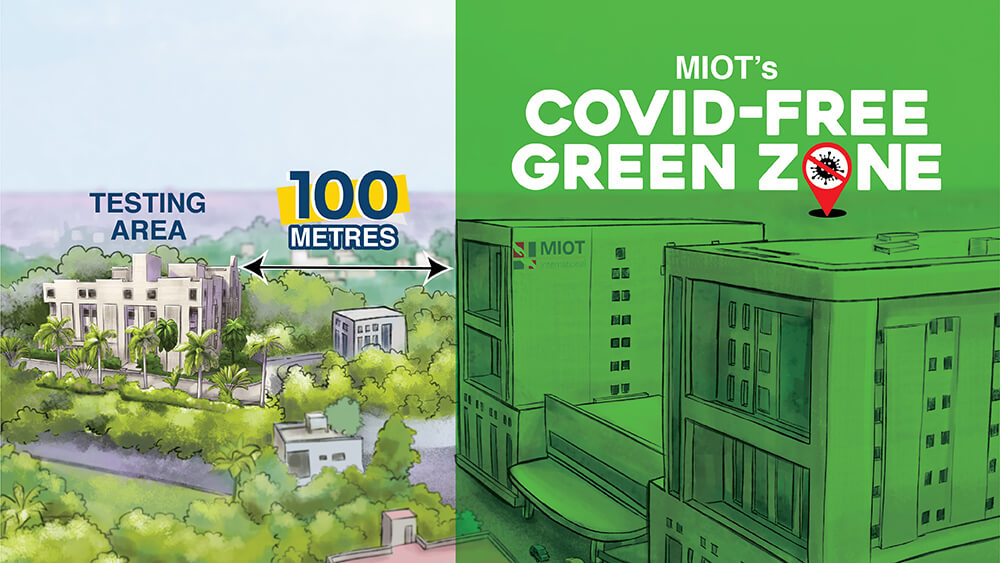 Various measures were taken to keep the COVID-Free Green Zone completely free from COVID-19. All patients and visitors entering the campus are met with temperature checks at the campus entrance and and also at various entry points of the two buildings in the COVID-Free Green Zone. Every square foot of this exclusive zone is sanitized at regular intervals to leave no stone unturned in our efforts to keep COVID-19 at bay.
During testing times, the initiatives taken by MIOT Hospitals offers patients the confidence to visit the hospital and most importantly, not to postpone timely treatment.