MIOT Institute of Cardiac Care
MIOT Heart Revive (Cardiac Emergency)
Overview

MIOT Heart Revive Centre (MHRC) is a 24 x 7 x 365, comprehensive heart-care facility for the diagnosis and treatment of any and all cardiac emergencies – heart attack, heart failure, arrhythmia and more, through interventional means. It is not an emergency room but a dedicated, state-of-the-art centre with one goal: to revive your heart – with the right treatment, within the right time, under the right hands.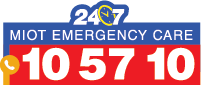 MIOT Cardiac Emergency number – 105710
When the heart 'attacks'
Heart attacks are a leading cause of death in India. During a heart attack, blood supply to the heart is curtailed or cut. It is important that blood flow is re-established within 90 minutes. This vital period is also referred to as the 'golden hour'. If this does not happen, the muscle is irreparably damaged, resulting in poor functioning of the heart, reduced capacity to provide oxygen to the body when it is exerted, life-threatening heart rhythm problems and, eventually, heart failure.
The RIGHT treatment
At the MIOT Heart Revive Centre, heart attack patients are taken directly to the one of the two state-of-the-art digital Cath labs. Here, experienced, full-time specialists use advanced interventional techniques such as Fractional Flow Reserve (FFR) and Optical Coherence Tomography (OCT) to get the inside story of the blocked blood vessel and arrive at the best course of treatment. This could be medication, primary angioplasty or open surgery, depending on the severity and location of the blocks.
Optical Coherence Tomography (OCT) and Fractional Flow Reserve (FFR), offered in very few centres in India, enable surgeons to foolproof treatment. FFR gives surgeons the exact degree of the blockage, enabling them to choose the safest and most effective treatment course. OCT allows them to see the extent of the damage to the arteries from the inside. It is most often used during stenting procedures to determine the size and type of stent required and verify fit and placement. Both these procedures help the interventional cardiologists ensure absolute accuracy, and eliminates the risk of restenosis which could require another, more complex surgery, and protects long-term outcomes.
Timely Heart Interventions
Time is life in heart care. The MIOT Heart Revive Centre is led by a top notch team of experienced interventional cardiologists, who have trained in emergency care centres abroad. Patients who have suffered from a heart attack are assured a 'door to balloon time' of less than 90 minutes under the care of a senior specialist, 24×7.
The layout and process flow at MHRC have been designed to enable specialists to start the required procedure in the shortest possible time. In the centre's armamentarium, which is one of the most comprehensive set ups in the country, are fully equipped resuscitation bays, portable ECGs and advanced in-house diagnostics such as 750HD scan, a dedicated electrophysiology lab, state-of-the-art laboratory sciences department.
Treatments & Procedures
Pacemaker implantation
Cardiac electrophysiology studies and radiofrequency ablation
Implantable defibrillator therapy