MIOT Institute of Nephrology
The MIOT Institute of Nephrology offers complete care for patients with kidney disease. Headed by one of India's most renowned nephrologists, the Institute handles the entire spectrum of kidney ailments, including across-blood-group kidney transplants. It is one of the largest and most modern nephrology units in the country.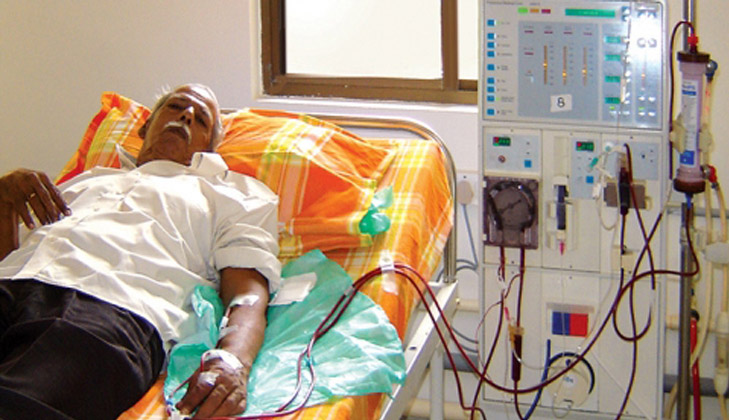 The MIOT Institute of Nephrology, a Centre of Excellence at MIOT, offers end-to-end treatment for the entire spectrum of kidney ailments, including general nephrology, dialysis and kidney transplants. This involves the management of electrolyte disturbances and hypertension, care for patients who require renal replacement therapy (including dialysis and renal transplants), and treatment of systemic disorders (such as ANCA vasculitis, lupus or polycystic kidney disease) which may require special treatment. The Centre cares for patients with acute and chronic renal failure, hypertensive, obstructive and diabetic kidney disease, and immunologically-mediated kidney disease.
The MIOT Institute of Nephrology is a state-of-the-art dialysis facility, which handles more than 80 cases on an outpatient basis every day.
To address today's deficit of donor organs, the MIOT Institute of Nephrology has devised a programme for Kidney Transplant Across Blood Groups, where the transplant is performed with a donor-kidney from someone whose blood group is not the same as the patient's. MIOT International has collaborated with the Tokyo Women's University, the leaders in this cutting-edge, breakthrough Kidney Transplants Across Blood Groups procedure and has performed several such procedures on adults and children in the last few years. Till date MIOT has performed several Kidney Transplants Across Blood Groups with a high success rate
Our specialists have performed over 587 Successful kidney Transplants since the inception of the kidney transplant unit.
Advanced dialysis and interventional care
The Institute's state-of-the-art outpatient dialysis centre caters to over 75 – 80 patients every day. MIOT's haemodialysis unit has one of the best water-treatment plants and is manned by trained technologists. Dialysis facilities are also provided in all intensive care units, including the Liver ICU, Post-transplant ICU, Medical ICU and the postoperative care centre. Surgeons at the MIOT Institute of Nephrology perform a number of interventional procedures.
A Centre for kidney transplantation
The rising rates of renal failure in the last decade have led to an increased demand for donor kidneys around the world. Kidney transplantation is usually done within blood-group-compatible people. The donor and the recipient should usually have the same blood group or compatible blood groups. Transplants using organs from incompatible blood groups were not performed. However, path-breaking new research has made kidney transplants across blood groups a reality, opening up treatment avenues for thousands who need transplants but are unable to find a compatible donor. The Institute performs all types of kidney transplants, and is one of the largest centres in the country for this procedure.
Advanced imaging and diagnosis facilities
The MIOT Institute of Nephrology is supported by advanced imaging and diagnostic facilities like the latest 4D USG machine, 3T MRI, 750 High Definition CT Scan and Nuclear Radiography. The 24 x 7, centralised laboratory processes all types of renal biopsy specimens. Light microscopy, special stains and immunofluorescent studies are performed routinely and aid in the accurate diagnosis and management of kidney disease.
MIOT is one of the few centres in the country with a dedicated Nephrology ICU and specially-trained staff for kidney transplant and critically ill patients.
The effects of kidney disease can take a toll on other systems and organs, particularly the heart, bones and joints. At MIOT International, patients also have access to all medical and surgical specialisations, which allows them to receive comprehensive, holistic treatment.
The research wing of the MIOT Institute of Nephrology is currently pursuing world-class drug trials (level III) for the invention of resin / binders. It facilitates new concepts in nephrology care.
The Institute also works to educate the public about prevention of kidney disease. It is one of the few centres recognised by the Government of India as a centre for post graduate training in Nephrology, a three – year course with Diplomate of National Boards certification. It also offers a university training diploma programme for dialysis technologists.