MIOT Emergency Care 105710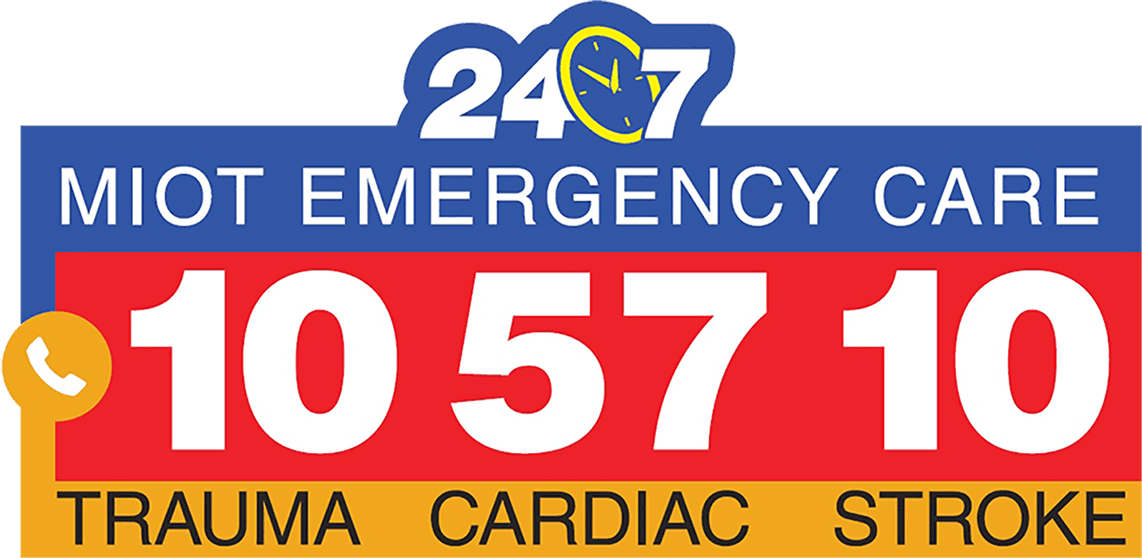 Your heart, brain or fractures can't wait in an emergency. Reaching the right centre at the right time makes a world of difference. MIOT Hospitals has always been the Chennai's first choice when it comes to handling polytrauma, cardiac and stroke emergencies. In case of an emergency, dial MIOT Emergency Care 

105710.
The MIOT Advantage: Saving Lives within the Golden Hour
MIOT Hospitals has a dedicated pathway for each emergency: accident and cardiac. As opposed to most emergency units where there is waiting time when the patient is brought in and then he or she is first attended by a junior doctor, MIOT has round-the-clock FULL- TIME SENIOR SPECIALISTS on standby, who attend to patients as soon as they are brought in. This assures the patient gets immediate treatment within the golden hour and save precious lives.
The MIOT Emergency Care department works closely with a multidisciplinary team comprising of Pulmonologist, Oral and Maxillofacial Surgeon, Neuro Radiologist, Ophthalmologist, Cardiologist, Neuro Surgeon, Cardiac Surgeon, Radiologist, Plastic Surgeon, ENT, Trauma Surgeon, Urologist, Anaesthetist, Critical Care Specialists who are on standby round-the-clock.
The MIOT Promise
Door-to-super specialist in zero seconds
Critical decisions taken by Senior Specialists around the clock
Timely diagnostics and interventions
Quicker recovery & shorter hospital stays
State-of-the-art equipment for diagnosis and treatment
Multi-disciplinary approach
Polytrauma Emergency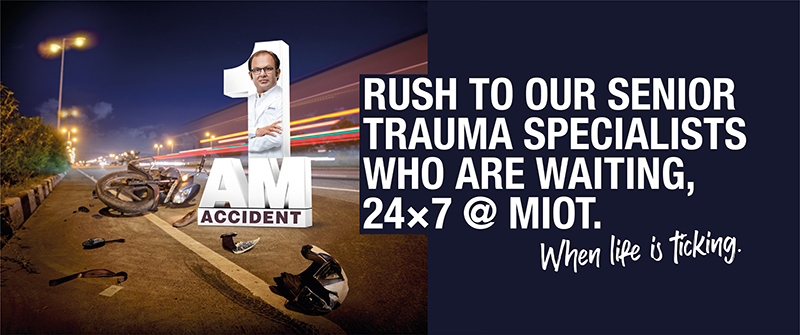 MIOT International is a Level 1 Polytrauma centre, providing the highest level of round-the-clock surgical care to patients. The department works closely with a team of emergency specialists, and intensivists who are on
standby 24x7x365 to handle all kinds of accident & trauma emergencies.
To save precious time, the Trauma team and Intensivists at the Level 1 Poly-trauma Centre look to achieve 70% Damage Control Resuscitation instead of resuscitating to the fullest extent as soon as the patient is brought in. They then take the patient for Damage Control Surgery instead of Definitive Surgery. This protocol is life-saving and has a high success rate.
Heart Emergency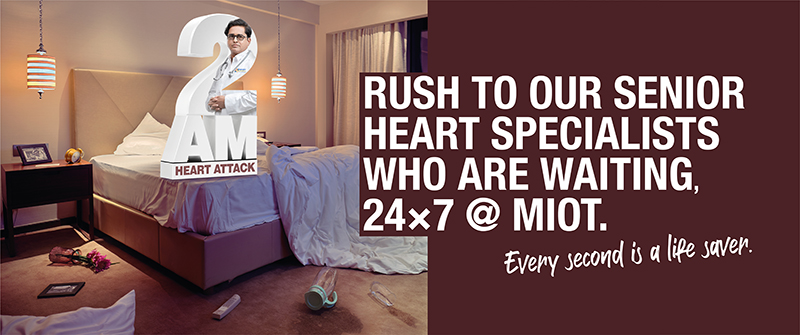 MIOT Heart Revive Centre is a 24x7x365,  state-of-the-art heart-care facility with Full-Time Senior Cardiologists for diagnosing and treating all cardiac emergencies – heart attack, heart failure, heart rhythm problems and is also capable of handling Primary PCI. It is easily one of the most comprehensive setups in the country, fully equipped with resuscitation bays, two Digital Cath Labs for performing both diagnostic and interventional procedures, and an Electrophysiology Lab.
The layout and process flow at MIOT Heart Revive Centre have been designed to enable specialists to start the required procedure in the shortest possible time. Upon arrival, there is a seamless process in place that ensures the patient is in the Cath Lab for treatment within 15 minutes by the Senior Cardiologist
Stroke Emergency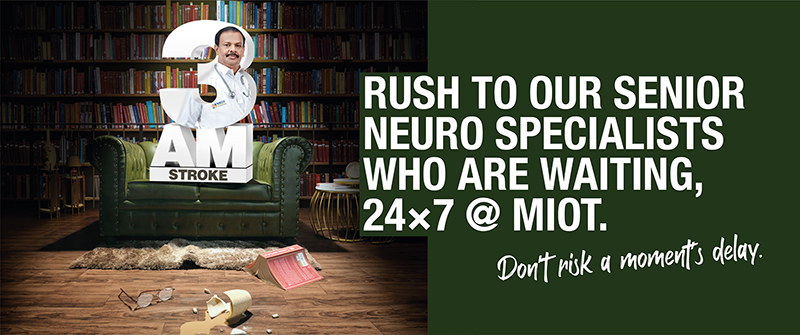 The MIOT Stroke Restore Centre is ready to handle any type of stroke emergency 24x7x365 when the patient is brought in within the 'golden hour.' It has one of the most advanced and comprehensive imaging facilities for stroke diagnosis. The complete, specialised care allows MIOT to give its patients the best chance for a productive, active life – even after suffering from a stroke.
The MIOT Stroke Restore Centre has a dedicated round-the-clock stroke team comprising neurologists, interventional neuro-radiologists, neurosurgeons and critical-care specialists. When the stroke patient is brought in, emergency imaging such as CT scan of the brain or an MRI diffusion study or a CT angiography is done and treatment is started immediately.