Biplane CathLab

The MIOT Interventional Suite is fully equipped with cutting-edge software intelligence to redefine the future of healthcare. The Biplane CathLab System is supported by a 56″ LCD screen to visualize Cone Beam CT images with high precision. This ensures that neurologists, cardiologists and vascular interventionists perform high-end medical procedures with ease. The system provides them with clear-cut 3D visualization of target organs and vessels, so that any pinhole procedure is done accurately, safely and quickly than ever before.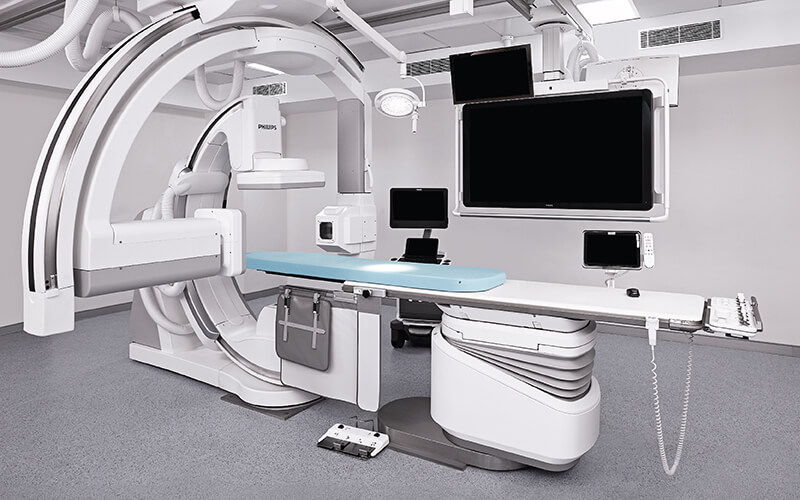 The fully configured Biplane CathLab System takes cardiac, neurological and vascular procedures to another level by setting benchmarks in SPEED, ACCURACY AND SAFETY.
SPEED

The MIOT Interventional Suite integrates diagnosis, decision-making and treatment on the same platform. This helps bring down the treatment time for all interventional procedures to just a few minutes from hours.
SAFETY

The Interventional Suite's unique features make it a leader when it comes to patient safety. It reduces the use of contrast dye and radiation exposure to ensure maximum safety for patients with kidney and liver issues.
ACCURACY

Accuracy is paramount when performing interventional procedures. The MIOT Interventional Suite promises pinpoint precision by producing high-resolution images of intricate structures.
Advanced Features of the MIOT Interventional Suite
Biplane CathLab
The Biplane CathLab is equipped with two C-Arms to obtain multiple images in one swift move. This avoids the need for multiple injections of contrast dye and repeated exposure to radiation for a given procedure. Be it interventional cardiac, neurological or vascular procedure, the two C-arms promise maximum safety.
Cone Beam CT
The in-built Cone Beam CT gives specialists the rare advantage of providing CT-like images on the table in just 5.2 seconds. Moreover, clear-cut 3D-images of obliquely placed organs like the liver are obtained in a single move. As procedures can be performed on-table post diagnosis, the patient need not be moved from the CT room to the CathLab and back.
3D ECHO
The MIOT Interventional Suite is the first in India to be equipped with EPIQ-CVxi, a 3D-Echo machine. Supported by Echo Navigator technology, the 3D Echo images are fused with Live X-ray images to help with high accuracy when placing stents and valves in the heart.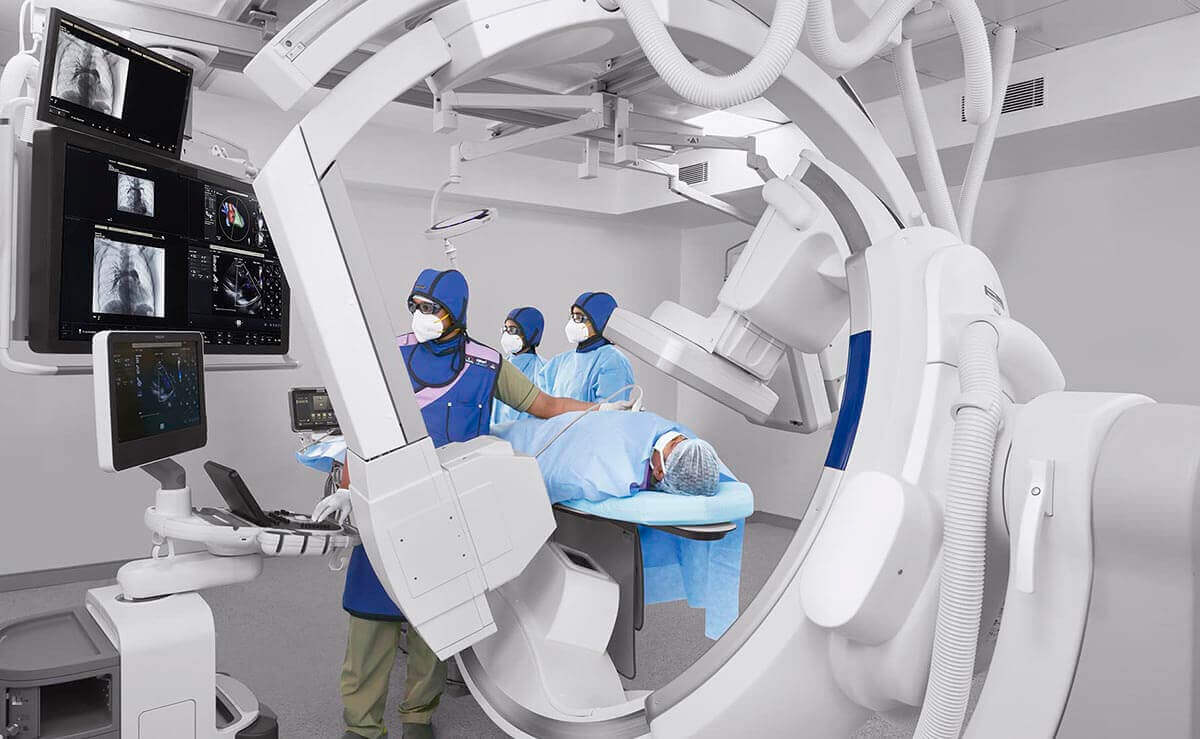 The MIOT Interventional Suite promises never-before-seen speed, accuracy and safety in almost all cardiac interventional procedures. Conventionally, doctors would have to depend on a lot of angiograms to draft a treatment plan and perform a procedure like stent or valve placement. This used to consume a lot of time, contrast dye and radiation exposure to obtain multiple images.
The MIOT Interventional Suite, with its state-of-the-art 3D Echo Machine, saves valuable time and effort by providing high resolution 3D images and a roadmap of the heart vessels to guide specialists when placing stents or valves with high accuracy. Since images are obtained in one swift move, the use of contrast dye and exposure to radiation are reduced immensely. This promises safety for patients with existing kidney or liver issues.
The MIOT Interventional Suite is advanced at:
Coronary Angiography
Cardiac Angioplasty
Paediatric Cardiac Interventions
IVUS – Intra Vascular Ultrasound
FFR/IFR – Fractional Flow Reserve
Structural Heart & Valvular
Interventions – TAVI, Pacemaker, Electrophysiology and Ablation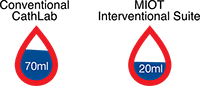 Neurological Intervention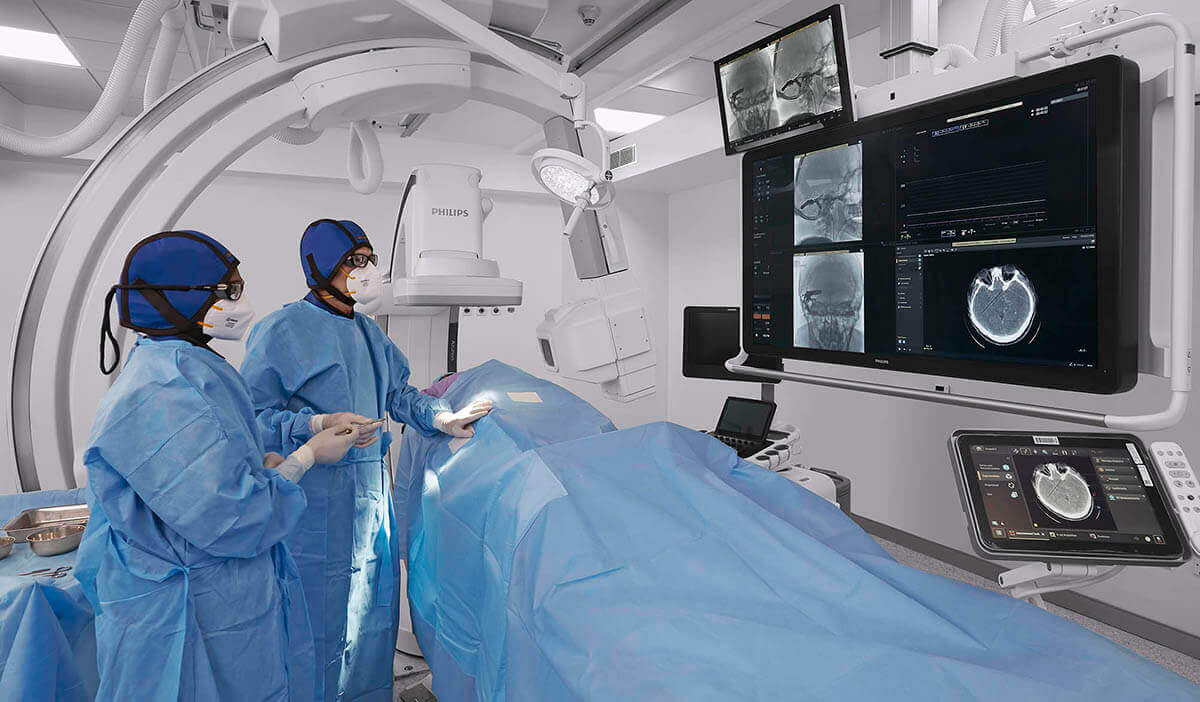 Brain is an intricate structure with several grooves and vessels tightly wound around each other. It demands a great deal of accuracy and speed to help neurologists achieve success in complicated procedures like aneurysm and stroke. In specific, since stroke has to be treated to preserve as much live brain tissue as possible, time and precision are everything. Conventionally, it would take at least 20 minutes to identify whether a stroke is caused by a block or bleed. Moreover, to spot the location of the block, twelve angiograms at various angles need to be taken.With the MIOT Interventional Suite's Biplane CathLab, it takes just one angiogram and a Cone Beam CT to acquire the entire 3D-image of the brain and the vessels along with a roadmap. This makes it easy for the neurologists to navigate to the exact spot of the block and accurately place stents. The entire procedure time is brought down to
30 minutes from 2 hours.The MIOT Interventional Suite is advanced at:
Cerebral Angiography
Aneurysm Coiling
AVM Embolization
Flow Diverter for Aneurysm
Tumour Embolization
Intracranial and Carotid Stenting
Epistaxis Bleeding
Control Stent and Balloon Assisted Coiling
Sacral Neuromodulation
Dural AVF Embolization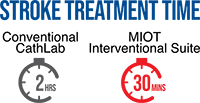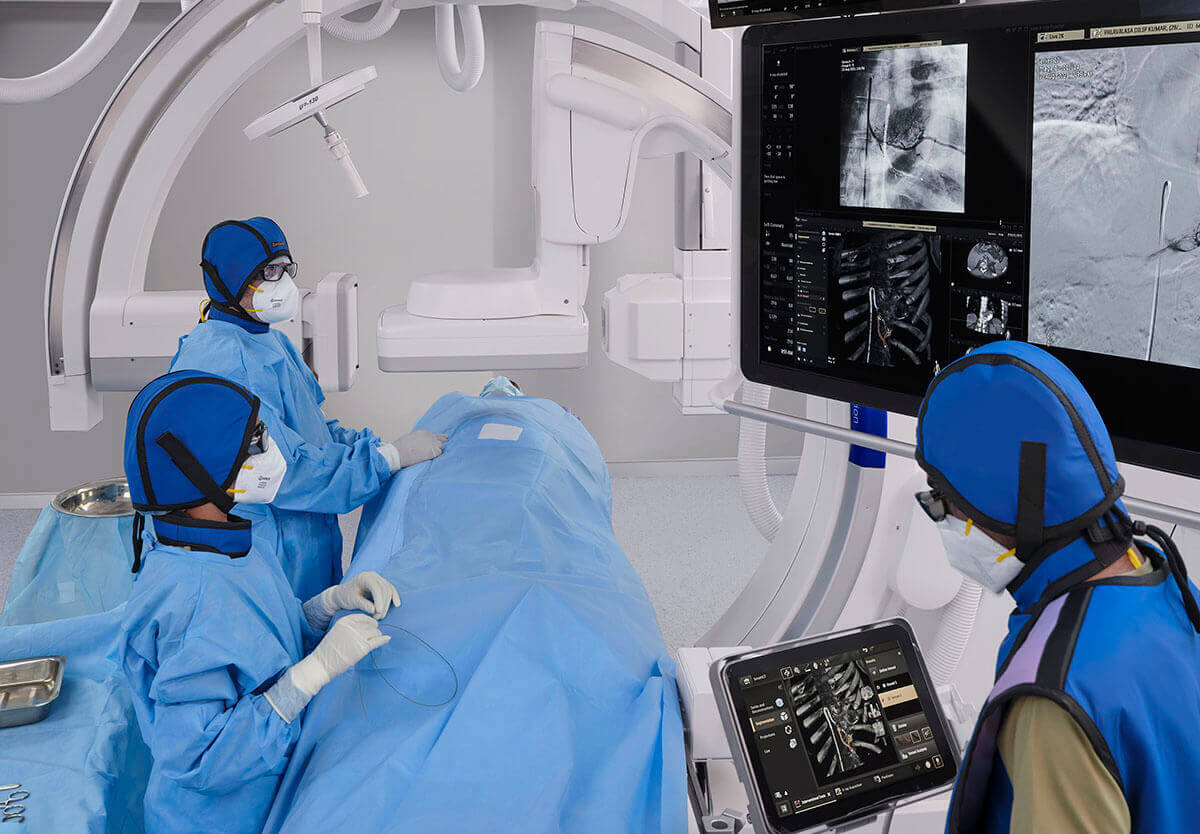 Speed, safety and accuracy are the three important pillars in every interventional vascular procedure. Most diseases require some sort of vascular intervention. Blood vessels are highly intricate structures. Therefore, to achieve precision while performing interventional procedures, high resolution images have to be obtained. Conventionally, this used to require a lot of contrast dye usage and radiation exposure. Moreover, while administering medicines to a tumour in an organ, surrounding healthy tissues are also damaged.With the new Interventional Suite, targeted delivery of drugs is taken to another level with high precision and minimal side effects. The sophisticated software intelligence of the MIOT Interventional Suite provides entire information of the soft tissue. This enables the doctors to accurately plan treatment approaches on-table before even starting the procedure and also compare the therapeutic effects of drugs pre- and post-treatment.
The MIOT Interventional Suite is advanced at:
Thyroid: FNA biopsy
Liver: TACE, TARE, PTBD (Percutaneous Trans-hepatic Biliary Drainage)
Upper limbs: Fistula Angioplasty
Kidney: Nephrostomy/ Embolization
Lower limbs: Diabetic foot – Angioplasty, Varicose veins – Endovenous Ablation Therapy
Aorta: SMA Angioplasty, Aortic stenting, Endovascular Repair of Aortic Aneurysm
Thoracic Endovascular Repair of Aorta Fenestrated
Endovascular Aortic Repair

Software Intelligence
The MIOT Interventional Suite's 18 state-of-the-art software applications are designed to provide the highest level of interventional care. When at the hands of cardiologists, neurologists and vascular specialists, they ensure successful patient outcomes. The software intelligence assists interventionists in performing complicated procedures by providing a real-time roadmap of target sites to navigate and treat them.
Clarity IQ
Smart CT Roadmap
Smart CT Angio
Aneurysm Flow
Heart Navigator
Vessel Navigator
Embo Guide
Smart CT Dual / Soft tissue
Dynamic Coronary Roadmap
Bolus Chas
Smart Perfusion
Smart Mask
Smart CT Vaso
Xper Guide
MR/CT Roadmap
Echo Navigator
Stent Boost Live
Cardiac Truevue (3D ultrasound display)
Enquiry
MIOT Interventional Suite
1st Time in India, A Biplane CathLab with Cone Beam CT, 3D Echo & software intelligence all on a single platform.

Watch the video of MIOT's Biplane CathLab