Founder's Message
Our Founder and Mentor, Padmashri Prof. Dr. P. V. A. Mohandas, discusses the gaps in healthcare today.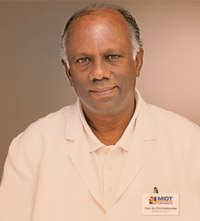 Dear friends,
There has been much advancement in medical science and technology in the few decades since I started my career in medicine. Our understanding of the human system is more than ever before, which has led to super-specialisation. We have the means to view and access virtually every nook and cranny of the patient's system without opening him or her up. We have the ability to detect disease in the very early stages, and in some cases, even stop it before it has the chance to develop. So why, then, is treatment often not as effective as it should be in India? The problem, in my opinion, lies in the quality of medical care delivered.
Yes, there is much improvement in our knowledge and in the modes to treat illness. However, medical care is often delivered piecemeal. This happens because many healthcare institutions do not have the resources and facilities to offer complete treatment, and more often, because the specialists are working in isolation. In doing so, they are not offering a permanent solution for the patient's ailment, but merely taking care of the symptoms on the surface. The patient's long-term health is not the priority.
Unfortunately, this kind of practice has had two distressing results: ineffective care and prolonged suffering for the patient, and an ingrained, widespread cynicism and distrust of the healthcare and medical community. Allow me to offer an example. A patient was recently referred to me with a painful hip and severe, persistent pain in her abdomen. She had been advised an immediate total hip replacement.
When I met her, she and her husband were at a complete loss as to what she needed to do to alleviate her symptoms and treat their cause. They had consulted several top specialists in the city and were thoroughly confused by the varying diagnoses that they had received, which ranged from TB of the bone to a fractured hip. All within a period of ten days. What baffled me, though, was that her scans and MRI clearly showed a malignancy in her hip joint. She needed
hip replacement surgery
, but none of the diagnoses she had received explained the abdominal pain.
I suspected that the origins of her disease lay elsewhere as she also had an enlarged spleen, which could indicate some type of blood cancer. I consulted with our haemato-oncologist, who concurred. However, it would only be confirmed with a biopsy of the tissue, which we could get during the replacement surgery. After much explanation, the shocked couple agreed to the line of treatment we recommended. The biopsy that followed affirmed our suspicions. Luckily for her, it was a curable form of non-Hodgkin's lymphoma. I have every confidence that she will make a full recovery under the care of our experienced haemato-oncologist. But what continues to bother me is that the information was right there in the scans for anyone to see, if only they had cared to look! Doing the hip replacement alone would not have been a permanent solution.
So, how do we address this gap in our health care? My own experience as a surgeon and teacher has convinced me that treatment is most effective when it is delivered holistically, comprehensively and in time. This is our goal at MIOT International. We have sought out the best minds in every speciality and, by investing in the supporting infrastructure, created an environment that allows them to give their patients their best. MIOT has the facilities for the most advanced imaging and laboratory studies and all types of surgery, right on campus. While not discounting experience, it is also important to us that our doctors are abreast with the latest advancements and technology in healthcare. We work with other leading institutions across the world to share our learning as well as to learn from our fellow-practitioners of medicine.
This has created a unique work culture, where our full-time specialists work in tandem, relying on each other's expertise and knowledge, to return our patients to normal lives. It may, most visibly, be demonstrated and easily understood in complex surgeries such as liver transplantation, or perhaps in treating victims of extensive trauma, which demands the talents of multiple specialists. However, I see it work, effectively, every day, when we put our heads together to make an accurate diagnosis when initial investigations are inconclusive, to find treatments where conventional methods have failed, to customise therapies and give patients solutions that they may not have found elsewhere. In doing so, we address not just the symptoms, but also their underlying causes and possible complications as a result. Thereby offering them a complete solution to their health issues.
Read more
Detailed profile of Padmashri Prof. Dr. P. V. A. Mohandas
| | |
| --- | --- |
| NAME | Padmashri Prof. Dr. P. V. A. Mohandas |
| QUALIFICATION | M.B.B.S., M.S.Orth., M.Ch.Orth (Liverpool, England), D.Orth., D.Sc (Hon) Chennai, D.Sc (Hon) W.Bengal |
| DESIGNATION | Founder & Mentor – MIOT International |
EDUCATION
| | |
| --- | --- |
| UNIVERSITY INTERMEDIATE | LOYOLA COLLEGE, CHENNAI |
MEDICAL EDUCATION
| | |
| --- | --- |
| M.B.B.S ( 1959) | MADRAS MEDICAL COLLEGE, CHENNAI |
| D.ORTH (1965) | MADRAS MEDICAL COLLEGE, CHENNAI |
| M.S. ORTH (1971) | MADRAS MEDICAL COLLEGE, CHENNAI |
| M.Ch ORTH (1973) | UNIVERSITY OF LIVERPOOL, LIVERPOOL, UNITED KINGDOM |
TRAINING
SPECIAL TRAINING
TRAINED IN HIP JOINT REPLACEMENT SURGERY BY: SIR JOHN CHARNLEY, (INVENTOR & FIRST SURGEON
TO PERFORM THE FIRST SURGERY IN THE WORLD)CENTRE FOR HIP SURGERY, WRINGHTINGTON, UK
TRAINED IN KNEE JOINT REPLACEMENT SURGERY BY Mr. M.A. R. FREEMAN, LONDON HOSPITAL, LONDON, U.K
1971-1973
REGISTRAR IN ORTHOPAEDICS ROYAL LIVERPOOL CHILDREN'S HOSPITAL LIVERPOOL, UNITED KINGDOM
1974
LECTURER IN ORTHOPAEDIC SURGERY MADRAS MEDICAL COLLEGE, CHENNAI
1975-1987
PROFESSOR IN ORTHOPAEDIC SURGERY KILPAUK MEDICAL COLLEGE, CHENNAI
1987-1994
DIRECTOR, MIOT HOSPITALS, CHENNAI
1994 – 2014
Chief Surgeon – Department of Orthopaedic Surgery & MANAGING DIRECTOR, MIOT HOSPITALS, CHENNAI.
2014 Onwards
Founder & Mentor – MIOT International
MEMBERSHIP OF PROFESSIONAL BODIES
MEMBER, ASSOCIATION OF SURGEONS OF INDIA
PRESIDENT – TRAUMA SECTION ASSOCIATION OF SURGEONS OF INDIA, 1990-1994
MEMBER, INDIAN ORTHOPAEDIC ASSOCIATION
FOUNDER SECRETARY – TAMILNADU ORTHOPAEDIC ASSOCIATION, 1971-1972
PRESIDENT,TAMILNADU ORTHOPAEDIC ASSOCIATION , 1987- 1988
VICE PRESIDENT, ARTHROPLASTY SOCIETY OF INDIA
VICE PRESIDENT, INDO GERMAN ORTHOPAEDIC FOUNDATION
AUTHOR, FOUNDER AND SECRETARY OF INDO GERMAN ORTHOPAEDIC FOUNDATION TRUST
FACULTY POSITION
Faculty member of all the fracture courses by AO International in India, Singapore, Japan, Malaysia and Thailand, Trustee of AO foundation, Switzerland 1987 to 1997
PAPERS PRESENTED
ROLE OF PLANTAR APONEUROSIS IN THE MECHANICS OF THE SUBTALAR JOINT
– INDIAN JOURNAL OF ORTHOPAEDICS
LOW FRICTION ORTHOPLASTY
– INDIAN JOURNAL OF SURGERY
COMPLICATIONS OF LOW FRICTION ORTHOPLASTY
– INDIAN JOURNAL OF SURGERY
COMPRESSION PLATING OF THE SHAFT OF HUMERUS
– INDIAN JOURNAL OF SURGERY
GUEST LECTURER IN SEVERAL NATIONAL & INTERNATIONAL ORTHOPAEDIC MEETS
COURSES & MEETINGS ABROAD
1973- 1975: BRITISH ORTHOPAEDIC ASSOCIATION, ANNUAL MEETINGS, UNITED KINGDOM
1976- 1996: ATTENDED EVERY YEAR AS FACULTY MEMBER OF THE BASIC AND ADVANCED AO
COURSES IN DAVOS, SWITZERLAND
CONDUCTED BASIC & ADVANCED AO COURSES ON BEHALF OF AO INTERNATIONAL IN INDIA EVERY YEAR SINCE 1976
CONDUCTED HIP/KNEE JOINT REPLACEMENT COURSES IN INDIA EVERY YEAR SINCE 1992
HONORARY APPOINTMENTS
FOUNDER, CHAIRMAN – INDO GERMAN ORTHOPAEDIC FOUNDATION
TECHNICAL DIRECTOR – ORMED INDIA, CHENNAI
PREVIOUS APPOINTMENTS
| | |
| --- | --- |
| 1961-1963 | TUTOR IN ANATOMY, MADRAS MEDICAL COLLEGE, CHENNAI |
| 1963-1964 | TUTOR IN NEURO SURGERY, STANLEY MEDICAL COLLEGE, CHENNAI |
| 1965- 1966 | TUTOR IN ORTHOPAEDIC SURGERY, MADRAS MEDICAL COLLEGE, CHENNAI |
| 1966- 1969 | TUTOR IN ORTHOPAEDIC SURGERY, KILPAUK MEDICAL COLLEGE, CHENNAI |
| 1969- 1971 | TUTOR IN ORTHOPAEDIC SURGERY, MADRAS MEDICAL COLLEGE, CHENNAI |
AWARDS
VISITNG PROFESSOR: UNIVERSITY OF TUBINGEN, GERMANY, 1976
PADMASHRI AWARD: AWARDED BY THE PRESIDENT OF INDIA FOR PIONEERING JOINT REPLACEMENT IN INDIA, 1992
FELLOW OF GERMAN COLLEGE OF TRAUMA 1993: AWARDED BY THE ANNUAL MEETING OF THE GERMAN ASSOCIATION OF TRAUMA, BERLIN
DOCTOR OF SCIENCE (HONORIS CAUSA) 1996: MGR MEDICAL UNIVERSITY, CHENNAI
MEMBER AE: AWARDED IN 2005
PADMASHRI PROF. DR. P.V. A. MOHANDAS WAS AWARDED THE HONORARY MEBERSHIP OF THE GERMAN ASSOCIATION OF JOINT REPLACEMENT SURGEONS, AT THEIR ANNUAL CONGRESS IN HEIDELBERG, GERMANY.
HE IS THE FIRST EVER SURGEON TO BE PRESENTED THIS AWARD.
DOCTOR OF SCIENCE (HONORIS CAUSA) 2013: AWARDED BY UNIVERSITY OF KALYANI, West Bengal
BHEESHMA AWARD 2015 :For outstanding contribution in field of medicine by Ashram Group of Institutions
OTHER HIGHLIGHTS
1999 – FEBRUARY 12, MIOT OPENED ITS NEW PREMISES.
IN 1974 – WAS THE FIRST TO PERFORM TOTAL HIP REPLACEMENT IN THIS PART OF THE COUNTRY.
IN 1976 – INTRODUCED AO (SWITZERLAND) INTERNAL FIXATION OF FRACTURE FOR THE FIRST TIME IN INDIA FOR TREATMENT OF COMPOUND AND COMPLICATED FRACTURES.
IN 1978 – CONDUCTED THE FIRST AO INTERNATIONAL CONFERENCE AND WORKSHOP IN INDIA AT CHENNAI TO TRAIN THE INDIAN SURGEONS IN THE MODERN TREATMENT OF FRACTURES WITH THE COLLABORATION OF AO INTERNATIONAL SWITZERLAND AND AO GERMANY.
IN 1980 – PIONEERED KNEE REPLACEMENT SURGERY IN INDIA.
IN 1981 – INTRODUCED MODERN METHODS OF SPINE SURGERY AND INTERVENTIONS.
IN 1992 – STARTED THE FIRST IGOF (INTERNATIONAL GERMANY ORTHOPAEDIC FOUNDATION) WITH THE COLLABORATION OF ORTHOPAEDIC SURGEONS AND GENERAL SURGEONS TO INTERACT AND IMPROVE THE QUALITY OF ORTHO TREATMENT IN INDIA.
IGOF SENT INDIAN SURGEONS TO GERMANY FOR TRAINING AND SPECIALISATION ON A FELLOWSHIP PROGRAMME.
GERMAN DOCTORS VISITED INDIA THRICE A YEAR TO CONDUCT COURSES AND CONFERENCES FOR MUTUAL BENEFIT.
IGOF IS STILL A VERY VIBRANT ORGANIZATION INVOLVED IN THE ORTHOPAEDIC EDUCATION OF YOUNG SURGEONS TILL DATE.