Our Approach
Medical treatment is most effective when it is delivered completely, by expert hands, based on accurate information and without delay. From diagnosis to treatment and rehabilitation, as well as emergency and critical care, MIOT International offers, under one roof, end-to-end care that is on par with the international best.
It begins with a definite diagnosis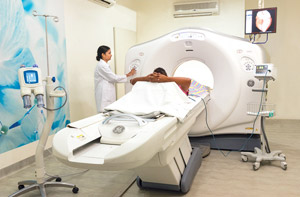 We treat the disease, not just the symptoms. Care begins with an accurate and definite diagnosis, based on which our physicians create a customised treatment plan. We harness the latest medical technology to find what our eyes don't see and ears don't hear.
At the very beginning of a patient's treatment, scans on some of the world's most advanced imaging systems pick up the smallest anomalies and note obstacles in treatment. Cutting-edge studies by our pathologists at our laboratory, ranked 8th, internationally, reveal the disease at a cellular level. This depth of information makes diagnosis definite, and the treatment that follows becomes more targeted and effective. It can, therefore, stop the disease at an early stage or even as it develops.
Collaborative, customised care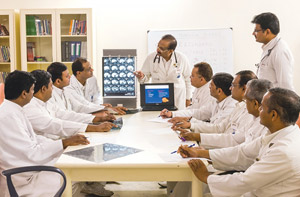 Dr. Charles H. Mayo, founder of the Mayo Clinic, famously said, "No one is big enough to be independent of others." He believed the human body to be so complex that it requires a team of physicians, specialists, medical professionals and scientists all, working together, to provide the best medical care it needs.
We agree with Dr. Mayo's precept. That is why, at MIOT, we have the best minds working on each case. They work in tandem, drawing upon each other's expertise and experience to customise treatment and give patients the best possible outcomes.
Keeping windows open
Our focus has always been on getting our patients quickly back to normal and productive lives. Whether they are new surgical techniques that enable our surgeons to treat complex conditions with minimal tissue invasion and pain, or the latest therapies and treatment technologies, we are constantly looking to adopt newer and better ways to treat our patients whilst ensuring their comfort and quicker recovery.
Fighting the unseen enemy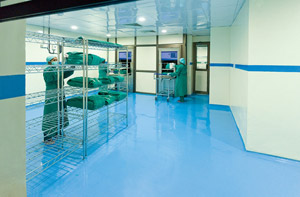 When patients come to us for treatment, ensuring their safety is our priority and no effort is too big or small.
In our effort to maintain an infection-free environment that meets international standards, our army of housekeeping staff constantly cleans, dusts and wipes every visible surface. Laminar airflow systems ensure that there is a steady supply of fresh air across the hospital, while sophisticated air conditioning keeps germs at bay in closed spaces.
Intelligent sensor-based technology maintains a 99.9% bacteria-free environment in the state-of-the-art modular operating suites and adjoining surgical ICUs. We provide all patients requiring blood transfusions with leucodepleted blood components in order to eliminate the risks of infection and rejection. 100% infection-free, HEPA-filtered, wards play a crucial role in the recovery of our transplant patients. The sophisticated Automated Central Sterile Supply Unit ensures that there is zero manual handling of materials used in our OTs, ICUs and patient rooms.
Care that doesn't quit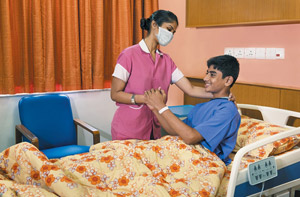 Advanced technology and facilities aside, we believe that care is possible only with a human touch. Every day at MIOT International, this is demonstrated in the gentle thoroughness with which our skilled doctors examine our patients. This resonates in the steady, confident precision of a surgeon's hands as he or she unhesitatingly eliminates disease.
Care takes on many faces in the specialists, nurses and other support staff who, each day, devote themselves to taking care of our patients' needs, regardless of how complex or mundane they are. They are ever ready to answer your questions, help make your recovery more comfortable, or simply offer you a reassuring smile when you need one.
Because in our world, your well-being comes first. Always.