MIOT Institute of Cancer Cure
It takes a team to fight cancer. Doctors, nurses, counsellors, nutritionists, physiotherapists, lab-personnel, radiologists, technicians, researchers, engineers and scientists. Family and friends too, and others who have walked in your shoes. At the MIOT Institute of Cancer Cure, we know what it takes to beat cancer. And we believe in cancer care that does not give up.
The MIOT approach to cancer care
Cancer is the most dreaded diagnosis in the world. At the MIOT Institute of Cancer Cure, we combine new approaches, specialties, technologies and medications with dedicated care, to offer patients speed, convenience and the best possibility of a cure.
The person who receives a diagnosis of cancer needs not only medical advice but also emotional support. We take a holistic view of cancer treatment at MIOT, and work to give our patients a positive experience from diagnosis to cure.
The Institute provides a soothing, world-class ambience with comprehensive, state-of-the-art facilities, which ensure that our patients are comfortable and receive the right treatment without losing time. They benefit from a threefold-advantage: sophisticated diagnostic and imaging facilities right on campus; a team of specialists who are available round the clock; and all modes of treatment under one roof. We treat all types of cancer across age groups.
In MICC's armoury are the sophisticated Dual Head Gamma Camera with its advanced workstation, and the 64-slice PET CT, which give our specialists detailed information about various organ systems in as little as 15 minutes.
We offer our patients the revolutionary TrueBeam STx, the most advanced radiotherapy in the world.
MICC's 24-hour lab, spread across 6000 sq. ft, is ranked 8th in the world. Manned by expert technicians, it has high-level automation and stringent quality-control systems in place.
MIOT's experienced oncologists are abreast with the latest oral and injectible drugs, including those that target and cure specific cancers.
Definite diagnosis
Cancer cure starts with an accurate and definite diagnosis that gives specialists the direction they need to use for treatment. At MIOT, we have the latest and most comprehensive set-ups for diagnosing and staging cancer in all its forms. The sophisticated laboratory, manned by expert technicians, enables the study of the disease at a molecular level. This gives our patients a head start as our oncologists are able to formulate, track and adapt their treatments based on their response.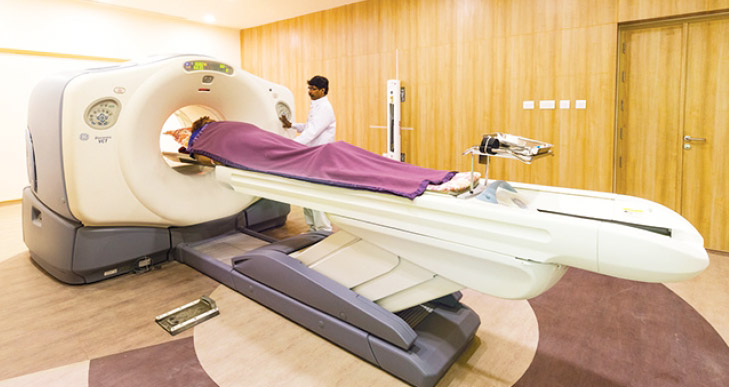 The cure actually begins in the laboratory. MICC's 24-hour lab, spread across 6000 sq. ft, is ranked 8th in the world. Manned by expert technicians, it has high-level automation and stringent quality-control systems in place to help identify and grade cancer tissues. Genetic probes enable specialists to recommend drugs or a line of treatment that would be most effective against the disease. This not only gives patients an edge over the cancer, but also enables our oncologists to track and adopt different treatments based on the patient's responses.
Sophisticated facilities for detecting gastrointestinal and liver cancers include endoscopy, minimally-invasive biopsies and more. Supported by our expert and empathetic staff, they keep our patients comfortable through fast and painless procedures.
Comprehensive treatment plan
At the MIOT Institute of Cancer Cure, we favour a multidisciplinary approach to cancer care. In order to treat the disease completely, whilst also minimising trauma during treatment, we formulate a customised treatment plan for every patient, which combines the latest procedures and specialised treatments on a case-to-case basis.
There are three primary treatment modalities for cancer: chemotherapy, surgery and radiotherapy. The most effective course is determined by our Tumour Board, which is comprised of specialists from the three treatment modes – medicine, surgery and radiation – as well as specialists from gastroenterology, orthopaedics, neurosurgery, cosmetic surgery, interventional radiology, etc.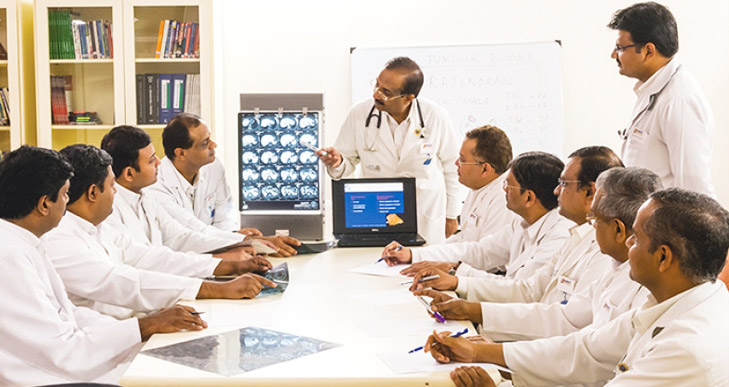 Armed with detailed diagnostic information about each patient's case, the Tumour Board meets thrice a week to formulate a comprehensive treatment plan for every patient, and keep tabs on them as treatment progresses. The Institute is supported by a dedicated team of nurses, nutritionists and counsellors, who help patients complete their treatment as planned.
The best minds on every case
In the care and cure of cancer, MIOT favours an approach that draws on the expertise of our specialists from all departments. A Tumour Board, comprising oncologists, pathologists, radiologists, reconstructive surgeons and other specialists, discusses every case and formulates a treatment course that is conservative, sensitive and most suitable for the individual patient. This means that patients benefit from a comprehensive treatment plan and are able to receive all their treatments, from diagnosis to cure, at the Centre.
Specialists from the MIOT Institute of Haematology, Haemato-oncology and Bone Marrow Transplant form part of the Tumour Board and work in synchrony to plan and treat patients with blood and germ-cell cancers.
Effective treatments
There are three primary treatment approaches to cancer – medical oncology (chemotherapy), surgical oncology (onco-surgery) and radiation oncology (radiotherapy) – all of which are offered at the MIOT Institute of Cancer Cure. Patients may be advised to undergo one or a combination of these treatments.