Overview
MIOT International's Department of Neurosurgery deals with the prevention, diagnosis, treatment and rehabilitation of disorders of the brain, spinal cord, peripheral nerves and the cerebrovascular system. The Neurosurgical team at MIOT has the expertise to treat the entire gamut of neurological disorders that require surgery. The Department performs more than 350 major neurological procedures every year, with a success rate of 98.5%.
A centre for advanced neurosurgery
MIOT International's neurosurgery department is equipped with the latest medical innovations. We offer surgical treatment for cancer, stroke, trauma, infection and correction of congenital defects. It is one of only a few centres in India that offers advanced neurosurgical procedures in conditions such as Parkinsonism and cerebral palsy, which affect the everyday life of patients. MIOT also boasts of the services of dedicated neuro anesthetics for all the surgeries.
The Department offers 24 x 7 neurosurgical trauma care as well.
Sophisticated surgical equipment
The state-of-the-art dedicated neurosurgery operation theatre is equipped with the following:
Neurosurgical Möller-Wedel operating microscope, which magnifies vital structures within the brain and spinal cord, as well as makes recordings and takes photographs during the surgery.
Aesculap ELAN 4- The First One In India – high-speed micro-drill system to cut bones
Aesculap motorised craniotome
Karl Storz neuro-endoscope
Micro-neurosurgical instruments for procedures on both the brain and the spine
Dräger ventilators, monitors and anaesthetic equipment
SONOPET ULTRASONIC ASPIRATOR to excise difficult tumors
SONOPET BONE scalpel that cuts deep bone without damaging neighboring neural tissue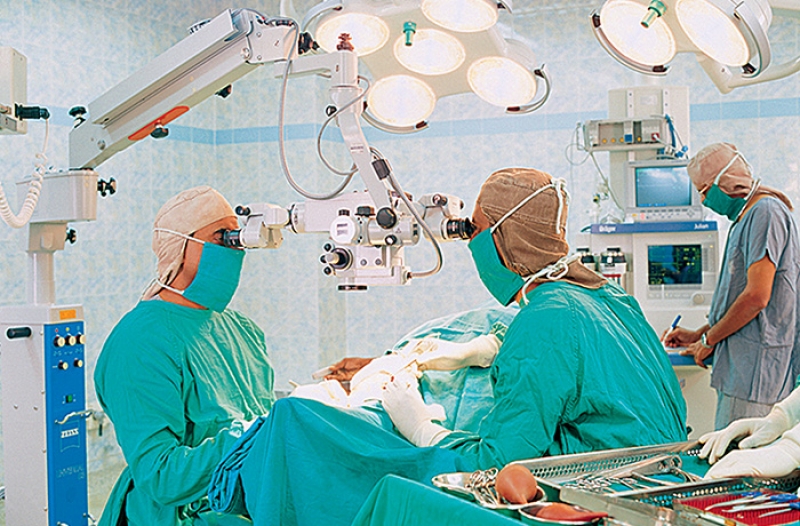 In-house facilities for advanced imaging such as sophisticated CT and MRI systems, and brain angiogram are available round the clock. The Neurosciences unit is supported by a dedicated critical care sub-unit which is equipped with Dräger ventilators, manned by experienced anaethesists and paramedical staff.
Treatments & Procedures
Brain cancer: Excision of brain tumours, CT-guided biopsy of brain tumours and computer-assisted brain surgery
Functional neurosurgery: Deep Brain Stimulation (DBS) for Parkinson's disease, tremors and dystonia; spinal cord stimulation for chronic intractable pain, intrathecal baclofen pump (ITB) for spasticity in conditions such as cerebral palsy, spinal cord injury etc.
Spine lesions: Microdiscectomies for disc prolapse, cervical lumbar disc replacement, excision of spinal cord tumours, and surgery for failed back syndrome
Craniovertebral junction anomalies: Correction of basilar invagination, Chiari malformations, atlanto-axial dislocations, dens fractures, syringomyelia etc.
Epilepsy surgery: Surgery for drug resistant epilepsy, resections, temporal lobectomy, hemispheric disconnection, functional hemispherectomy, deep brain stimulation and vagal nerve stimulation.
Trigeminal neuralgia: Microvascular decompression, retrogasserian ganglion glycerol injection neurectomies & stereotactic radio surgery.
Cerebrovascular lesions: Clipping or coiling of aneurysms and arteriovenous and malformations excision/repair of meningo/meningomyelocele preoperative embolisation for highly vascular lesions and brain tumours.
Paediatric neurosurgical procedures: Correction of split cord malformations and spina bifida, excision of brain tumours and CSF drainage procedures for hydrocephalus
Surgery for head injury and stroke: Evaluation of critically ill patients with ICP monitoring, surgery for intracranial clots and decompressive craniotomy
Endoscopic neurosurgery: Endoscopic excision of tumours including pituitary tumours, intraventricular tumors and endoscopic discectomy
Infections of the brain, including aspiration of brain abscesses.