Past events at MIOT
Tamil Nadu's 1st Successful STIMO helps 10-year-old boy with paraplegia to walk again
03rd Jan 2020
MIOT Hospitals performs Tamil Nadu's 1st successful STIMO on 03rd July 2019 to bring a 10 year old paraplegic boy from Tuvalu back on his feet
Through Tamil Nadu's first ever STIMO (Stimulation Movement Overground), which was done at MIOT International, the little boy is starting to walk all over again.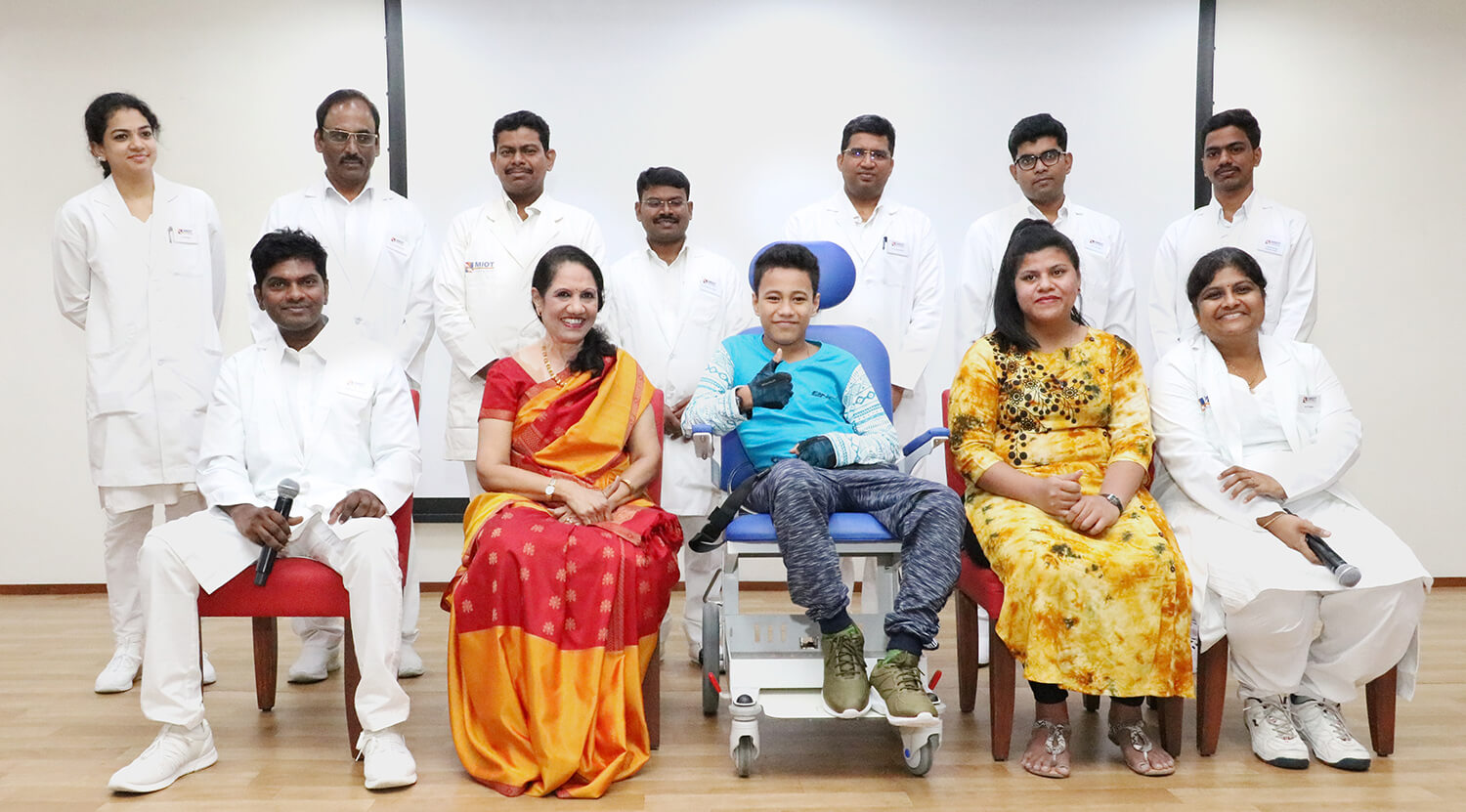 Photograph seen Seated – From left to right: Dr. Shankar Balakrishnan, Interventional Neurologist, MIOT International, Mrs. Mallika Mohandas, Chairman, MIOT International, Chennai, Mr. Eric (Patient), Eric's Aunt, Dr. P. Sathya, Neuro Intensivist, MIOT International.

Photograph seen Standing – From left to right: Ms. N. Srimathy, Neuromodulation Specialist, MIOT International, Dr. Chitrambalam, Senior Neurologist, MIOT International, Dr. Elanthirayan, Neurologist, MIOT International, Dr. Agnetia Vinoth, Neurosurgeon, MIOT International, Dr. N. Raghunathan, Senior Neurosurgeon, MIOT International, Dr. B. Pradeep, Neurosurgeon, MIOT International, Mr. Hari Krishnan, Physiotherapist, MIOT International.

10-year-old Eric hails from Tuvalu, a tiny island nation in the Pacific Ocean. The son of a doctor and the eldest of four children, little Eric was raised by his doting grandmother, as his father was practicing on another island and his mother was taking care of his three siblings.
Eric's grandmother wanted him to focus on studies. But the little one had other plans. Nature was his true calling. Textbooks tossed aside; Eric explored the scenic outdoors of Tuvalu on his bicycle. Soon he found fishing to be fascinating. He would spend countless hours looking for 'the catch' of the Pacific along with his beloved uncle.
In February 2019, Eric and his friends went to his neighbour's backyard to pluck a few mangoes. The most daring of the lot, he himself volunteered to climb the tree. Just as he was reaching out to pluck the fruit, he came crashing to the ground. He lay motionless. Filled with fear, his friends fled to get help.
Little dreams come crashing down
Eric was rushed to Funafuti (Tuvalu's capital & nearby island) by boat. At the hospital in the capital, doctors examined him and found that there was no bleeding or any visible injury, but his legs alone wouldn't move. Though X-rays were taken, they didn't know how to proceed further as it appeared to be a complicated case. They suggested that he be taken to Fiji for a better analysis.
Four days since the accident, Eric was taken to Fiji, where the scans revealed that he had injured his spinal cord from the fall. It left him paraplegic (paralysis of the lower half of the body, including both legs). As a result of the injury, he also developed bladder and bowel incontinence. Since the accident involved the spine, Fijian doctors were perplexed about the treatment procedure. They suggested that he undergo physiotherapy.
Despite being on physiotherapy for a couple of months, Eric's condition showed no signs of improvement. The little boy who loved being in the arms of nature, bicycling and fishing was never the same again. Unable to move his feet, Eric was either bedridden or wheelchair-bound. The sight of the restless boy confined to his bed tore his family apart.
A glimmer of hope
When the Managing Director of MIOT International visited Tuvalu, it proved to be a turning point in Eric's case. MIOT's reputation of being the pioneers in orthopaedic & trauma care prompted officials from the Tuvaluan Government to approach the MD for help. After studying the case, he assured the officials that the boy can be given the best possible treatment. The boy's family found hope in the visiting doctor's words. Finally, in June 2019, Eric undertook a 20-hour journey from Fiji to MIOT Hospitals, Chennai with the help of the Tuvalu government. Australia and New Zealand were closer home. But instead, they chose to send the boy to MIOT because the healthcare here is equally world-class, and yet affordable.
Better late than never
Four months passed since Eric fell from the tree. When he was flown to MIOT, a multidisciplinary team comprising spine specialists and neurosciences experts (comprising neurologists, neuro surgeons and neuro intensivists) studied his case. They evaluated the boy's condition further using MIOT's state-of-the-art 3T MRI machine. Scans showed up a fracture in D5 (vertebral column) with spinal cord compression. As a result, signals were cut-off, turning Eric into a paraplegic.
Spinal cord: It is an extension of the brain. It receives signals from the brain and transmits them to various organs to enable movement, and bladder and bowel control. The spinal cord also transmits sensory information back to the brain.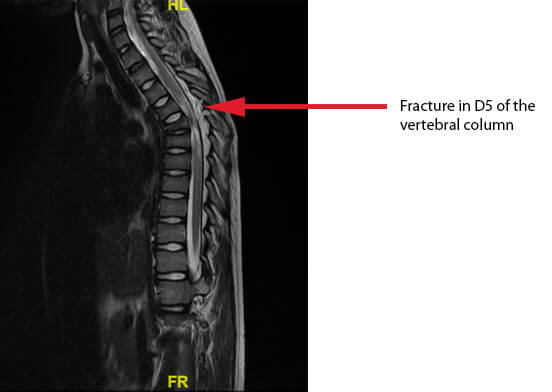 The neurosciences team realized that Eric's was a one-of-its-kind case. To get him back on his feet, MIOT performed Tamil Nadu's 1st successful STIMO on 03rd July 2019.
STIMO (Stimulation Movement Overground)
STIMO is an innovative treatment for patients with spinal cord injury. When the spinal cord is injured, signals from the brain get blocked above the level of injury, which results in paralysis. STIMO attempts to deliver those signals to the spinal cord to make the patient walk again.
It combines three different stages of treatment:
Epidural electrical implantation
Neuromodulation (Precise stimulation of the spinal cord)
Weight-suspended gait training
Procedure & Rehabilitation:
In July 2019, Eric was ready for the procedure.
Stage 1:
Epidural electrical implantation
A small chip with 16 electrodes was implanted between T-12 & L-1 (of the spine) over the dura (the protective coating of the spinal cord) by the Neurosciences team. These electrodes were connected to a chargeable battery that was placed in the loin (lower back) region under the skin. The battery sends electrical signals to awaken the dormant spinal tissue below the level of injury through a process called Epidural stimulation.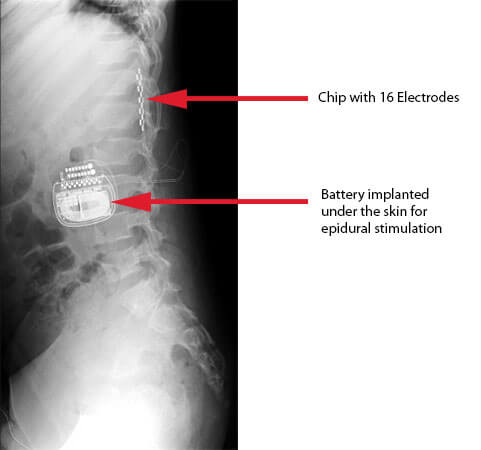 Stage 2:
Neuromodulation (Precise epidural stimulation of the spinal cord)
Neuromodulation is a programming method of targeted stimulation where appropriate nerve circuits in the spinal cord are recognised through a process called Mapping and then electrical signals are delivered directly from the Epidural stimulator (battery) to the respective nerves to activate them and attain the desired movement over time.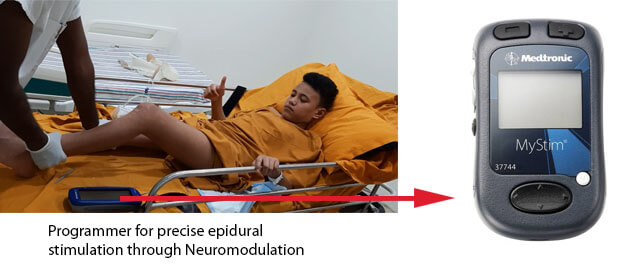 Stage 3:
Weight-suspended gait training
This training method involves guided nerve stimulation and training of a particular group of muscles through targeted spinal cord stimulation and an intense physiotherapy rehabilitation process called Weight-Suspended Gait Training. In the rehab phase, Eric utilized an adjustable weight-suspended system to allow him to move freely within a room.  Through active stimulation of the spinal cord nerves, the boy was able to move his lower limbs against gravity (while suspended), displaying voluntary movements like walking, with support.

Who will benefit?
STIMO is a game-changer when it comes to treating individuals suffering from spinal cord injury to help them get back on their feet. India alone has around 2 lakh individuals with spinal cord injury, which could be a result of:

Accidents
Assaults
Fall
Spinal Cord Disease
Gun Shots
Multi-disciplinary team approach
The Neurosciences team, neuro-modulation specialists, physiotherapists, and nurses spent 4-5 hours a day to work towards helping Eric gain adequate stimulation from the Epidural Stimulator and develop the skills required to begin walking.
The boy is showing gradual improvements with long-term stimulation and regular mapping. Eric is expected to begin walking with the help of crutches (and without stimulator support) if he continues to get the same amount of care and expertise in the next 1 ½ years.
While the Neurosciences team at MIOT achieved something phenomenal like STIMO for the first time ever in Tamil Nadu, the physiotherapists too have a major role to play. For the boy to start walking again, the physios will have to make him undergo rigorous training during the rehab sessions.
Newfound Family, 11,000 km away from home
Being away from home for far too long can take a toll on any child, but not Eric. He remained cheerful and positive right through his rehab program and never once did he ever show signs of homesickness. Everybody at MIOT, right from the doctors to the nurses to the food & beverage dept. to the security guards made sure that he felt right at home. They showered him with love, warmth, gifts and their time. In these last eight months, the team at MIOT became his family.

About Tuvalu
Among the many beautiful tiny island nations in the mighty Pacific Ocean is the ring-shaped Tuvalu (comprises 9 islands). Located north of Fiji, Tuvalu is the world's fourth smallest country with a population of merely 11,200. This South Pacific nation is also the least visited country in the world with just about 1,000 tourists per year.
Following the success of Eric's case at MIOT International, and the way the doctors handled it with their multidisciplinary approach, the hospital has won the trust of the people of Tuvalu. Patients from the island nation have started to consider MIOT Hospitals as the go-to hospital for world-class healthcare. With the help of the Government of Tuvalu, many have already flown in for treatment.