Past events at MIOT
Tamil Nadu Chief Minister's Comprehensive Health Insurance Scheme is a boon to COVID -19 patients.
02nd Jul 2021
National Oxygen Crisis
Since the start of the pandemic, MIOT Hospitals has treated over 10,000 COVID-positive patients. It was one of the first private hospitals in Tamil Nadu to offer full-fledged facilities to treat COVID-19 patients. At the peak of the second wave of the pandemic, MIOT also received a jolt as there was a serious shortage in oxygen supply across the state.
Tamil Nadu Government to the Rescue
When Thiru. M. Subramaniam, Honourable Minister for Health and Family Department of the Tamil Nadu Government visited MIOT Hospitals on 17th May 2021, he guaranteed all possible support from the state government and promised a positive outcome at the earliest.
Dr. Prithvi Mohandas, Managing Director, MIOT Hospitals had also called upon the newly elected Honourable Chief Minister of Tamil Nadu, Thiru. M. K. Stalin on 19th May 2021 to discuss the COVID-19 situation. The chief minister's resolve to solve the oxygen crisis immediately gave MIOT immense confidence. Thiru. M. K. Stalin swung into action and saved not just MIOT, but also other Chennai hospitals from a major crisis.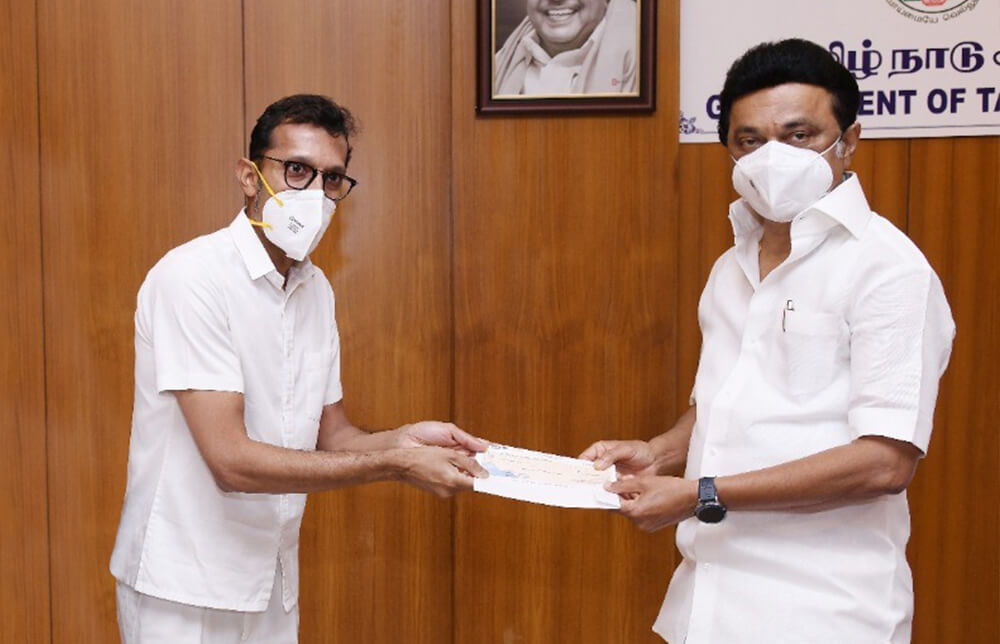 Dr.Prithvi Mohandas, Managing Director, MIOT Hospitals with Thiru M K Stalin, Honourable Chief Minister, Tamil Nadu
It is due to the chief minister's efforts and initiatives that MIOT was able to provide uninterrupted COVID care. More beds were added, and more patients were able to recover.
MIOT is grateful for the Government of Tamil Nadu's decisions and actions that have put Chennai on the road to recovery from COVID-19.
Chief Minister's Comprehensive Health Insurance Scheme
Apart from Thiru. M. K. Stalin's timely assistance to MIOT, the Chief Minister's Comprehensive Health Insurance Scheme (CMCHS) brought world-class healthcare within reach for all sections of the society.
Launched by the Government of Tamil Nadu to provide medical insurance coverage for underprivileged people living in the state, the Chief Minister's Comprehensive Health Insurance Scheme is a boon to many. It offers coverage for emergency medical expenses with the help of various empanelled government and private hospitals in Tamil Nadu.
Thanks to CMCHIS, it was possible for MIOT to reach out to more patients during the pandemic.
Now we would like to present a real-life example of a patient who was able to win the battle against COVID-19 because of timely intervention at MIOT.
Case Study: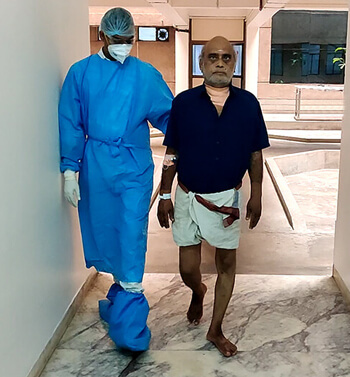 Mr.Nagarajan is a 58-year old patient (Iyappanthangal, Chennai), currently employed as a Personal Assistant to an Ex-serviceman from the Fire Department. He goes above and beyond to make his wife and son happy.
The first wave of COVID-19 had already shaken him financially when he lost his job, but with his family by his side, he swam against the tide. On 25th May 2021, he developed mild fever and consulted at a nearby clinic. In spite of taking medications for the next few days, his condition didn't improve. So, he took an RT-PCR test, and was tested positive for COVID-19 on 31st May 2021. His family was shattered emotionally and they were perplexed about the next step. Mr.Nagarajan was then admitted to a nearby hospital.
His condition worsened even after five days of treatment and a CT chest scan was suggestive of COVID pneumonia. This meant that he required a higher level of sophistication in the kind of treatment provided. Having experienced world-class treatment for his Cardiac Problem (underwent Percutaneous Transluminal Coronary Angioplasty procedure six years ago) at MIOT Hospitals and having heard of the success rates of treating COVID-19 patients, he sought the expertise of the specialists at MIOT.
On 4th June 2021, he came to MIOT with complaints of severe tiredness and breathlessness and decreased food intake for five days. On arrival, his saturation was 90% with NIV support. The Critical Care team at MIOT immediately assessed him and as he had co-morbidities like diabetes mellitus, hypertension and coronary artery disease, they took every measure to provide him the best appropriate medical intervention. They started administering medication and other supplementary measures as per COVID protocol.
As Mr.Nagarajan was already in major respiratory distress, he was put on NIV with maximum oxygen support. In view of further respiratory distress, he was intubated and put on mechanical ventilator support after two days of hospitalization. Tracheostomy was done on the same day (6th June 2021) and he was on mechanical support with maximum oxygen requirement for three days. He was gradually weaned off the ventilator and was on T-piece Oxygen support for the next three days.
His oxygen requirement gradually decreased in the following week and he was able to breathe comfortably without any support by 18th June 2021. He was given continuous rehabilitation and care, decannulated (Tracheostomy tube removal) on 22nd June 2021 and discharged on 25th June 2021. He went back home without external support and resumed his activities with ease and good health.
Mr.Nagarajan's wife, who was with him during his entire hospital stay, is very grateful to the doctors at MIOT and his son is spellbound on getting back his father in a perfect state of health and mind.
On talking with Mr.Nagarajan, he said, "My wife and son mean everything to me. My son's future was my biggest concern. I am aged; he has finished his 12th standard and looking out for colleges. COVID had already burdened me in both job and financially and when I was tested positive, I was shattered. But, when I got admitted at MIOT and they assured me that my medical expenses will be taken care of by the Tamil Nadu Chief Minister scheme, it was a boon to me and my family. We are forever grateful for this. Now, I know that my son's future is secure".
Mr.Nagarajan is one among the thousands of patients who have benefited immensely from Tamil Nadu Chief Minister's Comprehensive Health Insurance Scheme.
Please click the link below to watch Mr. Vaithiyanathan share his father Mr. Nagarajan's treatment experience at MIOT.