Past events at MIOT
Overseas doctors said Indian doctors can't perform rare and complicated surgeries. MIOT just disproved them
05th Sep 2018
With this landmark surgery, we at MIOT International have reiterated the fact that Indian doctors are among the world's finest when it comes to complicated treatment procedures. Along with world-class equipment at our disposal, we have reached new frontiers in healthcare.
Yet, despite all the advancements and rich expertise, the specialists at MIOT always strive to make healthcare affordable, so that patients from all walks of life, all over the world, stay in the best of health.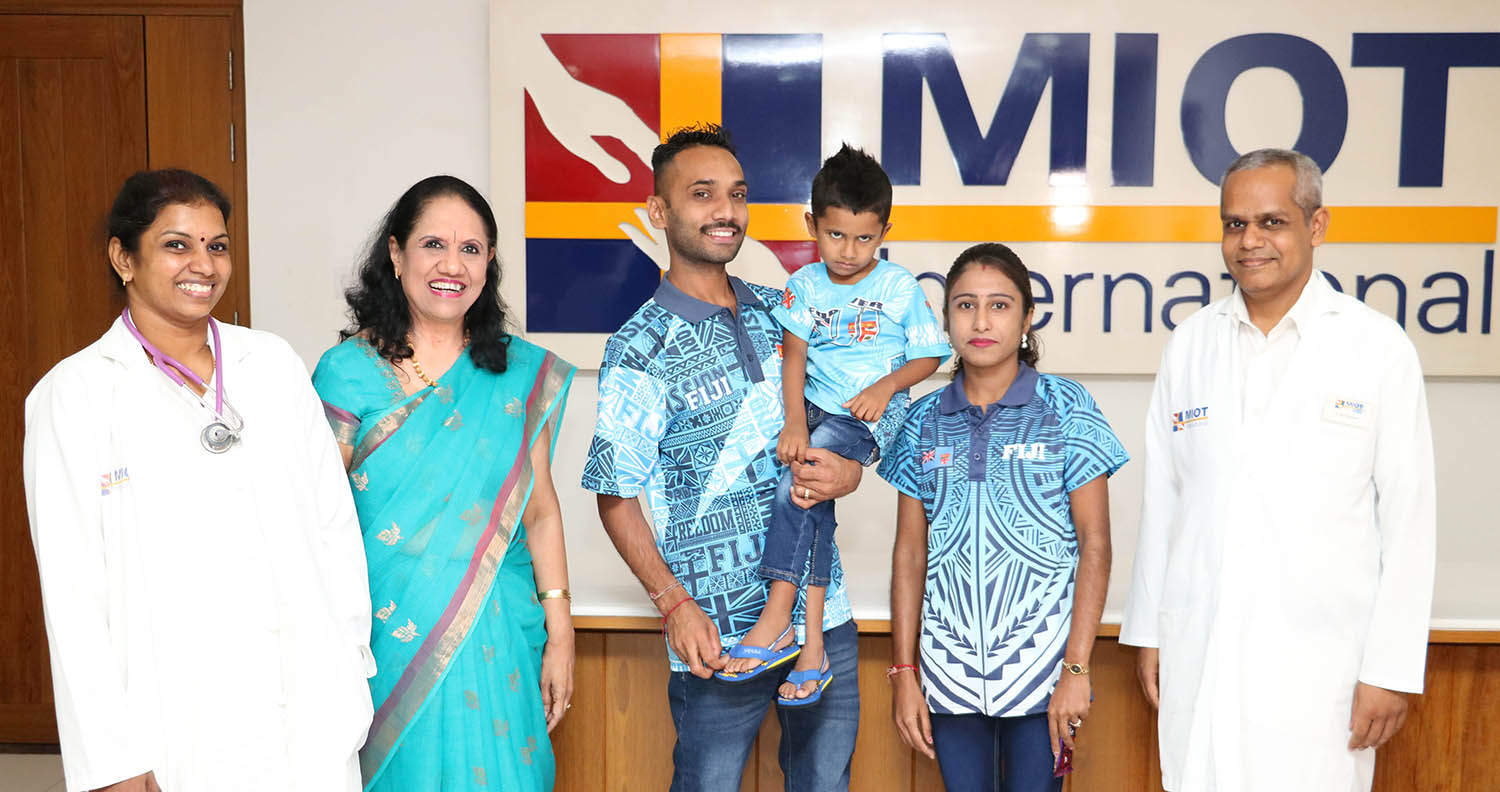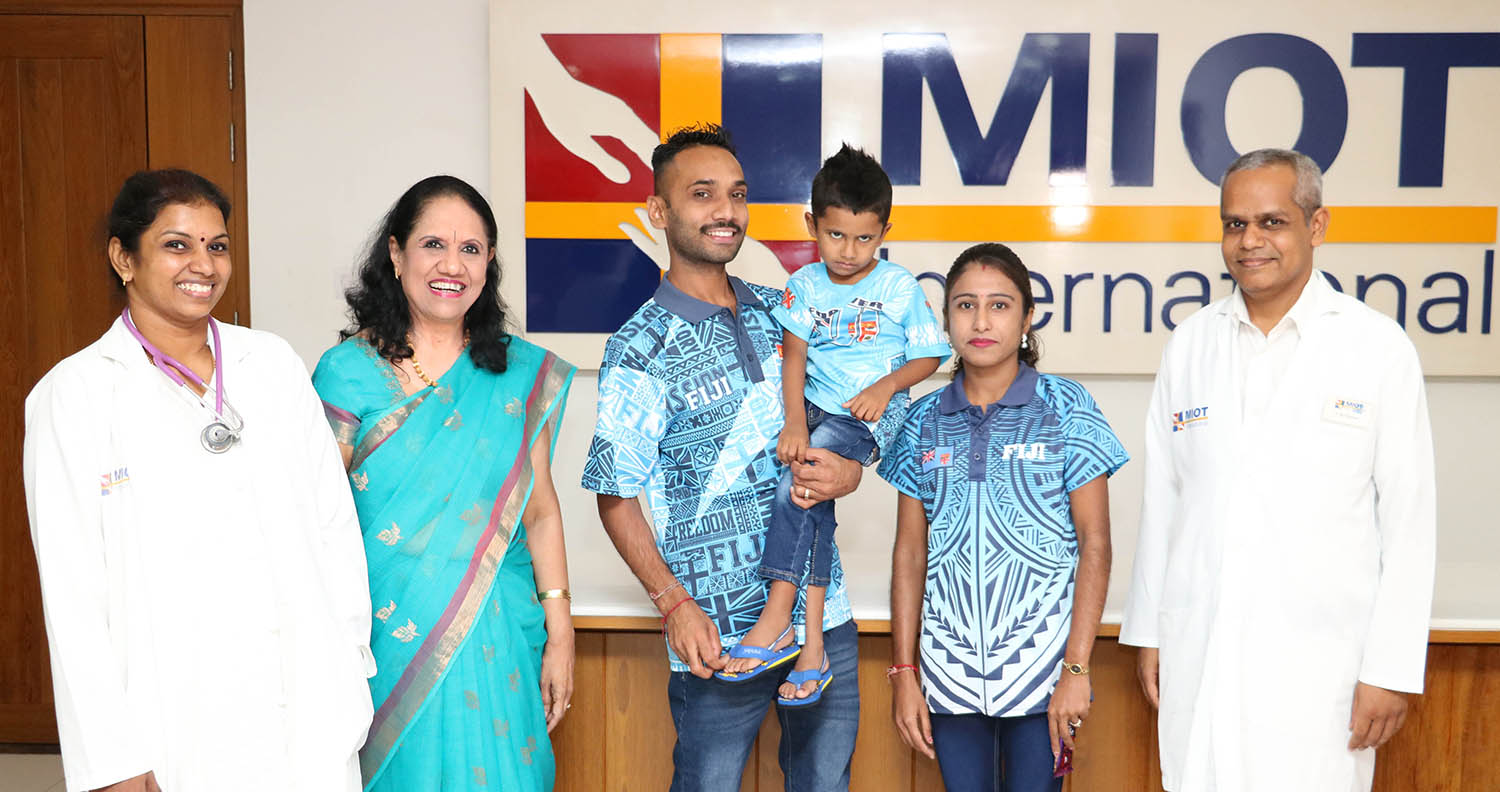 Seen in the photograph from left to right: Dr. Sarva Vinothini, Paediatric Anaesthetist, MIOT International, Mrs. Mallika Mohandas, Chairman, MIOT International, 4 year-old Arnav with his parents, Dr. Ragavan M – HOD, Paediatric Surgeon, MIOT International.
(Press meet event on 05th September 2018 at MIOT)
Short lived happiness
In 2014, a young married couple from Fiji were excited to welcome their second child, Arnav. However, their happiness was short-lived. The baby boy was barely 6 months old when he began to cry uncontrollably every day; he had no appetite and was underweight as well. The couple were extremely worried. It broke their hearts to see their little baby boy suffering from such pain.
Past medical history

In his 10th month, Arnav was diagnosed to have a hernia and the doctors at a government hospital in the national capital Suva performed surgery on Arnav's left groin to address the same. But this did not improve things
Therefore, when he was 1 ½ years old, he underwent surgery for umbilical hernia near the belly button, but again there was no change in the condition
These multiple surgeries left ugly scars (the longest being 20 cm) on little Arnav. The plight of his parents was unspeakable, as they saw his tender body being subjected to major surgeries. To make matters worse, none of these made any difference.

Arnav continued to remain underweight, with no appetite whatsoever and endured the terrible pain in his abdomen. The pain kept him and his parents awake at night.

During a visit to another hospital in Suva, investigation revealed a cyst (lump around 10 cm in size) in the boy's abdomen. The doctors conveyed to the parents that the cyst is not a cause of major concern, and that it can be removed at a later stage, when the child grows up. However, the severe pain continued to torture their son, and they couldn't see him suffering any more. They wanted it to go away. They wanted a solution.

A glimmer of hope

One of the family's relatives had told them that an overseas paediatric surgeon from MIOT International, Chennai was visiting Fiji on a short consultation trip. Hoping to find some answers and a permanent end to their son's problem, they brought Arnav to meet the Indian specialist.

The visiting paediatric surgeon from MIOT Chennai examined Arnav and gave his parents the confidence and hope that the cyst can be removed safely.

Arnav started experiencing progressive abdominal distension (outward expansion of abdomen because of air or liquid). The cyst was growing day by day. His parents were alarmed witnessing his extreme weight loss and unbearable pain. So, they decided to fly their son to MIOT International, Chennai.

Why take a 20-hour flight to India, when Australia is just three hours away?

When they informed the local doctors in Fiji that they were taking their son to India for treatment, they were laughed at. The doctors advised them to go to Australia instead, telling them that Indian doctors were not highly skilled to perform complicated surgeries, and that it would be a miracle if they pulled it off successfully.

However, recollecting the visiting doctor's confidence and assurance, the parents were determined to go to MIOT, Chennai.

Diagnosis at MIOT International, Chennai

Upon further investigation at MIOT, our paediatric surgeon discovered that this large cyst in his abdomen was not a solid mass, but rather contained a form of liquid. It was also critically located, thereby pressing the vital abdominal organs inward.

The treatment procedure at MIOT, Chennai:

Considering this 4-year-old child underwent multiple open surgeries in the past,
MIOT doctors preferred to take up an advanced laparoscopic keyhole approach for this case.

Our paediatric experts made a mere 1 cm opening on the boy's tummy (just above the belly button) and passed a camera inside to find where the cyst was originating from and to identify the type of cyst, which was more than 20×20 cms in size
Guided by the camera, the cyst was laparoscopically removed from his body, leaving a very small 1 cm scar (whereas, a conventional open surgery would have left him with a massive 30 cm scar)
The entire procedure lasted for just 2 hours.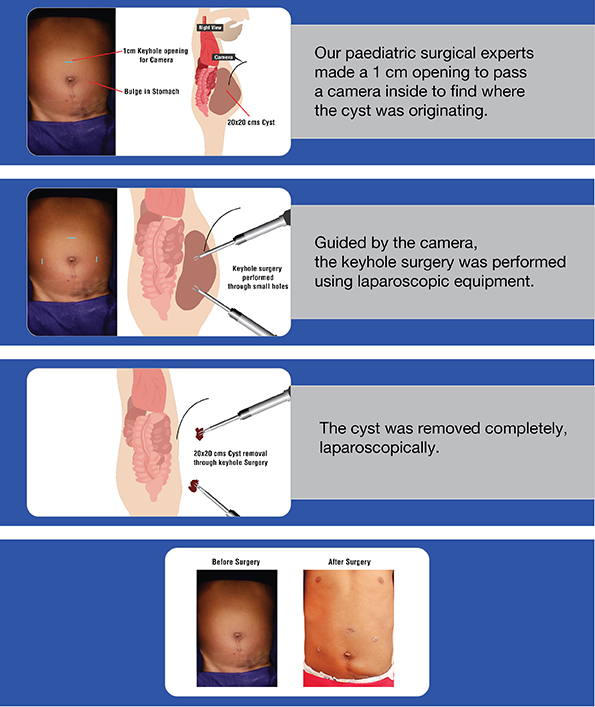 One of the world's rarest cases
Cysts are commonly found to be arising from the omentum (fatty layer of the stomach) or mesentery (small intestine's blood vessel layers). But in Arnav's case, the cyst's position and origin (muscles of the abdominal wall) and the significance of its size (20×20 cms) made this case rank among the rarest in the world.
The recovery
Being a keyhole procedure, laparoscopy ensured Arnav was back on his feet on the same day. He also resumed oral feeding. Compared to his poor appetite from before, Arnav is now craving to eat all the time and within 10 days has gained 2 kg. Now, his abdomen is flat and his breathing levels are perfectly fine. It was only after the laparoscopic procedure, his parents discovered the mischievous side of Arnav. He is bubbly and playful, like any child of his age. More importantly, he has zero pain and no more sleepless nights.
Inference
Initially, doctors in Fiji had suggested Australia as the destination for the same treatment. There, the projected cost to the already financially-weak family was 20,000 USD or Rs. 12 Lakhs. Whereas, with the same expertise and the same sophisticated equipment one can find in Australia, we at MIOT International have completed the surgery at an all-inclusive cost of Rs. 2.0 lakhs, including stay for 15 days.
This goes to show that when overseas patients are coming to MIOT International for world-class treatment, the hospital is committed to providing sophisticated healthcare at an affordable price.