Past events at MIOT
MIOT promotes World Parkinson's Day on 11th April 2019 at Madurai
11th Apr 2019
During the press meet the expert panel comprising of the below doctors spoke about Parkinson's disease, current scenario in treatment modalities, limitations / complications of medications, latest treatment procedures to control symptoms of the disease like DBS – Deep Brain Stimulation.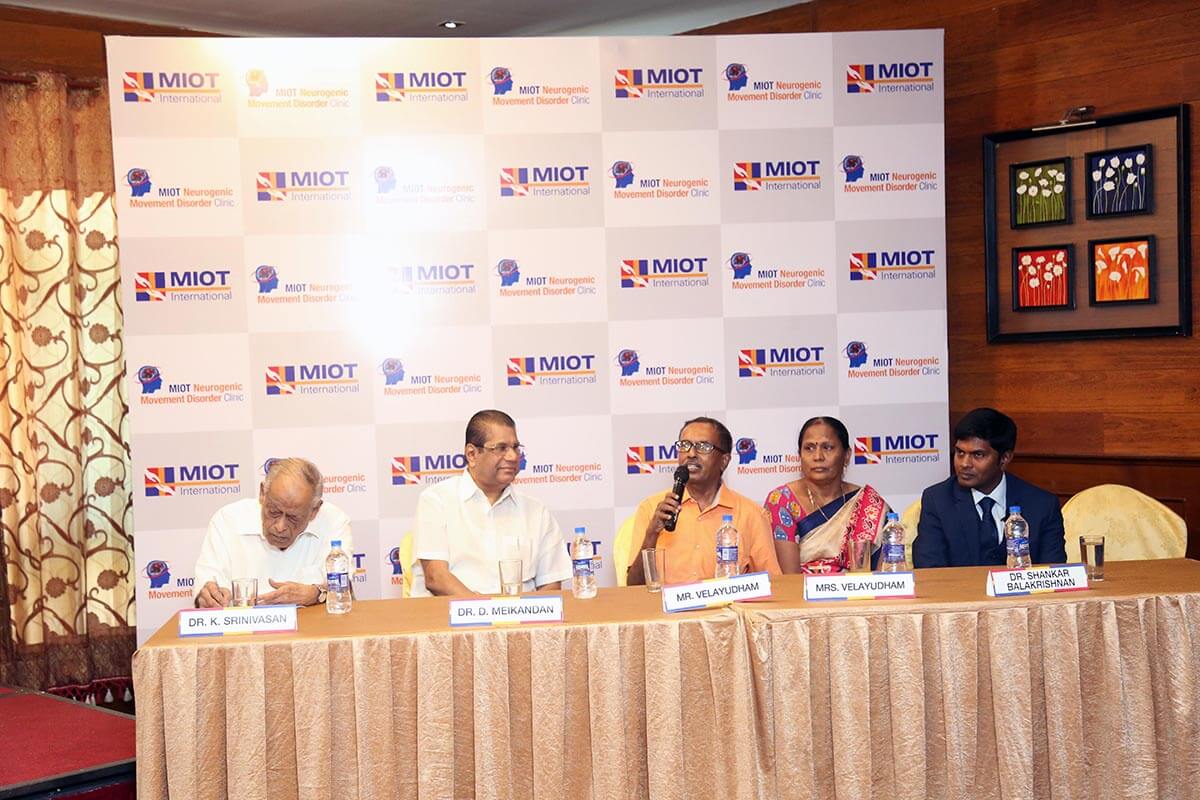 Seen from left to right: Prof. Dr. K. Srinivasan, Past President – Neurological society of India; Dr. D. Meikandan, Senior Consultant Neurologist & Pediatrician, Avvai Hospital, Madurai; Mr. Velayudham, Patient who benefited by DBS (Deep Brain Stimulation procedure) at MIOT International, Chennai; Mrs. Velayudham; Dr. Shankar Balakrishnan, Interventional Neurologist & DBS Specialist, MIOT International, Chennai.
Parkinson's Disease…
…is a serious and progressive neurological condition in which parts of the brain are gradually damaged making them bed-ridden over the years. While one in 100 over the age of 60 is susceptible to Parkinson's disease, it may also affect the youngsters.
Parkinson's disease affects the nerve cells that transport the neurotransmitter dopamine to other cells. Gradually, the number of such nerve cells decreases in number. When cell-death spreads to bigger parts of the brain and more areas are affected, the person will begin to feel the symptoms of Parkinson's.
Symptoms
During the early stages of the disease, there is usually little or no expression on the face.
Barely noticeable tremor in one hand (the most common symptom), which develops gradually over time.
It also causes stiffness and slows down movement and activities of daily living
Slow or no swinging of arms while walking
Soft / Slurred speech
These symptoms can worsen as the condition progresses over time.
MIOT Cares
MIOT International is a leading hospital in Chennai that drives better care, treatment procedures and quality of life for those with Parkinson's disease. Its mission is to find a solution and improve life for everyone affected by Parkinson's through cutting-edge treatment procedures, information, support and campaigning.
MIOT DBS Consultation Camp:
Madurai is India's 25th most populated city, with a good literacy rate of 81.5 % compared to the national average of 72%. Yet, there is a lack of awareness about Parkinson's disease and the available treatment options among the general public.
So, apart from spreading awareness about Parkinson's disease in Madurai, MIOT also organized the 'MIOT DBS Consultation Camp' on 11th April 2019 (8 am – 5 pm) at Indian Medical Association Hall – Medical College Road, Alwarpuram, Madurai – 625 020.
Specialists from MIOT and leading neurologists from Madurai was present at the camp for screening patients with symptoms of Parkinson's, and recommend medical / surgical (deep brain stimulation) treatment procedures, depending upon the stage of the disease.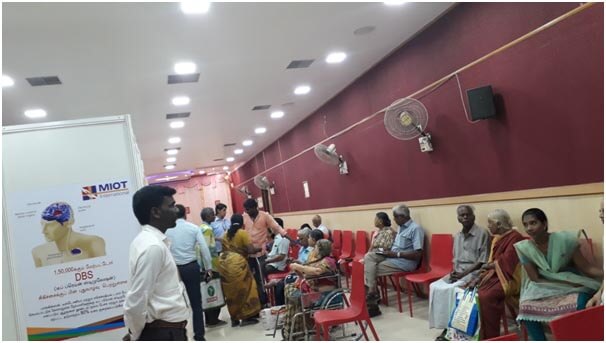 DBS:
DBS or Deep Brain Stimulation is a cutting-edge procedure that is giving a new lease of life to patients diagnosed with Parkinson's disease. A safe and well established therapy, DBS uses a keyhole procedure to implant electrodes in the motor related areas of the brain. The electrodes are connected to a pacemaker-like device (IPG), which is placed beneath the skin near the collar bone. The IPG is linked to a remote with the patient. When the remote turns on the IPG, electrical impulses are sent to the affected parts of the brain through the electrodes. This resets the distorted signals and restores interaction, reducing symptoms by almost 70-80%.
Advantages:
DBS returns control over movements back to the patient, restoring his or her independence, confidence and dignity. It is a reversible procedure and the strength of the electrical impulse can be adjusted to the severity of the symptoms. There is no risk of brain tissue damage as in a surgery. Most importantly, DBS reduces medication and its side effects by over 50%, in most cases.
Reasons for effective results at MIOT International
Today, MIOT offers a combination that few hospitals in India have, which is essential for DBS:
Team of experienced experts (neurologists, neurosurgeons, imaging and lab technologists, rehabilitation therapists and counsellors)
State-of-the-art TRODAT scan which diagnoses Parkinson's accurately at an early stage
Advanced imaging facilities on campus which help MIOT's surgeons map the affected centres and plan the surgery in minute detail
Dedicated surgical suites, equipped with cutting-edge stereotactic surgical equipment
Stringent infection-control practices that ensure 99.98% bacteria-free environments, which protect patients from infection
DBS Case Study @ MIOT
Mr. Velayutham, a 56-yr-old gentleman from Srivilliputhur (Virudhunagar district) was suffering from Parkinson's disease with Dystonia (abnormal twisting of the limbs) for almost 8 ½ yrs. Before being diagnosed with that, he was working as a clerk in the Virudhunagar Taluk office and was very well-known for his hard work and commitment. In 2008, he lost control of his bike while riding and fell off it. His family could not understand the reason for his loss of control and did not take the issue seriously. But later, when Mr. Velayutham faced difficulty in writing, he visited a neurologist. It was then that he was diagnosed with Parkinson's disease and was subsequently put on medications.
Due to intermittent intake of medication, his symptoms worsened. After 2 yrs, he started taking Ayurvedic medicines, and eventually started taking a combination of both, but all ended in vain. His condition started worsening as years passed. It made him quit his job in 2014. But the worst was yet to come, when he became bedridden in 2017. His wife recalls that day "I was back home after work when I found my husband on the floor struggling to get back on to his feet. I was shattered." It was only then that a relative of theirs referred them to MIOT. Mr. Velayutham was brought in a stretcher to the hospital.
At MIOT, he met the Interventional Neurologist, who recommended that he undergo a couple of Investigations. Mr. Velayutham was diagnosed with Parkinson's disease and Dystonia. The doctors told him that DBS can bring an apt relief to his problem and his family agreed to go ahead. In 2017, he underwent surgery. And today, Mr. Velayutham is back on his feet and takes care of his work by himself.
"Reset Signals. Rewind to Normal with DBS (Deep Brain Stimulation)"