Past events at MIOT
MIOT International Celebrates its 24th Founder's Day
11th Feb 2023
The 11th of February 2023 marked a milestone in MIOT International's healthcare journey, for the hospital celebrated its 24th Founder's Day. MIOT has been a beacon of hope for lakhs of patients across India and the world, through its steadfast commitment to provide the highest standards of care. From its beginnings as an orthopedic and trauma hospital in 1999, it has expanded into a renowned multi-speciality hospital offering more than 63 specialities.
MIOT has always been a pioneer in adopting the latest healthcare innovations in India. Even unprecedented challenges such as COVID were not a hurdle for the hospital's efforts. It had a two-pronged mission – that of meticulously planning and delivering world-class COVID care and even flying in international patients through special arrangements, while continuing to introduce many firsts in healthcare. The year 2022 saw MIOT launching a Real-Time Intraoperative Full-Body Mobile CT Scan, a first in Tamil Nadu and a dedicated Rehab Centre for complete rehabilitation of the body-and-mind, for the first time in South India.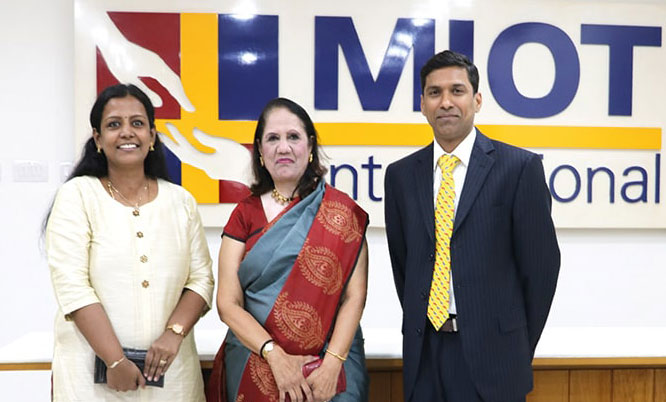 Photograph Seen from Left to Right: Mrs. Mallika Mohandas, Chairman, MIOT International, Ms. Kiruthiga Udhayanidhi, Director, Producer and Writer (Chief Guest), Prof. Dr. P. V. A. Mohandas, Founder and Mentor, MIOT International, Dr. Prithvi Mohandas, Managing Director, MIOT International.
MIOT's landmark achievements have enriched its legacy, which was proudly celebrated by the MIOT family on the hospital's 24th Founder's Day. Ms. Kiruthiga Udhayanidhi, notable director, producer and writer, presided over the event as the chief guest and delivered an inspiring address to a rapt audience. The hospital also presented the Employee of the Year Award 2022 and the Beyond the Call of Duty Awards to exemplary staff for their dedicated service.
MIOT's 24th Founder's Day reflected a journey of care driven by its commitment to deliver the best patient outcomes. As MIOT International marches towards its silver jubilee year, the hospital upholds its promise of creating a healthy future for generations to come.