Past events at MIOT
MIOT Hospitals performs a Successful Heart Procedure to save an Auto Driver's Pregnant Wife and their Unborn Baby during this COVID time
09th Jun 2020
At a time when the world was fighting COVID-19, senior cardiologists at MIOT Hospitals performed Mitral Balloon Valvotomy (cardiac procedure) on Mrs. Alamelu, the 28-year-old pregnant wife of an Auto Driver.
Pregnant & Helpless during COVID-19
Mrs. Alamelu and her husband Mr. Venkatesan were in the midst of a very precious pregnancy, assisted by a fertility centre. They were expecting their first child. But when Mrs. Alamelu entered her 6th month of pregnancy, she started experiencing severe shortness of breath.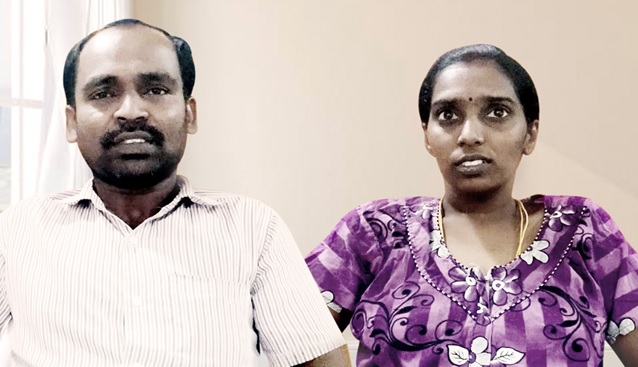 Photograph seen From left to right: Mr. Venkatesan (Patient's Husband), Patient Mrs. Alamelu.
Towards the end of March 2020, the situation in Chennai changed drastically because of COVID-19. The Government of Tamil Nadu announced a state-wide lockdown from 24th March, which was eventually extended up to 1st June. To the young couple's dismay, most clinics and hospitals were shut and those with their doors open refused admission because of the fear of COVID-19.
With the lockdown in place and healthcare centres turning away patients, the months of April and May 2020 were especially tough on the expectant mother. Her breathlessness became so severe that she slowly became immobile. While basic essentials were available at every corner, access to decent healthcare was nowhere in sight.
A Glimmer of Hope in the Darkness
As Mr. Venkatesan and Mrs. Alamelu found no solution to their troubles, her family advised them to go to MIOT Hospitals.
In this desperate situation, the couple came to MIOT Hospitals on 25th May 2020 with Mrs. Alamelu 7 months pregnant. By the time she was brought in, her breathlessness was extremely severe. She couldn't walk without support and found it extremely difficult to even utter a word.
As Mrs. Alamelu's symptoms pointed towards a heart problem, an Echo was taken immediately. Investigation revealed severe Mitral Stenosis, a condition in which the mitral valve (located between the upper and lower chambers of the heart) is narrowed and blood flow from the left atrium to the left ventricle is blocked.
As a result, purified blood of adequate quantity was blocked from supplying oxygen to the rest of the body.
Since shortness of breath was also a symptom of COVID-19, Mrs. Alamelu was taken to the Separate Isolated Respiratory Block for COVID-19 Screening as per protocol. Once she was tested negative for COVID-19, she was shifted to the Cardiac Intensive Care Unit (CICU).
Care at the time of COVID-19
MIOT Hospitals is one of the very few private hospitals in Chennai to remain operational throughout the COVID-19 lockdown period and offer care to all patients, including those refused admission by other clinics and hospitals as a result of the pandemic.
For patients like Mrs. Alamelu who were in need of compassion and good care during these dark times, MIOT Hospitals shone like a beacon of hope.
Meticulous Planning before Treatment
While the area of a normal mitral valve is 3.5-5 sq.cm, Mrs. Alamelu's mitral valve was only 0.6 sq.cm, which was dangerously narrow. This made her case extremely critical.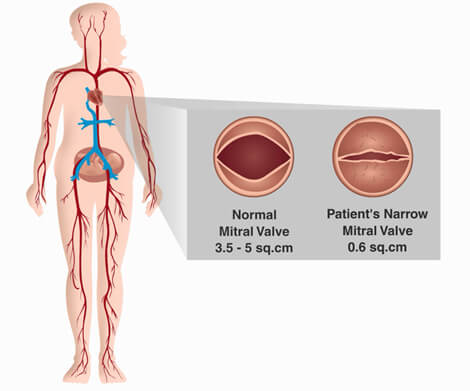 With no time to lose, MIOT Hospitals' multidisciplinary team of experienced interventional cardiologists, cardiothoracic surgeons, pulmonologists and gynaecologists arrived at the treatment plan – Balloon Mitral Valvotomy. But as the patient was 7 months pregnant, they had to take multiple factors into consideration.
First, the gynaecologists performed an Ultrasound Scan to make sure the foetus was healthy and safe, its heart rate was good and all growth & development parameters were perfectly normal.
The team at MIOT had the choice of either going for open surgery or performing an interventional procedure. But the cardiothoracic surgeon ruled out surgery immediately, citing it was extremely risky.  Interventional procedure seemed to be the only option as it was vital to safeguard the unborn baby as well.
Treatment – Balloon Mitral Valvotomy
Mrs. Alamelu was taken to the state-of-the-art Cath Lab for Mitral Balloon Valvotomy, a non-surgical procedure. The plan was to open the narrowed mitral valve successfully and improve the overall function of the heart. After the patient was mildly sedated, a special catheter (long, slender tube) with a balloon at the tip was guided into the heart chambers through a small hole created in the groin region.
A tiny incision was made across the wall separating the upper chambers of the heart to send the special catheter with the balloon to the left atrium and into the narrowed mitral valve. Here, the balloon was inflated to open the valve wide enough. The valve area was increased from 0.6 sq.cm to 1.7 sq.cm. Once the opening was good enough for blood flow, the balloon was deflated and removed.
Normal Mitral Valve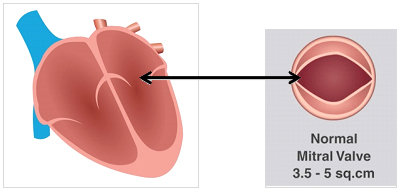 Patient Mrs. Alamelu's Narrowed Mitral Valve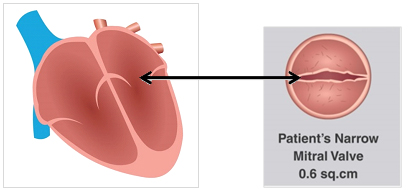 Procedure performed: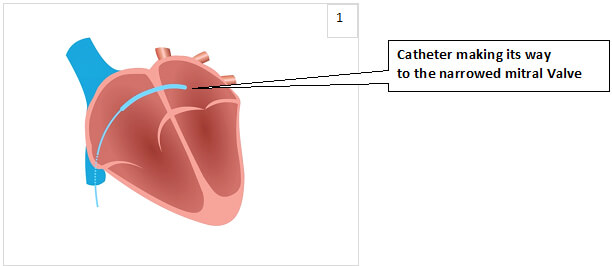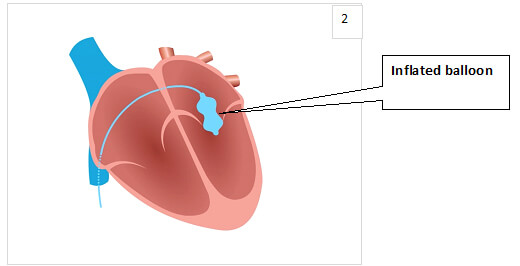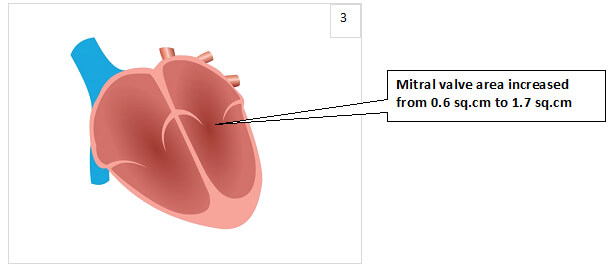 Perfectly Healthy & Awaiting Childbirth
Mrs. Alamelu returned home as a happy woman and resumed her everyday duties. With her heart doing well, her breathlessness was gone. She walked without support and spoke without any difficulty. She has been advised to follow medication for the time-being. Going forward, she will be on close clinical follow-up until delivery with reduced medication. She is now carrying on with normal pregnancy.
Both Mr. Venkatesan & Mrs. Alamelu can't wait to welcome their first child into their world.