Past events at MIOT
Masterclass in Theranostics – 360 Degrees on Prostate-Specific Membrane Antigen [PSMA] Theranostics
11th Mar 2023
The Masterclass in Theranostics was inaugurated today, 11th March 2023. MIOT experts along with 250 delegates across the Globe were together at the Masterclass and  shared their in-depth scientific knowledge and prominence of Nuclear Medicine with their medical fraternity. This academic programme focused on key areas to train nuclear medicine physicians, radiologists, technologists as well as clinical colleagues to understand a holistic approach in the management of patients using PSMA Theranostics.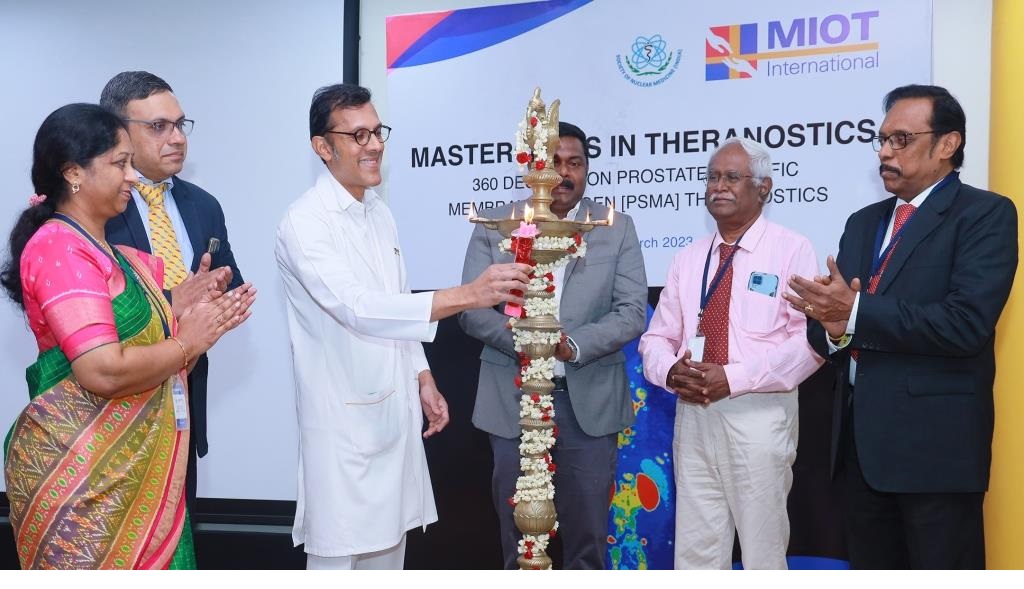 Photograph Seen from Left to Right: Dr. S. Sumati, Clinical Lead – Diagnostic Oncology & Theranostics, Department of Nuclear Medicine, MIOT International, Dr. S. D. Sathish Nath, Senior Consultant – Nuclear Medicine and PET CT, MIOT International, Dr. Prithvi Mohandas, Managing Director, MIOT International, Dr. Arun Sasikumar, Secretary – Society of Nuclear Medicine, India, Southern Chapter, Dr. K. Thirumurthy, Founder member and Past President – Society of Nuclear Medicine, India, Southern Chapter and Dr. K. Kumaresan, Founder President – Society of Nuclear Medicine, India, Southern Chapter
Theranostics in Nuclear Medicine (Diagnosis + Therapeutics) is an innovative and personalised approach that identifies and destroys advanced cancer without damaging healthy tissue. It uses small amounts of radioactive materials called radioactive isotopes or radioisotopes: one radioisotope to identify (diagnose) and a second radioisotope to deliver therapy to treat any metastatic tumours, where cancer is advanced or hasn't responded to other conventional treatments. Radioisotopes emit radiation which is detected by a PET scan. Theranostics allows us to view what we treat in real-time.
This concept is not new; theranostics has been in practice for treating thyroid cancers over the last 60 to 70 years. The type and amount of radioisotope administered is carefully determined based on type of cancer, their location and other factors involved. Unlike chemotherapy, radioisotopes specifically target only diseased cells, therefore eliminating any potential side-effects.
Theranostics involves 2 stages of treatment: Diagnosing and Destroying Cancer Cells
The Diagnosis Phase: Finds cancer metastases and assesses the targets.
The Treatment Phase: Aims to destroy the cancer cells.
PSMA Therapy for Prostate Cancer
Prostate-Specific Membrane Antigen – PSMA, is a protein usually found on the surface of normal prostate cells but found in abundance on prostate cancer cells. PSMA therapy aims to reduce the size and progress of metastatic prostate cancers that have become resistant to hormonal treatments, easing the symptoms and improving the patient's quality of life.
Diagnose – 68Gallium PSMA PET/CT
68Gallium PSMA PET/CT scan is a high-precision diagnostic test. The radioisotope (68Gallium) is combined with a carrier and medicinal molecule (PSMA) and a tracer. This complex takes the 68Gallium directly to prostate cancer cells. When the patient injected with 68Gallium undergoes PET/CT scan, the areas where the tumours are located are lit up and helps the theranostics team plan personalised treatment for patients.
Destroy – 177Lutetium PSMA Therapy
The second radioisotope 177Lutetium is similarly attached to the carrier and medicinal molecule (PSMA). When injected in the bloodstream, the carrier molecule 'locks' onto PSMA on the surface of prostate cancer cells, delivering the 177Lutetium straight to its target. This sends a localised radiation dose that shrinks and destroys the tumour, avoiding damage to the healthy tissues in your body.
Advantages of PSMA Theranostics
PSMA therapy is a nonsurgical, outpatient procedure. There is no incision or hospital stay. PSMA Theranostics will undoubtedly change the prostate cancer landscape in the near future. The next steps would be to incorporate alpha isotopes in PSMA, explore possibilities with immunotherapeutic ligands and investigate other combination treatment methodologies.
Targets cancer cells, with less damage to healthy cells.
Delivers a steady dose of radiation over several days.
Faster onset of relief from pain.
PET scans are safe and efficient.
Can treat cancer that is resistant to other types of therapy.
Eliminates malignant tumour cells with high effectiveness.
Non-invasive.
Advances are continually being made, as new sources of radioisotopes are developed and better methods to apply them among cancer entities are found. Listed below are a few cancer-specific radioactive drugs used in theranostics for various cancer treatments:
Type of Cancer
(Disease)

Diagnostic Agent
(Imaging)

Therapeutic Agent
(Therapy)

Prostate Cancer
68Ga-PSMA617
177Lu-PSMA 617
Non-Hodgkin's Lymphoma
anti-CD20 IHC
111I-anti-CD20
Neuroendocrine Tumours
68GA DOTANOC / TATE
177LU, 90Y
Thyroid
123I, 124I, 131I (Nal)
131I (Nal)
Lymphoma, Myeloma
68Ga-Pentixafor
177Lu-Pentixather (Under approval)
Neuroblastoma
123I-MIBG
131I-MIBG
Ovarian, Breast Cancer
212Pb-TCMC-Trastuzumab, 89Zr, 64Cu
212Pb-TCMC-Trastuzumab
(Under research)
Bone Metastases
99Tc-Oxidronate
99Tc-mDP
153Sm-EDTMP
177Lu-EDTMP, Lu-Zoledronate
Pancreatic, Head & Neck Cancer
68Ga-FAPI-4
177Lu-FAPI-4
Theranostics at MIOT
The Department of Nuclear Medicine at MIOT International offers state-of-the-art molecular imaging and radionuclide therapies. The department has a 2-bed isolation ward for treating patients of Thyroid Carcinoma through Radioiodine Therapy. It is also equipped with a futuristic dual-head Gamma camera (SPECT-CT) that is helpful in acquiring pre and post therapy whole body images for dosimetry and assessment of therapeutic radiopharmaceuticals in the treated metastatic lesions.
The department is backed by a fully automated 68Ge/68Ga Gallium generator from
ITG Germany. MIOT has been using, these radiolabelled PET tracers routinely for imaging of various cancer types, including neuroendocrine tumours, prostate cancers, breast, lung,
and GI malignancies as well as in infection imaging. 68Gallium is eluted and radiolabelled
in-house with several peptide molecules such as DOTANOC/DOTATATE, PSMA, FAPI, Exendin, CXCR4, Integrin (Trivehexin), etc. It ensures specific and better tumour targeting and lesser treatment related toxicity. Outsourced Radioactive Drugs: I-131, Na I, I-131 mIBG, 177Lu-DOTATATE, 177Lu-PSMA, 225Ac-PSMA.
Besides revolutionising cancer treatment, theranostics is a powerful tool to access diseases beyond cancer, such as neurodegenerative disorders (Alzheimer's, Parkinson's Disease, etc.) and coronary artery disease.
Other Radioisotope Therapies Available at MIOT:
Radioisotope

Therapies

Clinical Use

131I
Radioiodine Ablation, High Dose and Low Dose Therapy.
Thyroid Cancer – Remanant Ablation and Metastatic Diseases and Benign Thyroid Disorders.
177Lu, 225Ac
DOTA-TATE (PRRT) Therapy
Metastatic Neuroendocrine Tumours
177Lu, 225Ac
PSMA Therapy
Metastatic Prostate Cancer
90Y Microsphere
131I Lopidol
TARE (Trans Arterial Radionuclide Embolisation)
Primary and Benign Liver Cancer
89Sr-cl, 32P, 153Sm-EDTMP, 177Lu-EDTMP,
177Lu-Zoledronate
Bone Pain Palliation
Metastatic Breast, Prostate and other Cancers.
169Er, 186Re, 32P, 90Y
Radio Synovectomy
Rheumatoid Arthritis, Arthropathia Psoriatica
Poly-arthritis, Pigmented Villonodular Synovitis and Hemophilic Arthritis
131I- mIBG
MIBG Therapy
Phaeochromocytoma and Paraganglioma
MIOT International routinely practices theranostics with imaging and subsequent radionuclide targeted therapy using 177Lu/ 225Ac- DOTATATE in NETs, 177Lu/ 225Ac-PSMA in metastatic prostate cancers and other non-prostatic malignancies such as adenoid cystic carcinoma. All these therapies are performed after discussing each case with our multidisciplinary tumour board.
Masterclass in Theranostics – 360 Degrees on PSMA Theranostics
MIOT International envisions sharing the scientific knowledge and prominence of Nuclear Medicine with its medical fraternity. This platform is created in order to exchange scientific practices, current evidence, clinical perspectives, panel discussions, debates, challenging case discussions, and scan reading sessions to delve into the entire gamut of PSMA Theranostics from the 50-member expert team of MIOT faculty and renowned professionals from all over the world.
This two-day (11th and 12th March 2023) masterclass academic programme by MIOT International in collaboration with the Society of Nuclear Medicine SNM – India (Southern Chapter) will focus on key areas to train nuclear medicine physicians, radiologists, technologists as well as clinical colleagues (surgical, medical and radiation oncologists and urologists) to understand a holistic approach in the management of patients using PSMA Theranostics.
More than 250 delegates  joined this academic programme.