Past events at MIOT
Inauguration of "First of its Kind" Transfusion Medicine Department at MIOT International
19th Jan 2014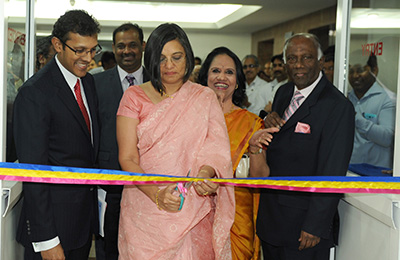 Standing (from left to right): Dr. Prithvi Mohandas, Joint Managing Director – MIOT International, Mrs. Ambika Mammen, Director, MRF – Chief Guest, Mrs. Mallika Mohandas, Chairman – MIOT International, Prof. Dr. P.V.A. Mohandas, Founder and Managing Director – MIOT International
The Indian public view blood transfusion as a regular ordinary process which simply involves collection, storage and donation.
However, in today's world of auto immune disease and complex bone marrow, kidney and liver transplants the armamentarium and scope of transfusion medicine has transcended to the next level.
It is possible to completely cure certain diseases where the body attacks the nervous system by performing several cycles of plasma exchange (single part of the blood alone is removed and given back).
Conditions where the body's own immunity attacks the ability of the body to heal or clot (arrest bleeding) can be cured by infusing specially matched platelet products.
The safest type of donated blood is that which is completely free of any antibody – Leucocyte depletion of blood. This completely removes any risk from blood transfusion.
FOR THE FIRST TIME EVER MIOT INTERNATIONAL BRINGS TOGETHER COMPONENT SEPARATION, APHAERESIS AND LEUCOCYTE FILTRATION UNDER ONE ROOF.
Component Separation
Each individual component of blood – packed red cells, fresh frozen plasma, platelets concentrate and cryo precipitate can be separated and individually given where required.
In fact, the cryo precipitate, so essential and life saving in organ transplants, can be stored at out premises with our very specialized equipment safely for 7 years.
Aphaeresis
Aphaeresis means collecting particular blood component from the donor to use in a patient for therapy. We are the only hospital to provide 24 hour therapeutic aphaeresis services for Neurological, Rheumatological, Nephrological and Haematological conditions.
Leuco Filtration & Infection Screening
White blood cell has been shown to cause transfusion reaction and immunization in multiply transfused patients. Screening and Filtering (Leuco Filtering) completely negate transmission such as EBB and CMV and accordingly minimize any reaction to transfused blood.
MIOT International is the only institution where all donated blood is 100% Leuco Filtered according to International Standards.