Past events at MIOT
IGOF - Masters Course on Trauma and Spine Surgery
24th Jun 2022
In the year 1992, two AO stalwarts Prof. Siegfried Weller and Prof. Dr. P.V.A. Mohandas decided that their mutual respect, admiration and professional academic exchange should be formalised. They wanted it to benefit young orthopaedic surgeons the world over. Thus was born the Indo German Orthopaedic Foundation in 1992. IGOF has conducted over 100 symposia and offered fellowships to over 200 upcoming orthopaedic surgeons over the last 30 years. COVID -19 has seen the orthopaedic community renew protocols, techniques and procedures to promote safety as well as outcomes.
This academic and cultural feast was conducted in the city of Chennai (Healthcare Capital of India) on 24th & 25th June 2022. This Masters Course on Trauma and Spine Surgery conducted at MIOT International, Chennai, India bridged a model for global platform with over 400 medical minds, budding orthopaedists, healthcare industrial experts from all over the world came together for healthy discussions, share best practices and exchange ideas and experiences and also witnessed Live Surgery on both days.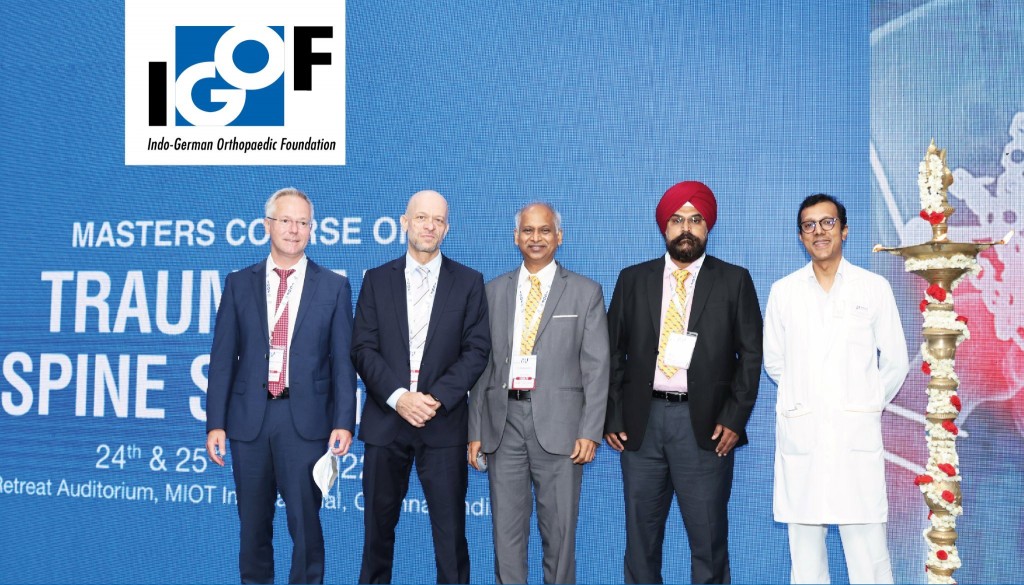 Stage shared at the IGOF's inaugural ceremony from left to right:
Prof. Dr. Thomas Freude – HOD of Orthopaedics & Traumatology, Hallein Hospital, Salzburg, Germany
Dr. Med Markus Pietrek, Co-Head of Clinic for Spinal Surgery, SchönKlinik Hamburg Eilbek, Germany
Dr. Ramprasad J, HOD, Orthopaedics & Director of Trauma, MIOT International, Chennai
Dr. Charanjit Singh Dhillon, Director of Spine Surgery, MIOT International, Chennai
Dr. Prithvi Mohandas, Managing Director, MIOT International & Secretary, IGOF
The Grand Orthopaedic Quiz
IGOF was overwhelmed with the sharpest IQ's of the fraternity, participants displayed great enthusiasm that elated the interactive sessions. IGOF gladly congratulates its winners and all the participants of the "Grand Orthopaedic Quiz". The enthusiastic partaking of the inspiring students showered their knowledge and skills covering the streams of Orthopaedics which made this event an intense success and much memorable.
Winners and Runners on the leader board achieved certification of honour and cash prizes.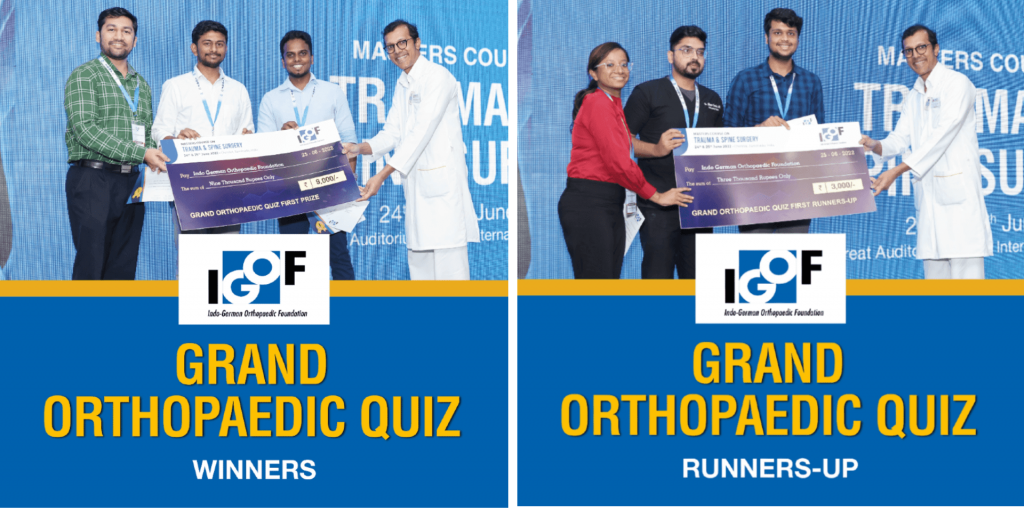 Winners (seen from left to right): Dr.SaiDeivRamkumar M, Dr.Sai Ganesh G, Dr.ArunVignesh P.S – Saveetha Medical College and Hospital, Chennai.
Runners-up (seen from left to right): Dr.ShradhaMurali, Dr.Abhinav Chandra SekharKolachala, Dr.Arjun Ganesh – Sri Ramachandra Institute of Higher Education and Research, Chennai.
MOHANDAS – WELLER GOLD MEDAL AWARD:
The prestigious MOHANDAS – WELLER GOLD MEDAL AWARD was presented to Dr.Jvaghar Jill, Madras Medical College (MMC), Chennai for the abstract "Pedide Screw Stacking in Failed Spine Surgery" and the runner-up to Dr.Sibi Sanjay B, Sri Ramachandra Medical college (SRMC), Chennai for the abstract "Mini Fragment Plating Provides a Middle Ground Between Tension Band Wiring and Conventional Olecranon Plating in the Management of Comminuted Olecranon Fractures: A Novel Technique".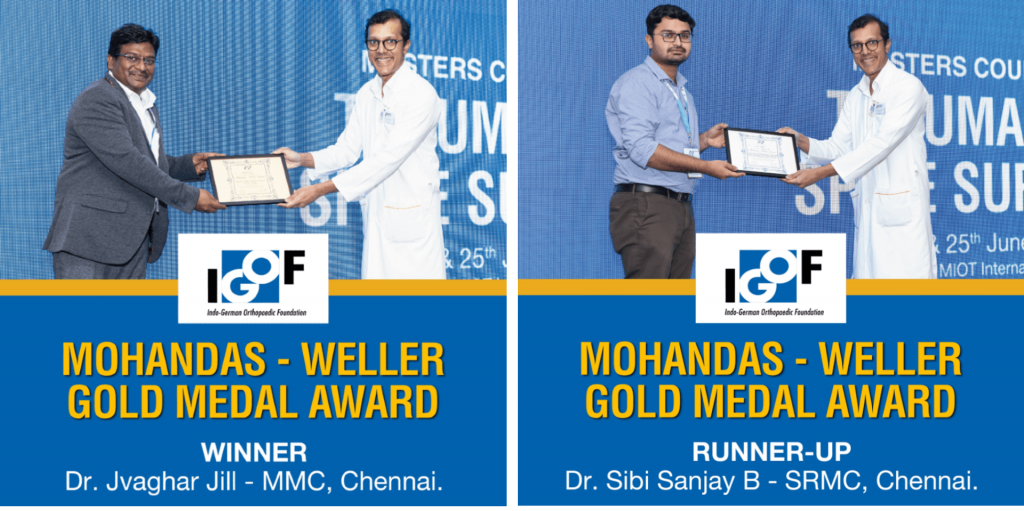 MOHANDAS – WELLER GOLD MEDAL AWARD – is presented to budding medical minds carrying remarkable ideas and lined-up with insights that forefront in orthopaedics. The top presentations raged from debates and delivered solutions to global challenges in healthcare. We congratulate all the participants for bringing in such outstanding research into this edition of IGOF that revolves to transform the future of Orthopaedics.