Past events at MIOT
First of its kind workshop on disaster management in house training program for health care professionals followed by integrated mock drill (25-06-2017 to 27-06-2017)
27th Jun 2017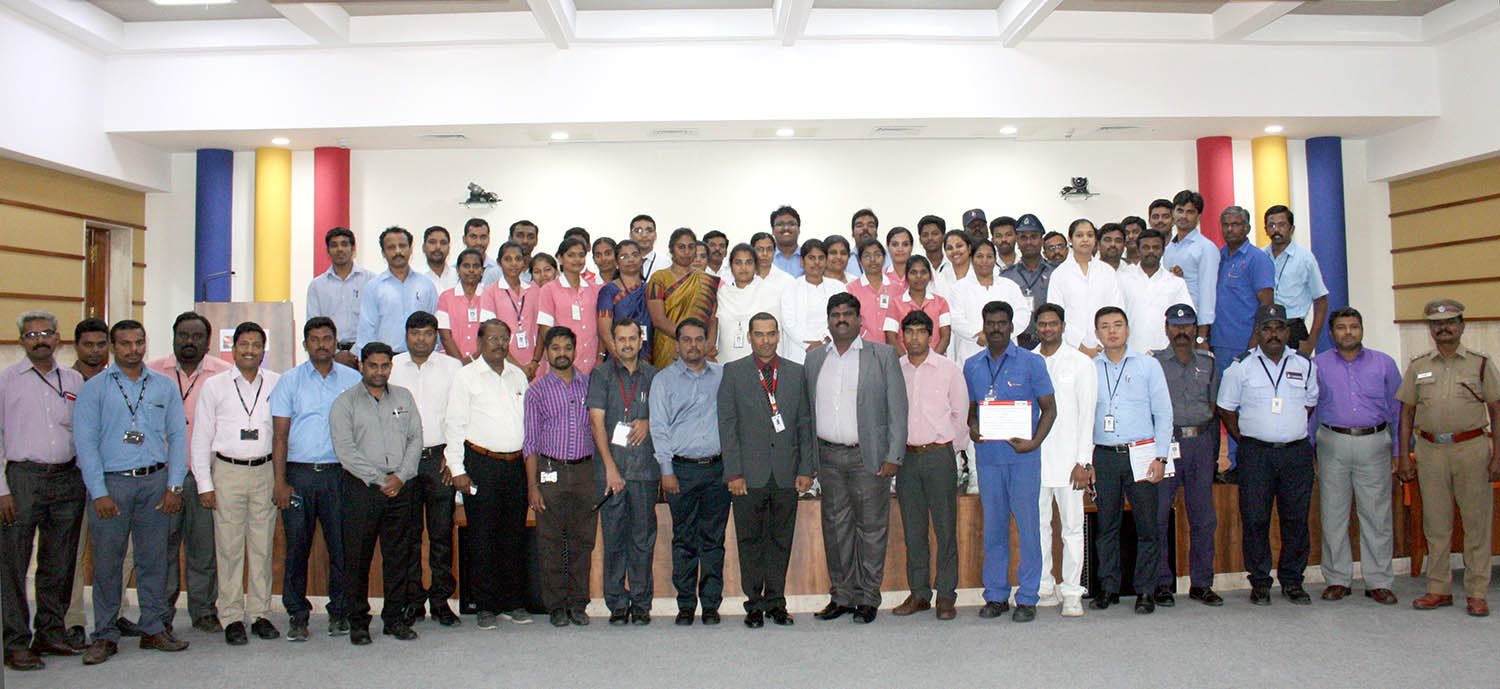 First-of-its kind in Tamil Nadu, a Disaster Management training program for hospitals and healthcare providers was conducted by miot hospitals in association with GVK Emergency Management and Research Institute (108), Chennai.  The workshop was conducted for three days (25.06.2017 to 27.06.2017) in MIOT Campus. The Doctors, Nurses, Administrators / Managers, Bio-Medical Engineers, Maintenance Engineers and proficient staff of various Departments of Miot Hospitals participated in the integrated training course. The Mock Drill was demonstrated at the end of the third day of the program. It is the common practice everywhere that, the Institution will conduct mock drill for Disaster Preparedness and subsequently participants would receive the certificate. But this integrated disaster management training program conducted in MIOT HOSPITALS was a unique one. The first two days training session were full of theoretical part. On the third day there was an integrated flood disaster mock drill in the presence of special observers from the various departments of government tamilnadu. During the mock drill a flood alert warning was initiated. Instantaneous response was put into the action, advance triage was implemented and patients were identified accordingly and shifted as per the patient safety protocol. During evacuation process, a fire vehicle and rescue boat has been stationed. Participants were given intensive training for the preparedness of any disaster.
The following observers were invited for this exhaustive mock drill that was conducted in two phases. The first call assumed to be the Flood alert and the second call was treated as the increase in the flood level increase.  At the end of the mock drill we invited the Representatives for the open discussion in the forum and their valuable suggestions were taken in to consideration. An integrated, comprehensive disaster management plan was achieved with the valuable suggestions, opinions and guidance from all the participants.
The List of officials from various departments from Government of Tamil Nadu who had attended this Mock drill is as follows:

The Sub Inspector , Nandambakkam Police Station
Station Officer and his team from Poonamallee Fire Station, Tamil Nadu Fire and Rescue Services.
The Assistant Engineer, Manapakkam, Tamil Nadu Electricity Board
The Sanitary Officer, Zone IV, Alandur, Chennai corporation
Doctors and Staff Nurses from GH Poonamallee, Avadi, Ponneri and Thiruvallur.
This disaster management program followed by an integrated mock drill has been a unique and also distinctive in two ways.
For the first time in TAMIL NADU a disaster management training program along with an integrated mock drill has been conducted exclusive for healthcare professionals.
This integrated and exhaustive flood disaster mock drill was conducted under the able guidance of representatives from the various departments of Government of Tamil Nadu.