Past events at MIOT
Direct Anterior Approach and Clinical Outcomes
13th May 2023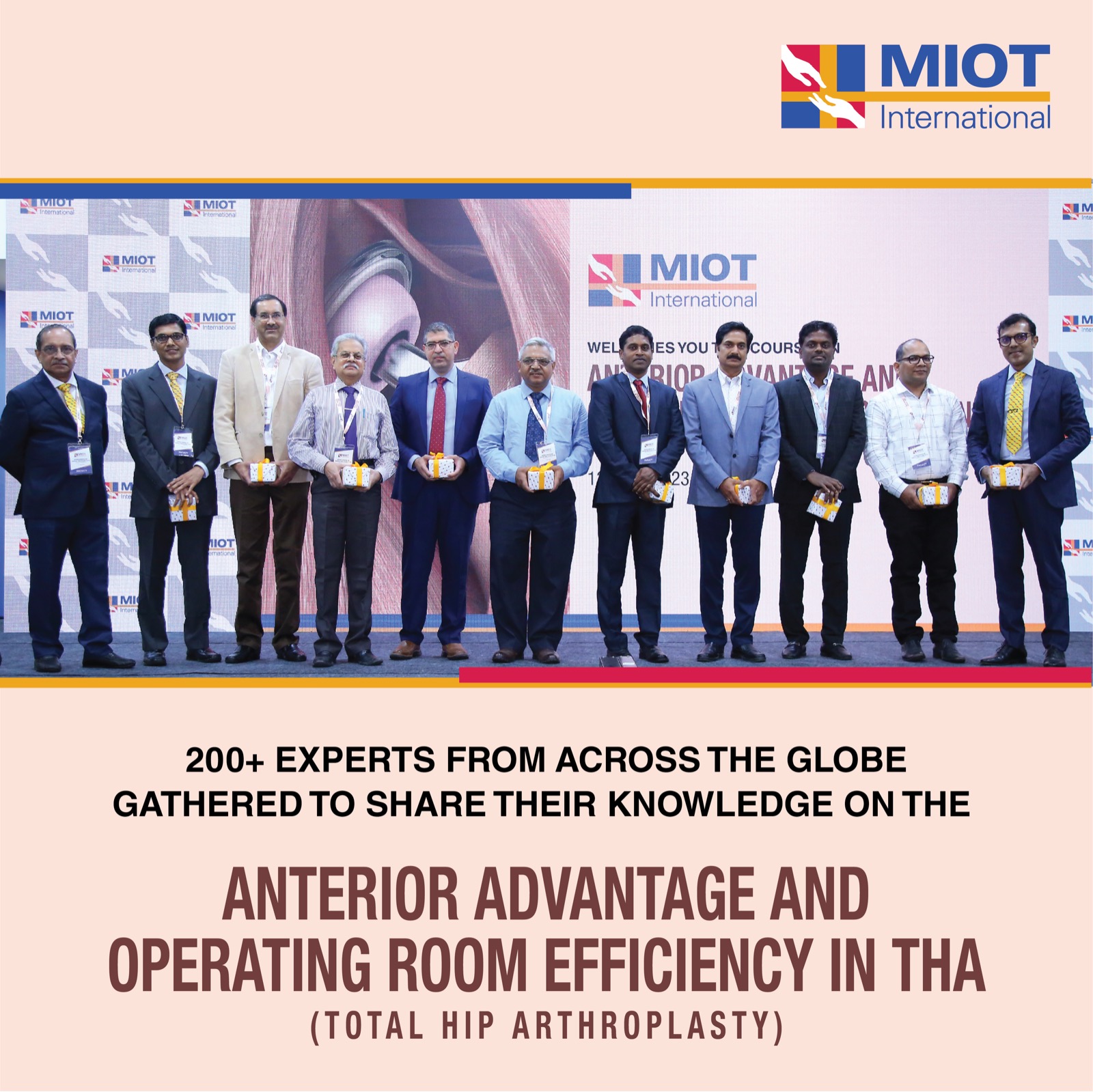 "The Direct Anterior Approach and Clinical Outcomes" event was organised on 13th May 2023. MIOT experts, along with 200 delegates across the globe, participated in this event and shared in-depth scientific knowledge on the Direct Anterior Approach (DAA) to hip replacement. The event provided an amazing opportunity for orthopaedic surgeons to enhance their skills and knowledge in DAA, which allows for faster recovery and better patient outcomes.
Traditional Hip Replacement Surgery
Hip replacement surgeries are usually done using the posterior approach, where the patient lies on their side. This approach involves making a large incision through the muscles and tissues surrounding the hip joint. Although this is the go-to method for total hip replacement surgeries, it has a few drawbacks.
As this is a muscle-cutting approach, it can cause greater muscle damage and blood loss, to the point where the patient may need a blood transfusion. The patient may experience significant postoperative pain, which can result in a longer hospital stay and rehabilitation period. After recovery, the pattern of the patient's gait may be altered, and mobilisation will be delayed. There are also chances of new bone formation around the hip, along with a higher risk of dislocation.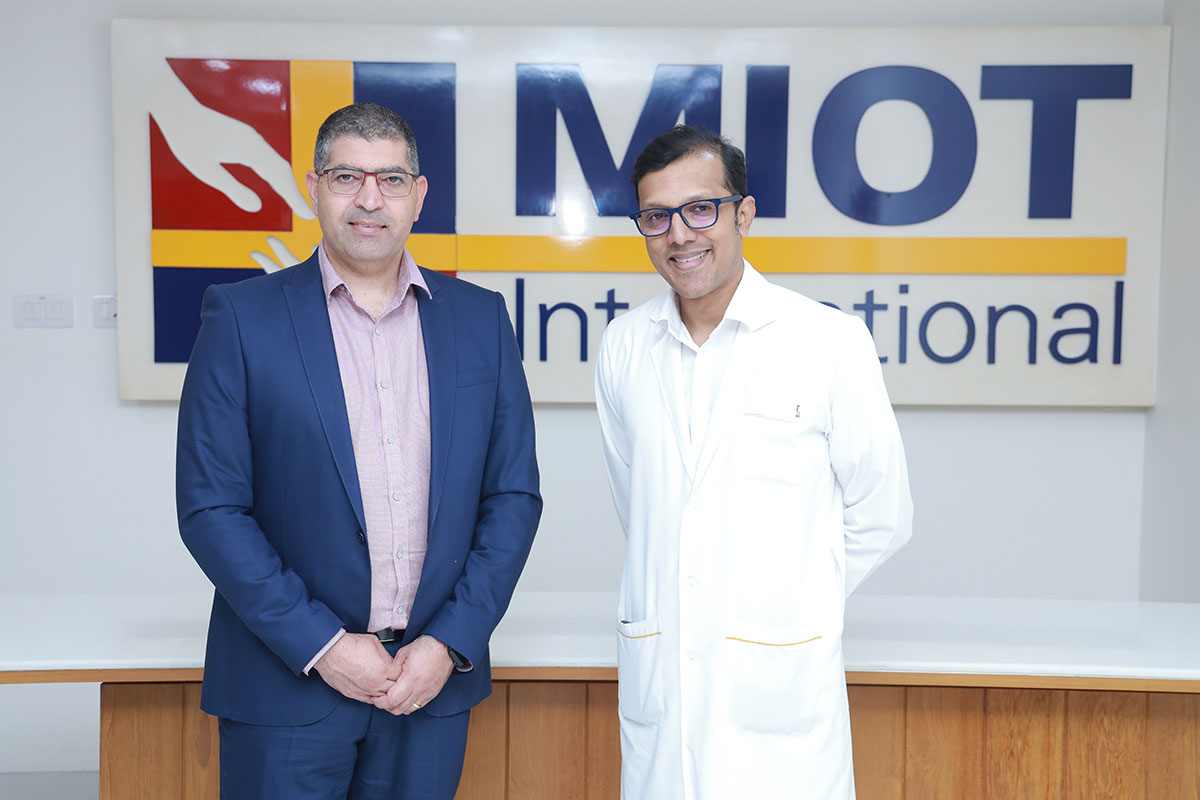 Photograph seen from Left to Right: Dr. Nabil Ghrayeb, Senior Deputy Director, Orthopaedic Division at Rambam Medical Center, Haifa, Israel, Dr. Prithvi Mohandas, Managing Director, MIOT International.
Direct Anterior Approach (DAA)
The Direct Anterior Approach to hip replacement is an alternative surgical technique in which the hip joint is accessed from the front of the body rather than from the side or the back. Unlike traditional Total Hip Replacement surgeries, this position allows the doctors to easily determine whether the length of their legs is equal after surgery.
Previously, some anterior hip surgeries were done on a special table called the Hannah table. It took a long time to position the patient on this table. Furthermore, the cost of procuring it was very high. However, now, DAA can be performed on a standard operating table. The ability to perform the procedure on a standard operating table has eliminated the need for expensive and time-consuming equipment, making it more accessible to patients in need.
This DAA approach has several benefits, including:
Lesser muscle damage
A faster recovery time
Reduced blood loss
Less pain after surgery
A shorter hospital stay
Hip Replacement at MIOT
MIOT International has a long history of pioneering joint replacement surgery in India and the Asia-Pacific region. It became the first hospital in India to perform hip replacement surgery and introduce the use of computer-assisted technology in India. The hospital's unmatched experience reflects in the successful completion of over 40,000 hip, knee, and upper limb joint replacement surgeries. Moreover, MIOT is one of the few hospitals worldwide to possess the expertise and specialised equipment for revision surgery, which involves removing and replacing previous joint replacement implants.
Dr. Nabil Ghrayeb
Dr. Nabil Ghrayeb, with over 20 years of experience in orthopaedics and joint replacement, is currently the Senior Deputy Director of the Orthopaedic Division at Rambam Medical Centre, Haifa, Israel. Having completed his bachelor's and doctorate in medicine in Israel, he developed a special interest in joint replacement surgery. He went on to pursue a fellowship in hip and knee arthroplasty at the University of Toronto in 2012. His inclination towards research led him to take part in multiple clinical trial studies related to hip and knee replacements. To his credit, he has authored many papers that have been published in national and international journals.
Dr. Nabil Ghrayeb is an authority in the field of Direct Anterior Approach in Total Hip Replacement and has made significant contributions to the advancement of medical science. In addition to his clinical work, Dr. Nabil Ghrayeb has travelled all around the world, actively involved in teaching and mentoring many orthopaedic surgeons.