Past events at MIOT
A tale of two hearts
11th Sep 2018
The rendezvous
The mother of a 10-year-old boy with a heart condition happened to chance upon a newborn baby patient named Rivana at a hospital in Seychelles, where her son was also admitted. When she met the girl's aunt, she came to know that the newborn was suffering from a rare heart condition called Truncus Arteriosus, which made breastfeeding a difficulty.
Rivana's aunt narrated the entire ordeal to the boy's mother in the hope that it will be of some relief.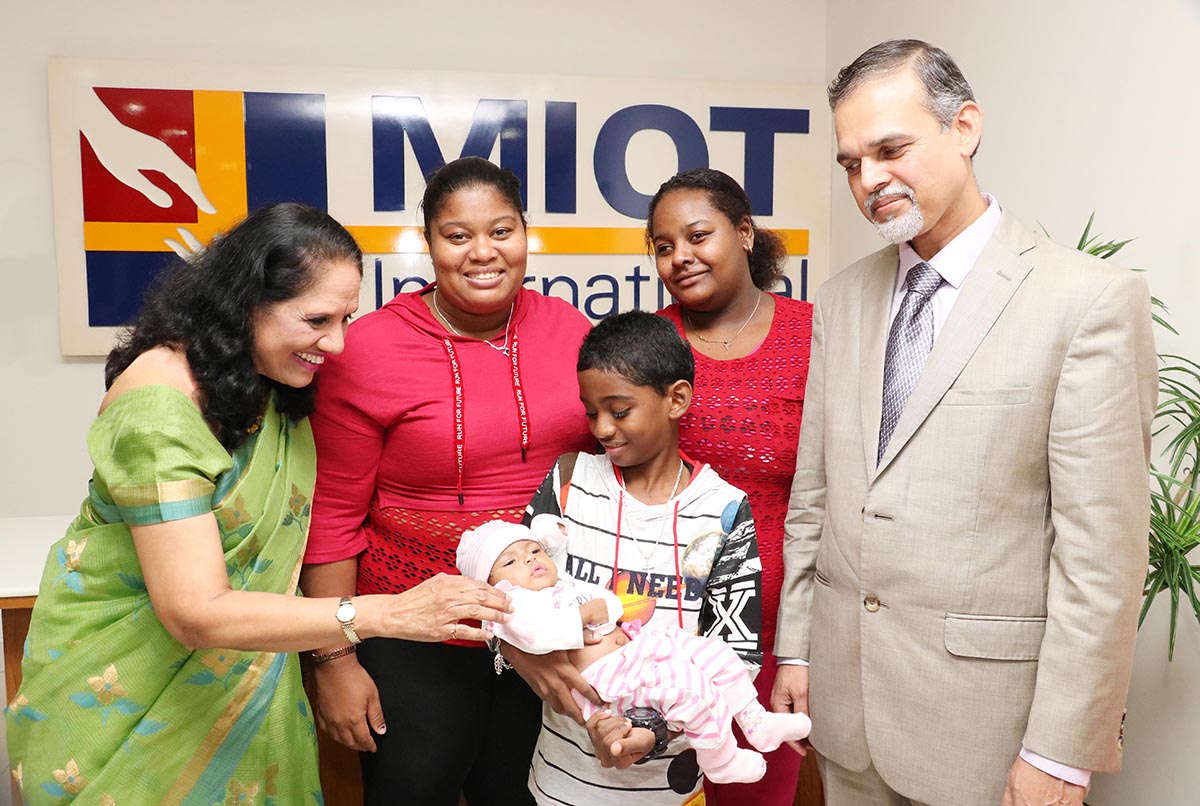 Seen in the photograph from left to right: Mrs. Mallika Mohandas, Chairman, MIOT International, 10-year-old Angelo holding 3-month-old baby Rivana (Angelo's mother and Rivana's aunt seen at the back.), Dr. Robert Coelho, Director and HOD – Paediatric Cardiac Surgery, MIOT International. (Press meet event on 11th September 2018 at MIOT)
The ordeal
By the time Rivana came into the world, her single mother was already suffering from epilepsy (brain condition that leads to frequent seizures). The little baby developed severe complications like breathlessness (respiratory infection) and rapid heartbeats, because of which she used to have a torrid time while breastfeeding.
The milk would gush out through her mouth and nostrils within minutes of drinking. On top of that, her sleep duration shortened drastically. And the baby would just cry uncontrollably all the time. Her helpless mother couldn't tell whether it was the lack of sleep or the insufficient milk intake behind her agony.
Extremely worried about her baby's condition, she took her to a hospital in Seychelles. The diagnosis there picked up murmurs in the heart. Further scans revealed some abnormality, which was life-threatening and needed immediate attention.
It was then the Seychelles government came to her rescue and referred her to MIOT International, Chennai. While it was a glimmer of hope, the mother was in a dilemma. If she travelled that far for her daughter's treatment, she wondered who would look after her one-year-old son. Besides, her medical condition did not support her travel either. As it is, she was a single mother. So, she kept contemplating.
And all the while in the hospital in Seychelles, Rivana was fed through Ryle's tube (a rubber or plastic tube that is passed through the nose and into the stomach to send food).
The bonding
Upon hearing Rivana's ordeal, the 10-year-old boy's mother was moved to tears. As a mother, she could comprehend the traumatic experience Rivana's mother must have gone through. And the more she heard about their story, the more it pained her. Meanwhile, during their stay at the hospital, her son grew fond of Rivana. The world around him just blurred whenever the baby was in front of him. He frequently slipped out of his room to be with her. Seeing his love and affection for the baby, the doctors shifted both the children to the same room. Rivana's aunt and the boy's mother witnessed a beautiful friendship blossom in front of their eyes. Whenever the baby fell sick, the little guy would never leave her side for anything in the world.
"No Rivana, No India"
The boy was suffering from rheumatic heart disease, which affects the valves of the heart. Being a very complex paediatric cardiac case, the doctors in Seychelles advised his mother to take him to MIOT International, India for further treatment. While the mother was prepared to go, the boy was reluctant. He didn't have the heart to leave Rivana behind in Seychelles. So, he persuaded his mother to talk to her aunt so that both he and the baby could get treated at MIOT. But as Rivana's health deteriorated, the doctors hesitated and said that she was not fit to travel.
Either way, Rivana's aunt was never keen on travelling to India with the baby as it was a completely new country to her. The boy's mother put her at ease then, by telling her that she previously had her second son treated at MIOT for a heart defect, and she was taking her first son to the same hospital only because her second son was doing fantastic now after the treatment there. With that, the baby's aunt was convinced.
Both the ladies, along with the children (Rivana on oxygen support because of her poor health condition) and a Seychelles doctor to monitor the baby continuously, flew from Seychelles to Chennai.
Diagnosis at MIOT
At MIOT International, Chennai, Rivana was examined by the Children's Cardiac Team headed by Dr. Robert Coelho, Director – Paediatric Cardiac Surgery. Scans taken using MIOT's state-of-the-art equipment revealed a congenital birth defect known as Truncus Arteriosus.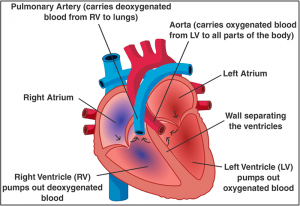 NORMAL HEART
In a normal heart, there are 4 chambers: 2 upper chambers (atrium) and 2 lower chambers (ventricles). Generally, two blood vessels arise from the ventricles. One is the pulmonary artery from the right ventricle, which carries de-oxygenated blood from the heart to the lungs. The other is the aorta, which carries oxygenated blood from the left ventricle to all parts of the body.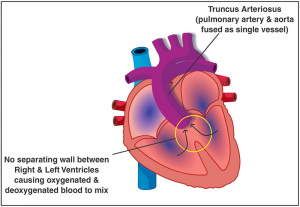 RIVANA'S CASE
But in Rivana's case, the heart had only one vessel (TRUNCUS ARTERIOSUS) present, instead of two. To make matters worse, the right and left ventricles in her heart were not separated by a wall. As a result, oxygenated blood mixed with de-oxygenated blood, and the single vessel transported the mixed blood to all parts of the body. To add to the problem, the truncal valve was leaking, making the heart's blood pumping ineffective. This sapped the baby's energy levels drastically, leading to a reduction in overall growth as well as making breastfeeding a difficulty.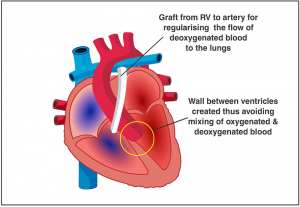 TREATMENT AT MIOT
Dr. Robert Coelho recommended surgery immediately as the baby's condition was highly critical. So, on 10th August, she was taken in for repair of the heart defect. The surgery was performed to address 3 separate issues:a) Fused right and left ventricles: A dividing wall was built to separate the 2 ventricles. We then connected the single vessel (Truncus Arteriosus) to the left ventricle. This stopped oxygenated blood from mixing with deoxygenated blood. Further, oxygenated blood was carried to all parts of the body, just like how it would in a normal heart.
b) Missing pulmonary artery: A tissue valve graft was placed to connect the right ventricle to the lung arteries. With this procedure, deoxygenated blood was carried from the heart to the lungs.
c) Repair of the leaking truncal valve: The truncal valve was brought back to normalcy and the heart's blood pumping became effective, preventing heart failure.
The recovery
Post-surgery, Rivana was shifted to the ICU, where she continued to remain for 20 days under close monitoring, as she took a lot of time before she could start breathing without support.
On 25th August, once the doctors confirmed that Rivana was very stable and breathing by herself, she was weaned off oxygen support. As the baby was extremely underweight, she required nutritional support as well. So, she was shifted to the ward on 30th August.
"All's well that ends well"
Today, Rivana is all set for a normal life. She is very stable and comfortable, and is able to breathe normally, as well as take feeds without any difficulty (we've replaced Ryle's tube with bottle feed).
Her sleeping hours have also become longer. Rivana's aunt said, "Before the surgery, feeding her was the toughest and scariest job. But now, even if I pull the milk bottle out of her mouth, she pulls it back inside. MIOT has saved my niece and I am indebted to MIOT all my life."
The boy too underwent a heart surgery to repair his mitral and aortic valves, and was happy to be back by Rivana's side. His mother had tears of joy seeing the two together.
All of us at MIOT International are eager to bid goodbye to Rivana. When she came to us, she was a poor little thing who was deprived of her mother's milk. But now, she is going back to Seychelles to enjoy her childhood and be the tiny pillar of strength her mother needs.
*Glossary:
Truncus Arteriosus is a rare type of heart disease in which a single blood vessel (truncus arteriosus) comes out of the right and left ventricles, instead of the normal 2 vessels (pulmonary artery and aorta). It is present at birth (congenital heart disease).