Past events at MIOT
A non-surgical heart procedure is here to win people's hearts.
22nd Aug 2018
Background:
Heart diseases pose a major threat to people in India. The death rate due to cardiovascular diseases rose by around 34% from 115.7 to 209.1 deaths per 1 lakh population in 2017. One of the most common heart disease related deaths occurs due to coronary diseases.
Coronary artery (an artery supplying blood to the heart) disease (CAD) occurs when the coronary arteries narrow down or get blocked as a result of the built-up of fatty deposits and plaque along the inner walls of the artery. This restricts the blood flow to the heart, depriving it of oxygen and vital nutrients that it badly needs to function properly. Over a period of time, CAD may lead to heart attack.
The current prescribed treatment for CAD is angioplasty if the blockage range is above 70%.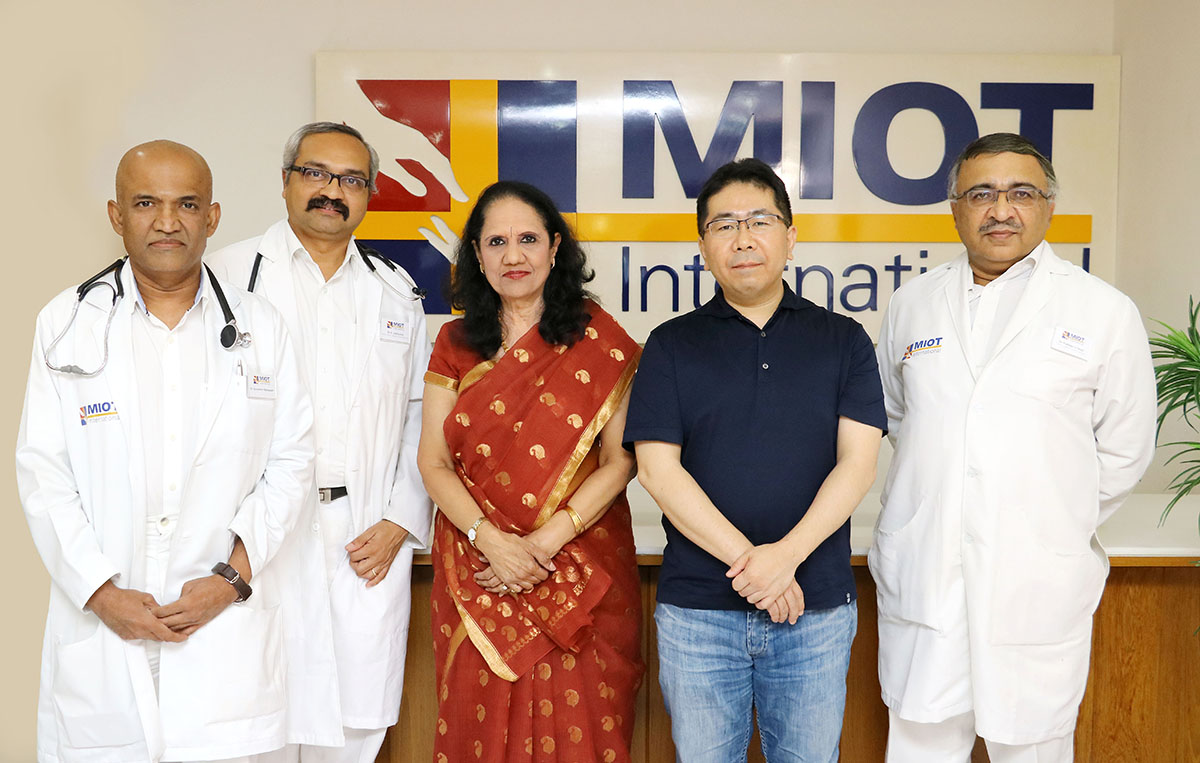 Seen in the photograph from left to right: Dr. Saravanan Palaniappan, Senior Invasive Cardiologist, MIOT International, Dr. K. Jaishankar, Director & Mentor – Cardiology and Electrophysiology, MIOT International, Mrs. Mallika Mohandas, Chairman, MIOT International, Dr. Takahide Suzuki, Chief of Cardiovascular Catheterization Center, JA Hokkaido Engaru Kosei General Hospital, Japan, Dr. Pradeep G Nayar, Director (Academics) & Senior Cardiologist, MIOT International. (Press meet event on 22nd August 2018 at MIOT)
But what if the coronary artery is blocked completely?
Known as Chronic Total Occlusion (CTO), a complete blockage of the coronary artery may lead to a decline in heart function. Statistics show that approximately 15 to 20 percent of people with CAD develop CTO.
Current treatment options for CTO and its disadvantages:
The available treatment options are:

Coronary angioplasty and stenting:

Conventional angioplasty and stenting techniques may not work if the blockage is especially long, or surrounded by hard calcium deposits or fibrous tissues
The current success rate for the treatment of CTO is between 60 – 65% using angioplasty. This uncertainty forces the doctors to opt for CABG for better results

Coronary artery bypass grafting (CABG)
However, some patients do not benefit from these procedures:
Age or other any other pre-existing medical condition will rule out open heart surgery
Medications
When both the above options fail or are not chosen, the patient is put on medications as palliative care
Recent developments:
Fortunately, during the last couple of years, Doctors have perfected a minimally invasive new treatment for CTO: Chronic Total Occlusion – Percutaneous Coronary Intervention, or CTO PCI.
Thanks to this procedure, even high-risk patients (who are unable to go for CABG) with CTO can eliminate the disease and live symptom-free. Though CTO PCI is highly effective, there aren't many experts around who are qualified enough to perform this procedure.
Indications for CTO PCI:

Single artery completely blocked
Patients at high risk for CABG, i.e., due to age or other medical factors such as diabetes, kidney disease, etc.
Fear of open heart surgery
Advantages of CTO PCI over regular PCI:
The CTO PCI technique is an advanced form of coronary angioplasty and stenting.

The guide wire and catheter used in CTO PCI are very thin compared to that of regular PCI that it can be passed on into an artery that is even 0.3mm in diameter. These next- generation advanced guide wires also allow Doctors to access the blockages from several sides
The guide wire, in case of regular PCI stops well before the plaque and only the catheter is passed through it. Whereas in CTO PCI, the guide wire and catheter are passed through the entire length of the plaque providing stability while breaking through the plaque
A regular PCI can be monitored both by tactile sensation and also visually, but in-case of CTO PCI, tactile sensation plays the most important part. Now with the introduction of latest technologies such as Intravascular Ultrasound (IVUS) imaging, the precision levels of CTO PCI procedure have drastically increased
CTO PCI procedure techniques:
It can be performed using 3 techniques based on many deciding criteria. The techniques are:

Penetrating the guide wire along with the catheter through the blockage. On reaching the distal end of the block, the guide wire is withdrawn and the stent is deployed
If the block is very calcified and unapproachable directly, the guide wire and catheter are passed through the layers in the artery wall along the length of the block. On crossing the block and reaching the distal end, the guide wire is passed into the artery again and the stent is deployed
The heart has the capacity of forming collateral arteries if the main artery is blocked, but still the blood flow is minimal. Passing the guide wire through collateral arteries to reach the distal end of the block initially is called retrograde or the reverse approach, post which the stent is deployed. This technique is very much possible in CTO PCI and is more controlled
Advantages:
The success rate for CTO PCI treatment has increased from 60 – 65% to 80 – 85% today.

Non-invasive procedure – no surgery
Even high risk patients can undergo this procedure
Improvement in left ventricular function
Improved tolerance levels towards a future acute coronary syndrome
Post surgery trauma can be avoided
Reduced hospital stay
Comparatively cost effective
Conclusion:
When patients are diagnosed with Chronic Total Occlusion, the thought of undergoing an open heart surgery frightens many even today. In other cases, surgery is ruled out due to co-existing health conditions, leaving patients to rely on medications.
Those patients have a reason to cheer now, as Chronic Total Occlusion Percutaneous Coronary Intervention (CTO PCI) can remove a complete block in a blood vessel without surgery. But still, this treatment has not been practised widely due to the lack of awareness.
Which is why, we at MIOT have invited Dr. Takahide Suzuki, Interventional Cardiologist from Japan to share more insights on CTO PCI and enlighten us further. Apparently, Japanese Interventional Cardiologists are pioneers in CTO PCI.
About Dr. Takahide Suzuki:

Chief of Cardiovascular Catheterization Center, JA Hokkaido Engaru Kosei General Hospital, Japan
Board Certified Member of the Japanese Society of Internal Medicine
Fellow of the Japanese Association of Cardiovascular Intervention and Therapeutics
Special interests in Chronic Total Occlusion of Coronary Intervention, Radial Approach and Using Slender (down-sized) Devices, and Complex Endovascular Treatment