Past events at MIOT
Complex Supramajor Surgery At MIOT Hospital brings smile to a little Girl's Misery
02nd Nov 2005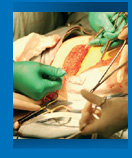 Supramajor Surgery
     
Jasmine, a 7 year old girl was referred from Rwanda to undergo a complex supramajor surgery at MIOT Hospitals, Chennai, India.
Her misery started 1 ½ years back when she had accidentally swallowed some corrosives at home. She received initial treatment at Rwanda but her pain and inability to swallow increased progressively. As a temporary measure the doctors At Rwanda had created a temporary feeding system into her stomach. Unable to bear the misery of not even being able to swallow her saliva, she was sent with lots of hope for a cure to MIOT Hospital.
After examining and investigating Jasmine, the Team of doctors at MIOT Hospital headed by a Paediatric Surgeon felt that she had totally burnt her oesophagus (food pipe) for which she was not able to swallow. The team of doctors felt that she needed a complex supramajor surgery which was a daunting task in a 7 year old, associated with lots of complication and risk. Taking up the challenge they went ahead with the Surgery which entailed removing her burnt oesophagus and replacing it with her stomach and connecting it to the mouth so that she was able to swallow again.
As expected she had a very critical post operative period but the experienced team of intensivist and ICU staff put in their best of efforts to regain her back to normalcy. During her convalescence from surgery she could not believe that she was able to taste food again as she took her first drink. The smile on her face spoke it all and she exclaimed "Daddy I can swallow now"– as she had given up all hopes. The father on thanking the staff of MIOT hospital said – "I think she has got a second life, without this operation she would have died".
Complex Supramajor Surgery

Complex Supramajor Surgery

Complex Supramajor Surgery

Complex Supramajor Surgery
/