Past events at MIOT
"Your unusual gesture has inspired us", says Dr Prithvi Mohandas, Managing Director, MIOT International
24th Apr 2019
When an overjoyed Deep Suresh Vaya from Nagpur chose a Press Meet with leading dailies of the city to publicly thank  the entire MIOT team for giving his life back to him, it was a unique moment for all assembled.
As Dr Prithvi Mohandas, Managing Director, MIOT International said " You have surprised and touched us with your gesture at a time when there is a breakdown in trust among the Public about Hospitals and medical care. Your recovery has been ensured by our Polytrauma Team of experts who have worked tirelessly & selflessly for the last 3 months. Today your gesture inspires us to work with more energy, so that we may save more lives."
Touch & go case
18 yr old Deep had been brought back from near death after a 40ft fall from the 4th floor. It had damaged vital organs and reduced him to a 'bag of ­­bones'. After his systems stabilised, Deep went through several complex surgeries , over 10 weeks. This staged treatment with experienced Specialists & advanced facilities returned Deep to his pre accident phase without any disability.
As Deep's brother Karan Vaya  said " Just 12 weeks back, I feared for my brother's life. He could not move an inch. Today he can stand. He can walk. It's a miracle. Thank you MIOT for looking after my brother better than his own family could have ever done."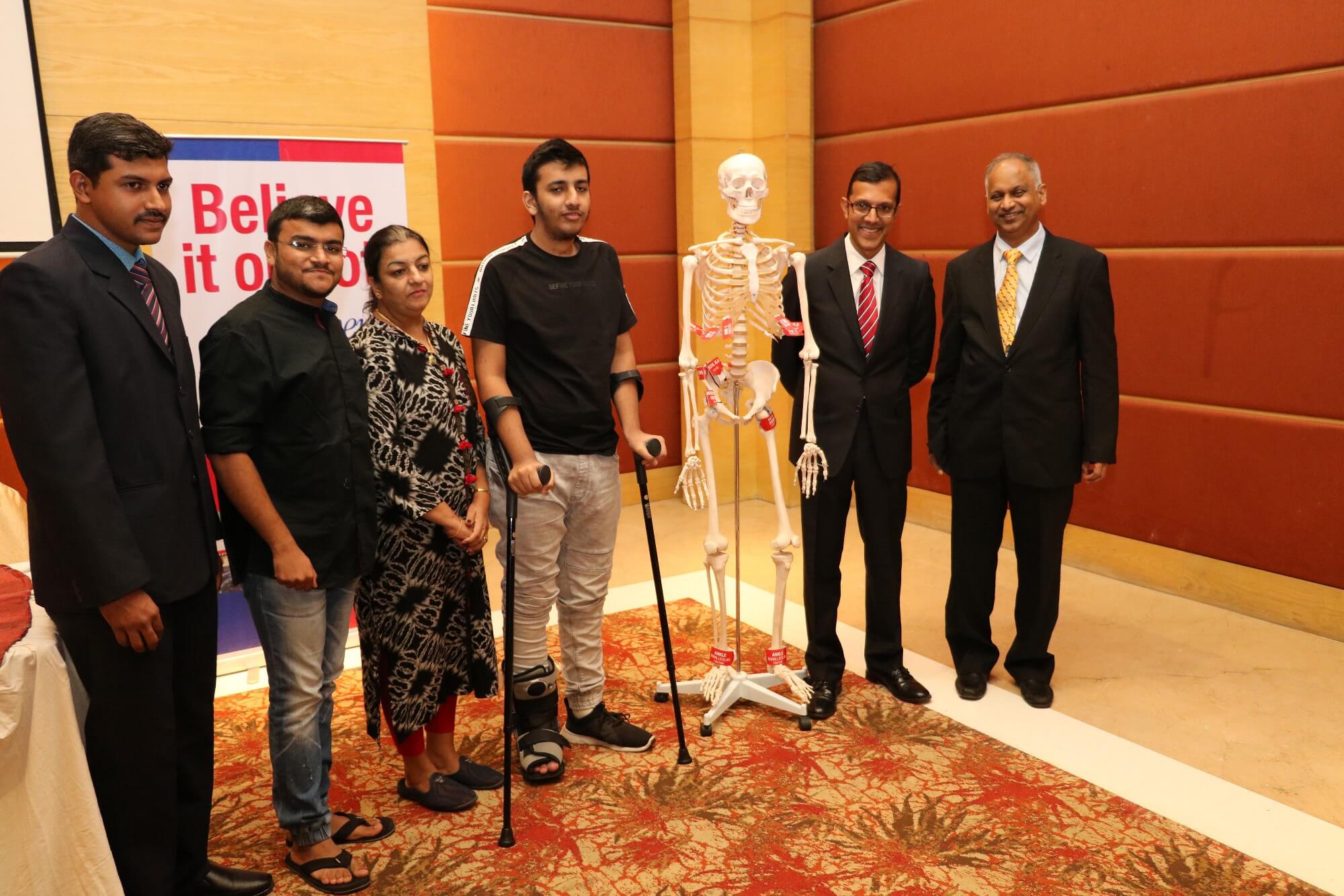 Photograph seen from left to right: Dr. Mahesh Karthik, Orthopaedic surgeon, MIOT International, Mr. Karan Vaya (patient's brother), patient's mother, Mr. Deep Suresh (patient's who underwent multiple surgeries at MIOT), Dr. Prithvi Mohandas, Managing Director, MIOT International, Dr. Ramprasad, HOD Orthopaedics & Director Trauma, MIOT International.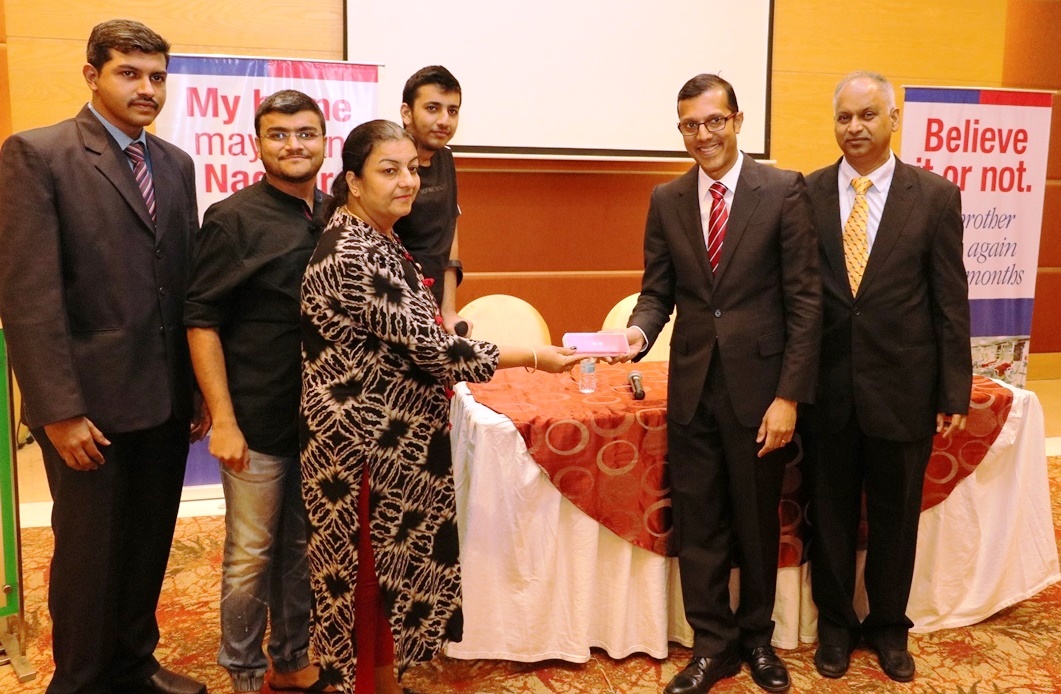 The Vaya family, a family of craftsmen which has made ornaments of Lord Krishna for 5 generations presents Dr Prithvi Mohandas, Managing Director, MIOT International with a personally made memento of 'Lord Krishna's eyes' as a token of their gratitude.
The Medical Perspective
Initial presentation of case: On Feb 2nd around 11.30pm a profusely bleeding,  unconscious young man was brought into the MIOT Polytrauma emergency. The Patient was in shock, could not move his legs, was not responding to commands and was hemodynamically unstable (low BP, fast heart beat, poor breathing)ed
On arrival he was immediately evaluated by the MIOT Trauma tream including Orthopaedic surgeons, Intensivist, Spine surgeon & Surgical gastroenterologist.
Stabilising his vital parameters was priority.  He was started on fluids, given mechanical ventilation to support breathing & shifted to the Multidisciplinary Trauma ICU for further supports and management.
The complete picture
2 hours later, Trauma CT scans which screens the entire body in few seconds revealed: 1. 10 rib fractures ( 5 on each side) 2. Severe lung injury & bilateral lung laceration  3.  Azygous(Major Thoracic) vein injury  4. Entire thoracic cavity filled with 1 litre of blood which restricted his breathing. 5. Multiple spine fractures (D4-D10) 6. Liver laceration 7. Fracture of the neck of femur on left side 8. Pelvic acetabular injury on right side (displaced anterior column, posterior wall, illiac wing, sacral ala fracture) 9. Bilateral bimalleolar ankle fracture (both ankles).
Total Blood loss recorded: 6 Litres
Though the priority was to stabilise his system, there were several serious injuries which required urgent surgeries to ensure that there would be no disabilities in the future.
Staged Treatments :
First the highly technically demanding surgery was done to secure his displaced, unstable intra capsular neck of femur fracture on the left side. (Valgus osteotomy, open reduction and plate osteosynthesis with 120° ABP) While the fracture was succesfully addressed, mechanical ventilation proved insufficient.
A Tracheostomy (Tube insertion through the throat for ventilation) was performed for breathing support.  Further procedures were put on hold till patient could breathe on his own.
Next a surgery was performed to fix the fracture of the cup of the hip called acetabulum on the right side which is a major weight bearing joint. A complete  reconstruction was done to restore ideal function to this crtical joint through a surgery that was tricky as the approach was through major vessels and nerves. Fracture fixation for both ankles followed.
The patient was able to sit for the first time a month after the accident. Other injuries were resolved as follows:
Fracture of Ribs (5 ribs on each side): Time, medical management  & special physiotherapy
Fracture to the Spine (D4-D10): Managed with a special brace while oedema of the Spinal cord was medically managed
Injury to Liver: Medical management
Injury to the Azygos vein: Time, Medical management & improvement of lung condition
12 weeks after the accident, Patient walks with the help of crutches
Expert, continuous  & relevant physiotherapy & exercises were  given right through the treatment which will be continued .
Factors for Patient's fast recovery & return to normal life without disability:
Immediate & correct stabilisation of damaged essential organ systems by experienced Intensivists at a Category 1 Polytrauma Centre.
Correct evaluation & timely staging of treatments for different organ systems in order of priority by a team of Multidisciplinary Trauma specialists
Inhouse availability of state- of -the- art life support, imaging & surgical facilities ensured response in time, so critical in Trauma cases
Expert & continuous Physiotherapy
Expertise & Protocols built over 20 years of Trauma handling experience in road, industrial, domestic & other accidents