Past events at MIOT
MIOT's unique approach: Early Tracheostomy Holds Key for Better Outcome of COVID-19 Infection.
02nd Jul 2021
Covid-19 is a disease that causes reduction in the elasticity of the lungs. Reduction in the elasticity of the lungs would result in increased build-up of carbon-dioxide in the body thereby producing a very poor outcome for Covid-19.
COVID – 19 patients and Ventilator support
There is a gross misconception that Covid-19 patients should not be kept on a ventilator but should only have non-invasive ventilation. This non-invasive ventilation does not allow a lung with reduced elasticity to expel carbon-dioxide. Once carbon-dioxide builds-up in the body, it can result in an array of complications: like kidney failure, multiple organ failure, eventually the brain can get affected and the patient dies after an admission of around 21 to 42 days.
The topic of the day is why we are seeing serious cases in 20, 30 & 40 year old patients with Covid-19 and how we can reduce the death rate in these patients.
MIOT's unique approach: Early Tracheostomy Holds Key for Better Outcome of COVID-19 Infection.
MIOT Hospitals is one of the leading hospitals to have seen the most number of COVID cases in South India. Starting with the first wave last year in March and continuing through June 2021, we have now seen over 10,000 Covid-19 patients.
The expertise gained through handling large volumes of COVID-19 cases has made us come up with a unique approach, where these young patients who had severe Covid-19 are advised intervention before the lungs become stiff.
Therefore at the crust of the patient starting to retain carbon-dioxide, the patient is directly offered Tracheostomy. (A tracheostomy is an opening surgically created through the neck into the trachea (windpipe) to allow direct access to the breathing tube).
Advantages of this approach:
Toileting of the lung, identifying organisms that are opportunistic infection producers in the lung, are picked up immediately so that the health of the lung can be restored sooner rather than later
It is less expensive with less co-morbidities compared to other modalities of treatment
Success rate is 85%
Hospital stay is reduced to 21 days
Below are a few real life examples of patients in their early 30's who were able to win the battle against Covid-19 because of timely intervention at MIOT Hospitals with tracheostomy procedure.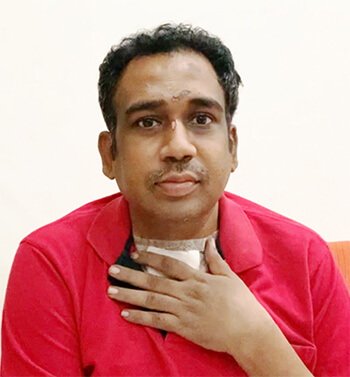 Mr. Naveen, 33 years old, a resident of Perungalathur, Chennai, runs a small scale milk supply business and is a father of 2 children. Living as a joint family with his parents, his family meant the world to him, but little did he think that COVID-19 would turn that world upside down.
With his parents already being tested positive for COVID-19 and admitted at MIOT, Mr. Naveen started experiencing fever with chills from 10th May. He took self-medication for 2 days. Fever did not subside; he went to a nearby hospital along with his wife. Both tested positive for COVID-19. On taking CT- Chest, it was found that one fourth of his lungs were affected and his wife's was mildly affected. They were prescribed medicines and home quarantine. Pre-occupied with the health of his parents, he failed to take proper medication and his fever never seemed to subside even after a week. He experienced mild breathing difficulty and severe tiredness. His mother, recovering gradually at MIOT after listening to his condition, insisted her son come here immediately.
He came to MIOT on 17th May, 2021. On admission, his oxygen saturation was 94% on room air. He was administered medication and other supplementary measures as per COVID-19 protocol. After 3 days, his condition deteriorated and he found it difficult to breathe. So, he was shifted to the Medical ICU and was put on NIV / NRBM with the support of 15 litres of oxygen supply. As his oxygen requirement kept increasing, the Critical Care team at MIOT intubated him after a week of hospitalization and performed tracheostomy a day later. He was on mechanical ventilator support with tracheostomy for four days after which he improved gradually and came out of ventilator support.
After 13 days of hospitalization he started breathing on room air. He was shifted back to room and was given continuous rehabilitation. A week later, he tested negative for the virus, was decannulated (Tracheostomy tube removal) a day later and on 10th June, 2021 he was discharged with wheel chair support.
Two weeks later, during his review visit, he said that "MIOT has given me a second life. I got maximum care at MIOT right from admission till discharge starting from the MD, treating doctors and even from the nutritionist and physiotherapist. Their care continued even after I got discharged. I would get a call from the hospital everyday checking my status and to clear all my doubts. Today, I am back to my routine life, can do all my activities by myself and have also started managing my business from home".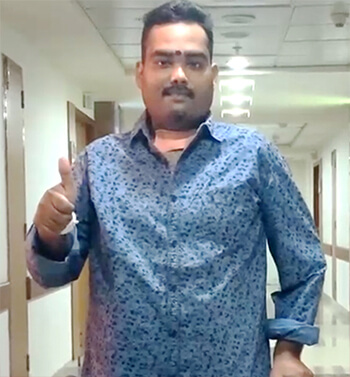 Mr. Deepak is a 30-year old (Palavakkam, Chennai) active member of a political party's youth wing and is well known for his social works. He complained of fever, generalized body pain, tiredness and breathlessness. On 2nd May, RT-PCR test confirmed him to have COVID-19 infection and since he was young, he believed he would recover without the help of medical intervention and opted for home quarantine himself.
After 4 days, his fever started increasing, gradually started experiencing body pain and breathing difficulty. On 12th May his O2 saturation had dropped to 86. He was not even able to walk on his own, nor sit comfortably. He was immediately rushed to MIOT in prone position. On the day of admission, his oxygen saturation was 91% on room air and 95% with 10 litres oxygen supply.
The Critical Care team assessed him and started administering medication and other supplementary measures as per COVID-19 protocol. As his condition worsened he was put on NRBM with 10 litres oxygen support for two days. Even after three days under oxygen support, his condition deteriorated further. So he was intubated and put on mechanical ventilator support.
He was in need of tracheostomy to help his lungs recover faster but his relatives were against this. Only his mother, who has seen her husband survive a septicaemia and COMA 13 years back at MIOT when other hospitals refused to take up the case, trusted MIOT doctors and agreed to go ahead with the procedure. Tracheostomy was done on 18th May, after five days of hospitalization. For three days, he was on ventilator support with tracheostomy. He was gradually weaned off the ventilator on 22nd May and maintained in T-piece oxygen support for 3 days.
On 25th May, he was asked to breathe on room air, but, as he complained of right sided chest pain, CT-Pulmonary angiogram was done which revealed pulmonary embolism. He also had oral and tracheostomy site bleeding, so the area was re-explored to remove clots that were blocking blood supply and causing pain. He was on ventilator support for a day and then on T-piece support. On 12th June, after a month of hospitalization, he started breathing on room air. Initially, he was in major physical distress and was not able to sit-up by himself. But, with regular physiotherapy, he improved gradually. On 15th June, he was decannulated. His mother shed tears on seeing him walk out of his room by himself. He got discharged on 19th June.
His mother is very grateful and satisfied by all means with the care and treatment offered by MIOT to pull his son out of the clutches of severe COVID-19. She also said "13 years back, I thought I lost my husband, but MIOT gave him back to me. Now I almost lost my son, but again MIOT gave him back to me. I am forever grateful to MIOT".
Mr. Sasidharan, is a 23-year old (Tiruvallur), final year engineering student. His mother says that he is a very positive person who always holds a smile on his face. Only son to his parents, dad is a farmer and mom is a homemaker.
On 2nd June, 2021, he had fever. He went to a nearby hospital, where he was administered medicines intravenously and as his fever reduced, he got discharged. But 2 days later, his symptoms worsened, he had heavy fever and cold. So on 4th June, he went to the same hospital, took RT-PCR which was positive and CT-Chest revealed that almost half of his lungs was affected. He was immediately admitted in the ICU.
Even after 4 days of treatment, his condition worsened. He continued to suffer from fever, breathlessness, severe cough and sputum with blood. His uncle discharged him from there and searched for hospitals to admit Mr. Sasidharan. Most of his friends advised MIOT and his uncle also decided the same.
On 8th June, his uncle rushed him to MIOT in an ambulance with of Oxygen support. On talking with Mr. Sasidharan, he says that he remembers that day vaguely" I was almost losing consciousness, was finding it very hard to open my eyes. I was able to hear the ambulance sound in a distance, people carrying me, people talking. I actually thought I was hallucinating". On arrival, his saturation was 88% with 15 litres of oxygen support on NRBM.
He was seen by a team of Critical care physicians, admitted in the medical ICU and started on medication and other supplementary measures as per COVID-19 protocol. In view of desaturation, he was initiated on NIV with 50% of O2. As he developed hypoxia (a condition where cells do not get enough oxygen sometimes leading to fatal complications) and respiratory distress the next day itself, he was intubated and connected to mechanical ventilation. Considering his deteriorating condition and need for prolonged mechanical ventilation, doctors decided to perform tracheostomy for him.
On discussing the same with his mother, she was very sceptical. It was her brother, who convinced her. He was very confident in the expertise at MIOT as his friend was also admitted in a critical condition here and MIOT had saved his life. Mr. Sasidharan underwent tracheostomy on 10th June, 2021. He was on mechanical ventilator with tracheostomy support till 16th June. As his condition improved he was gradually weaned off the ventilator and started breathing on room air from 18th June, almost 10days after hospitalization at MIOT. He was put on continuous rehabilitation and physiotherapy and got decannulated on 22nd June, shifted to room the next day and was discharged on 25th June.
On seeing her son's condition improve, she says that "I have been with my son throughout this time and I know how my son suffered. As a mother it was not easy for me. I even thought I might lose him. But MIOT gave me hope and after the entire struggle they gave my son back alive".
Every day Mr. Sasidharan is moving a step ahead on his road to recovery and preparing himself to take his final B.E. exam in July 2021.
A study conducted in Sweden indicates that early tracheostomy (5 to 28 days) for COVID-19 patients is related to a reduced need for mechanical ventilation and a shorter duration of stay in the ICU in severe cases of COVID-19 disease
A study conducted on COVID-19 patients done in New York revealed that those who had early tracheostomy done were discharged earlier than those who underwent tracheostomy in the later stage of the infection
A study conducted in Dubai stated that patients who had tracheostomy done had better survival rates
Another study conducted by Queen Elizabeth Hospital, Birmingham, stated that the survival rate of tracheostomized patients was more (85%) than non-tracheostomized patients (42%) and the hospital stay was shorter
Please click the link below to watch patients Mr. Naveen and Mr. Deepak share their COVID-19 treatment experience at MIOT.