Past events at MIOT
MIOT Rehab Centre Helps Mr.Pranesh Vishnu Triumph Over Paraplegia and Even Swim Again!
21st Apr 2023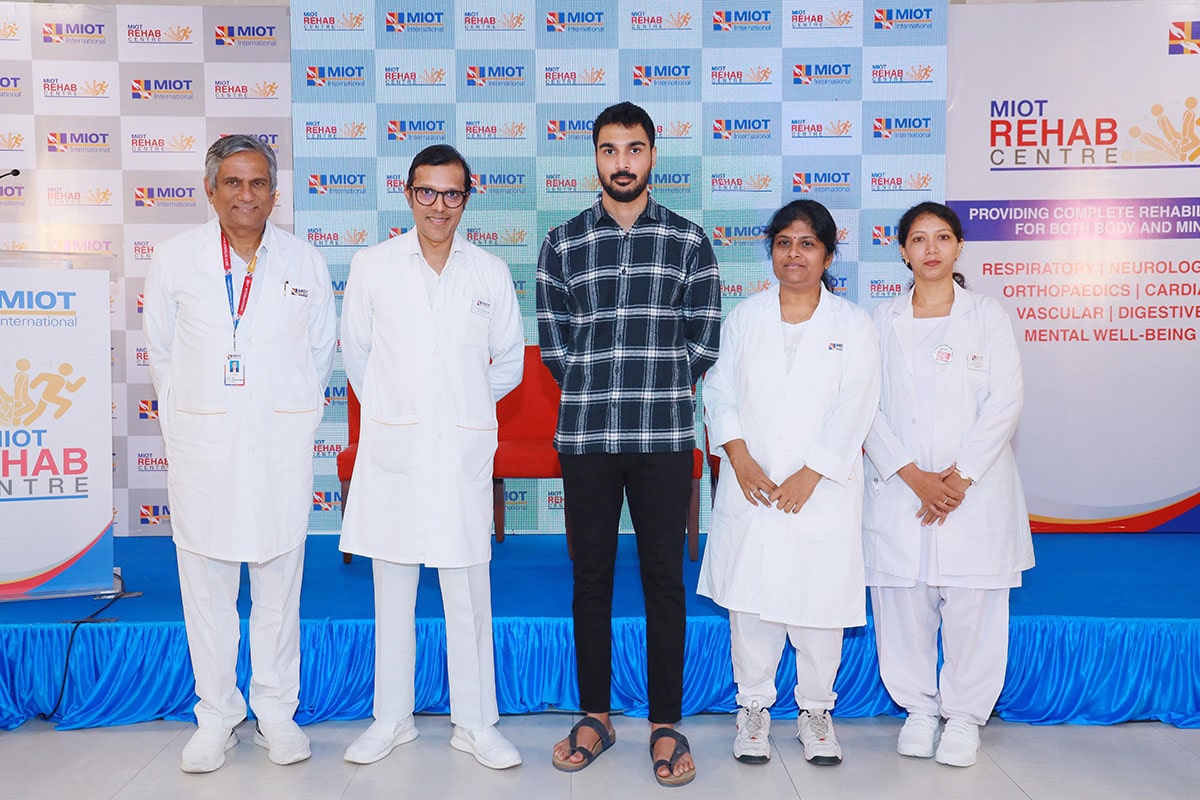 Photograph Seen from Left to Right: Dr. S. Sunder, Clinical Lead and HOD of Physical Medicine and Rehabilitation, MIOT International, Dr. Prithvi Mohandas, Managing Director, MIOT International, Mr. Pranesh Vishnu, Patient who successfully underwent rehabilitation at MIOT Rehab Centre, Dr. P. Sathya, Medical Director and Head of Critical Care Services, MIOT International, Ms. Vaheda, Lead Clinical Coordinator & Head, Rehabilitation Centre, MIOT International
During the COVID pandemic, the importance of building immunity took centre-stage. Thiru M. K. Stalin, the Chief Minister of Tamil Nadu, set a stellar example for the people, by working out at the gym and cycling. His efforts inspired MIOT International to undertake an initiative to help people restore their health, through holistic rehabilitation.
The hospital launched the MIOT Rehab Centre in 2022, which was befittingly inaugurated by Thiru. M. K. Stalin himself. It is a first-of-its-kind centre providing head-to-toe rehabilitation through a dedicated Rehab Board, comprising of neurologist, spine surgeon, neuro surgeon, neuro-physiotherapists, neuro-modulation therapist, physical medicine and rehabilitation specialist, occupational therapist, respiratory therapist, intensivist, speech & swallow therapist and a psychologist. They are also supported by specialists across other disciplines.
Since its inception, MIOT Rehab Centre has rehabilitated over 1,000 patients, helping them regain their lost abilities. It has witnessed the transformation of many people, who have recovered and returned to an independent life.
How MIOT Rehab Centre Helped Mr.Pranesh Take Footsteps of Hope
One of the significant success stories born at MIOT Rehab Centre is that of Mr.Pranesh Vishnu, a 27-year-old man from Coimbatore. He was taking care of his family business. Early in the morning of 20th November 2022, he met with an accident near Tiruppur, during a car trip with his friend. Before he realised what happened he lost his consciousness.
Mr.Pranesh was given emergency resuscitation at a hospital in Tiruppur. He was diagnosed with fractures in his right shoulder bone and in the ribs on his left side. His liver and spleen were damaged and there was a large amount of blood in his abdomen, leading to haemorrhagic shock. It is a condition in which rapid, excessive blood loss leads to inadequate delivery of oxygen necessary for cells to function. As a result of the bleeding, his lungs were surrounded by blood, causing respiratory distress.
He was moved to a hospital in Coimbatore, where he underwent surgery. Four days later, he regained consciousness. He noticed weakness and loss of sensation in his legs. He underwent an MRI of the spine, which revealed that almost 60% of his spine was damaged (T2 vertebra to ConusMedullaris, the lower tip of spine). A clinical examination revealed that his lower body was paralysed, with no movement below the waist and no sensation of urination or bowel control.
Doctors in Coimbatore said Mr.Pranesh was paraplegic (paralysis of lower body) and could never walk again. He became completely bed-bound and his family was devastated. He underwent physiotherapy and wheelchair training. A month later, he was discharged.
Mr. Pranesh says "I really don't remember many things. The last thing I remember was a loud banging noise and sudden pain, then everything went dark. All that happened afterwards came in flashes… ….an ambulance sound, a person pulling me out, suddenly I was in hospital and I saw my brother; again I woke up in the ICU after surgery, not feeling my legs. I got the news about my spinal injury and the only thing that I thought was – Do I still have a life?"
Mr.Pranesh's family was desperately seeking the right doctors to put him back on his feet and help him manage his basic needs independently. When all hope was lost, they came to know about MIOT Rehab Centre. Mr.Pranesh arrived at the centre in a bed-bound state on 21st December, 2022.
He had no muscle strength in both legs. He almost lost all sensation in his legs. His sitting and standing balance was poor. He was unable to roll out of bed, sit up and maintain the sitting position. He was fully dependent for hip stability, was stooping, and unable to stand.
Rehabilitating a paraplegic is a challenge in itself and in Mr.Pranesh's case, it was even more so, because the management of his abdominal injuries would cause a lot of pain andhindrance during rehabilitation. But MIOT Rehab Centre believed that it was possible. The Rehab Board examined Mr.Pranesh and created a personalised 12-week treatment plan for him.
The psychologist assessed his mental well-being to support and motivate him in sailing through the rehabilitation process.
The rehab team observed his progress, stage-by-stage, and modified the rehabilitation plan accordingly.
Mr.Pranesh's Personalised 12-week Rehabilitation Programme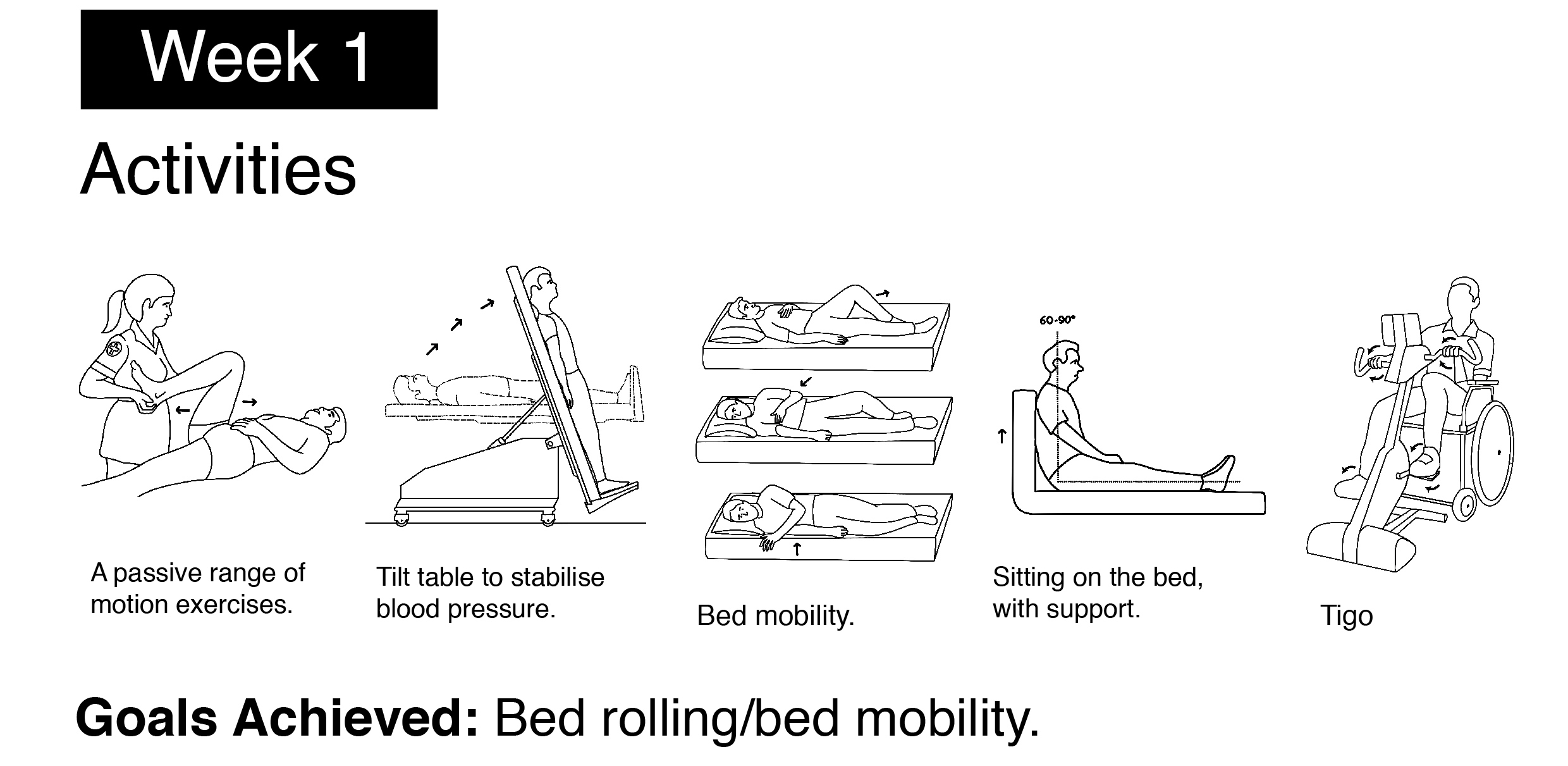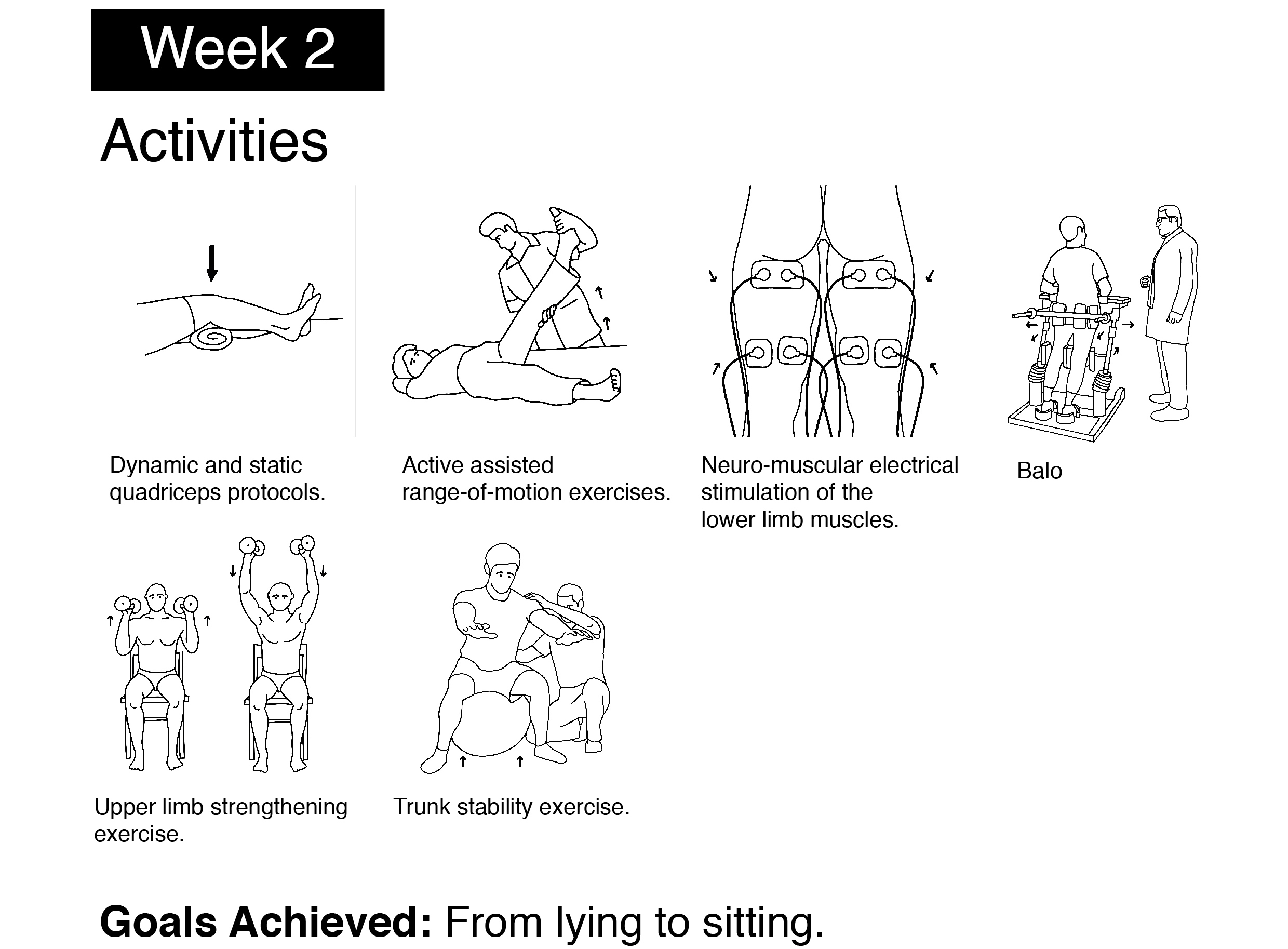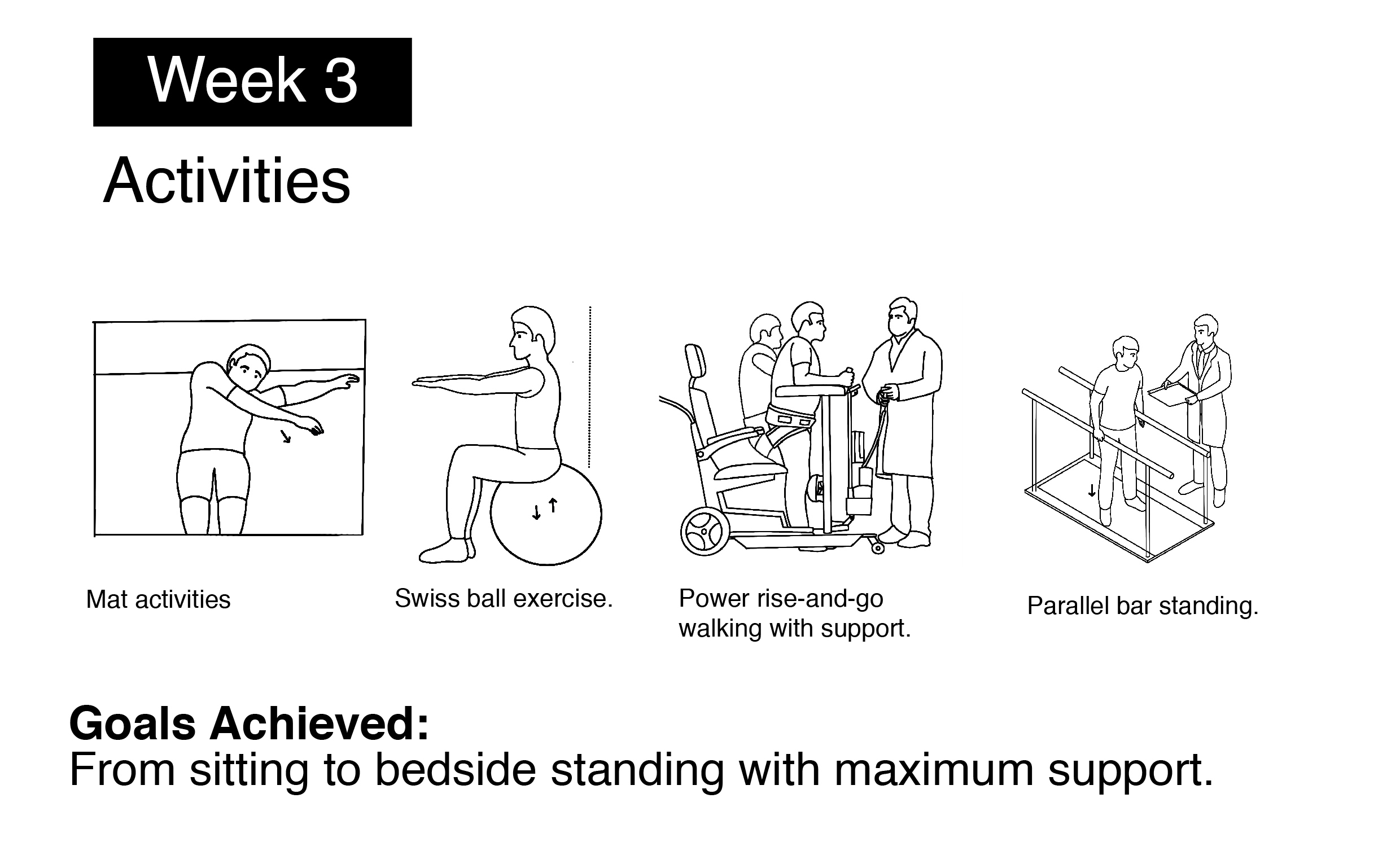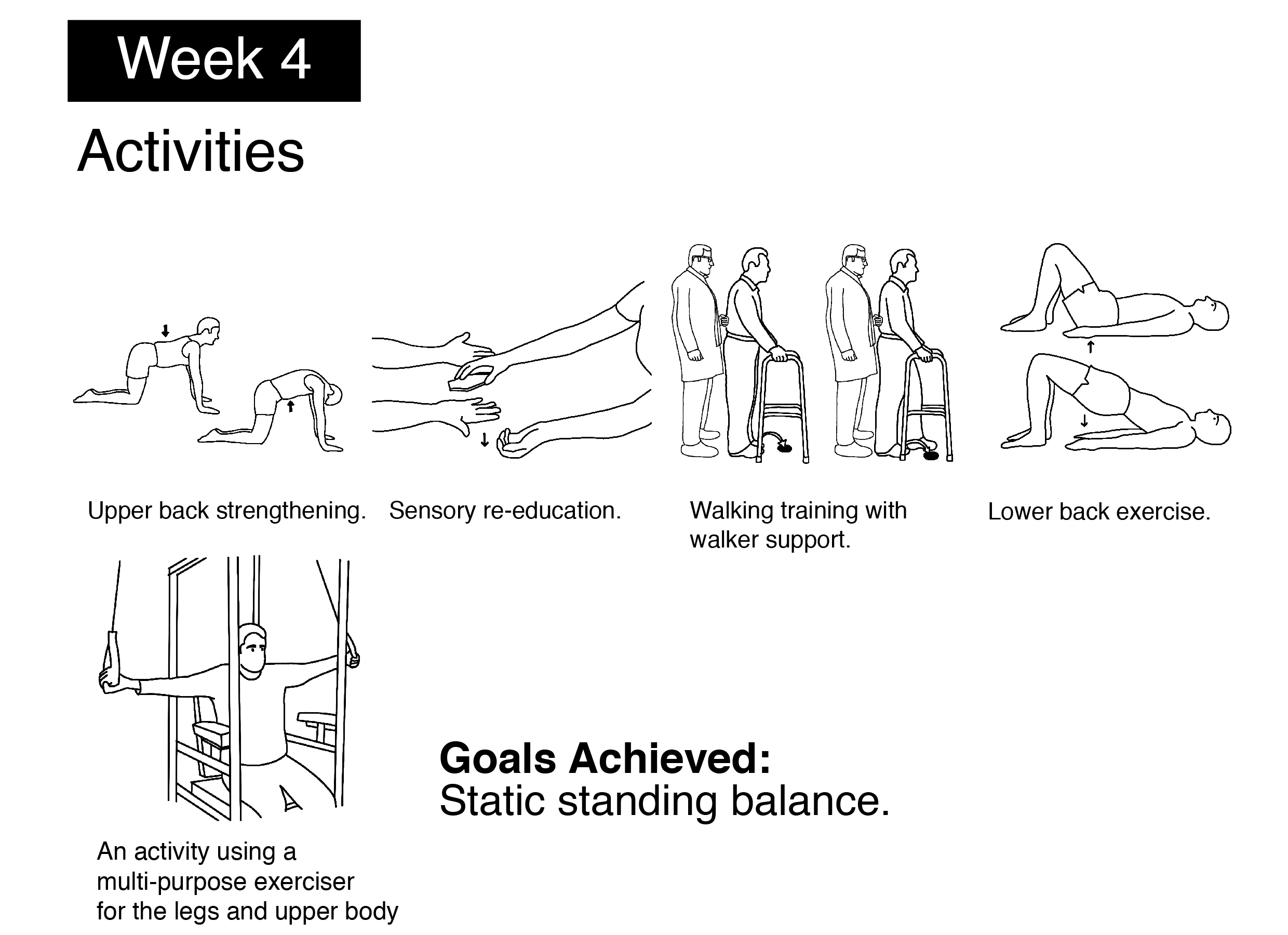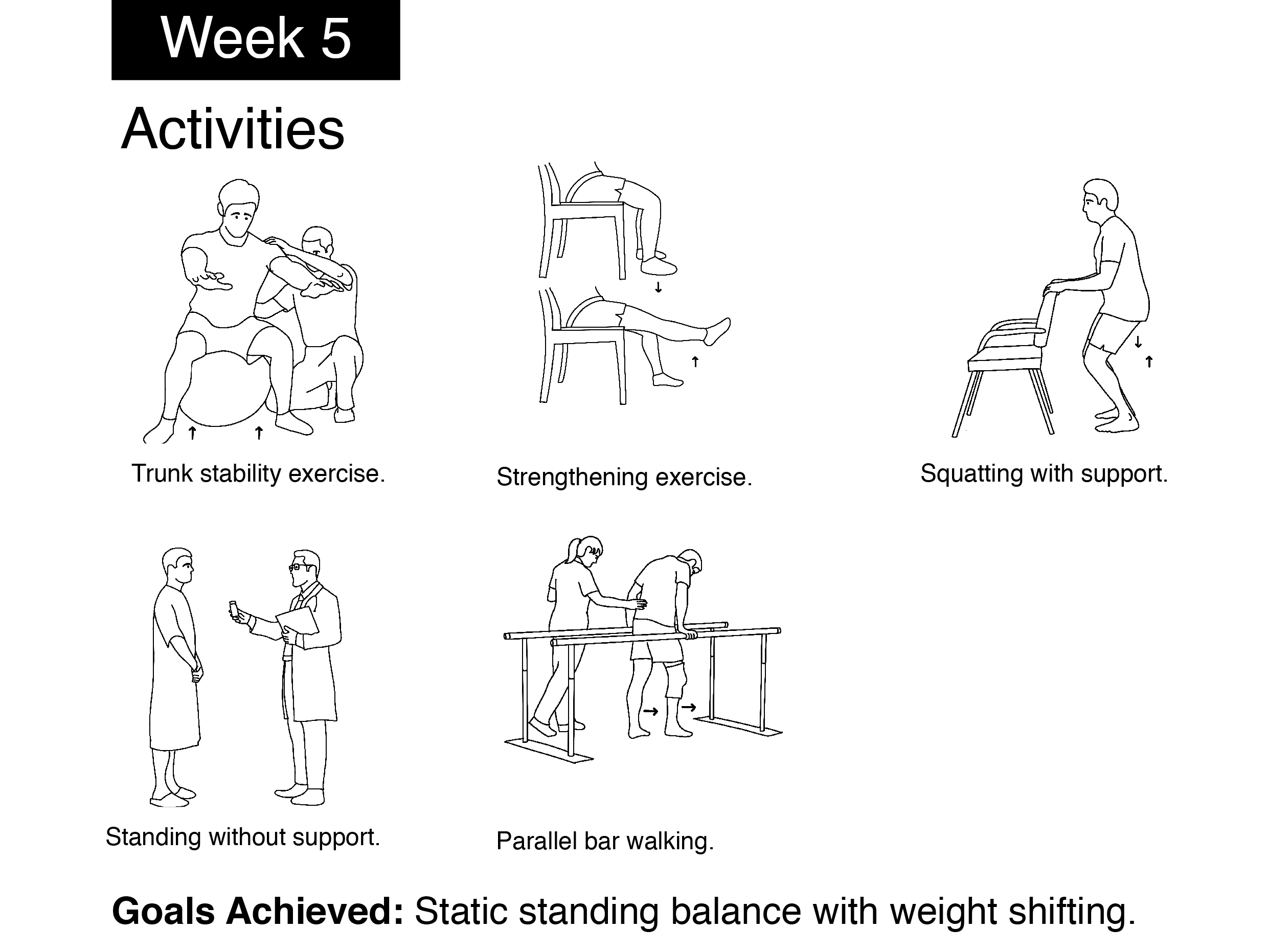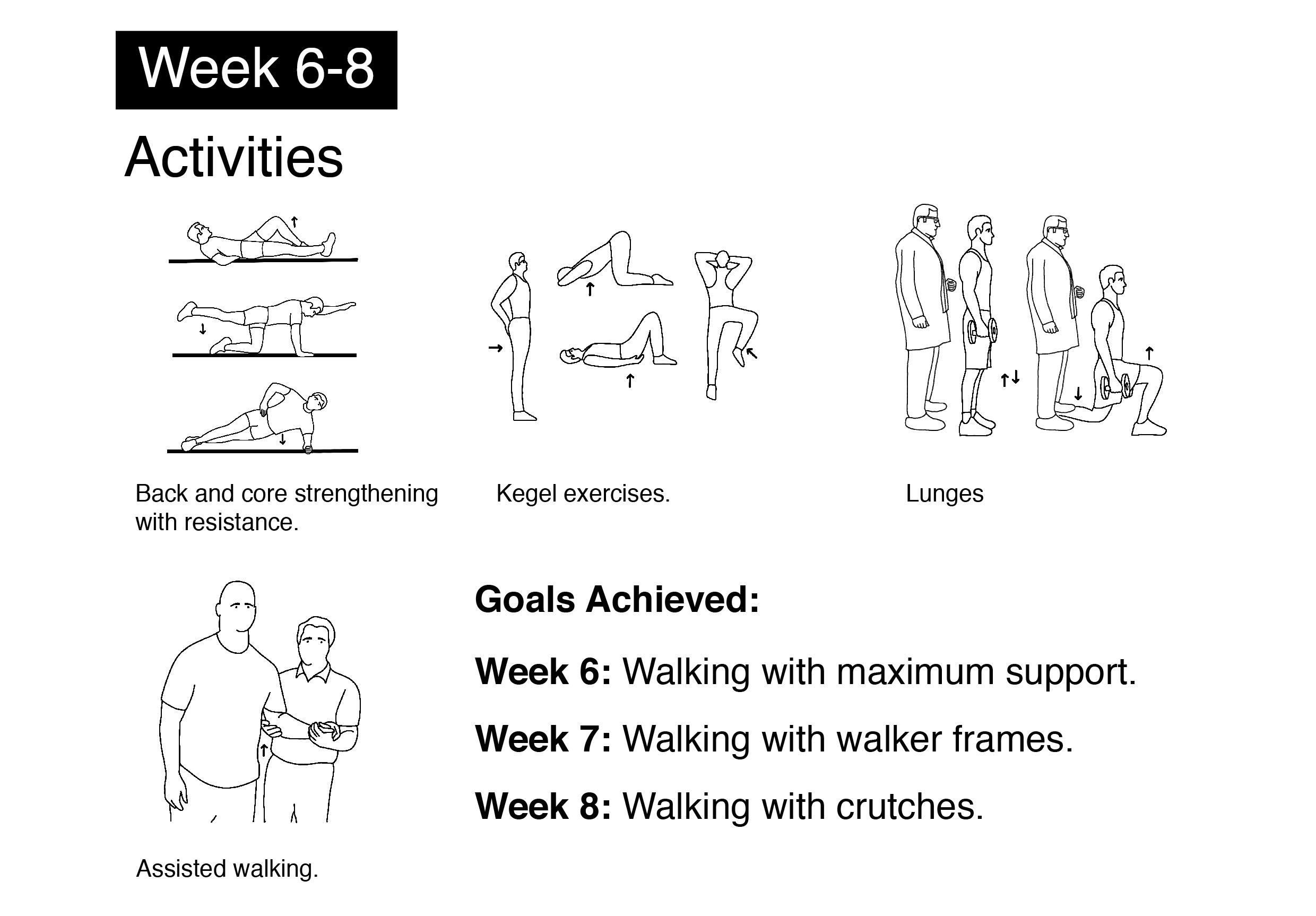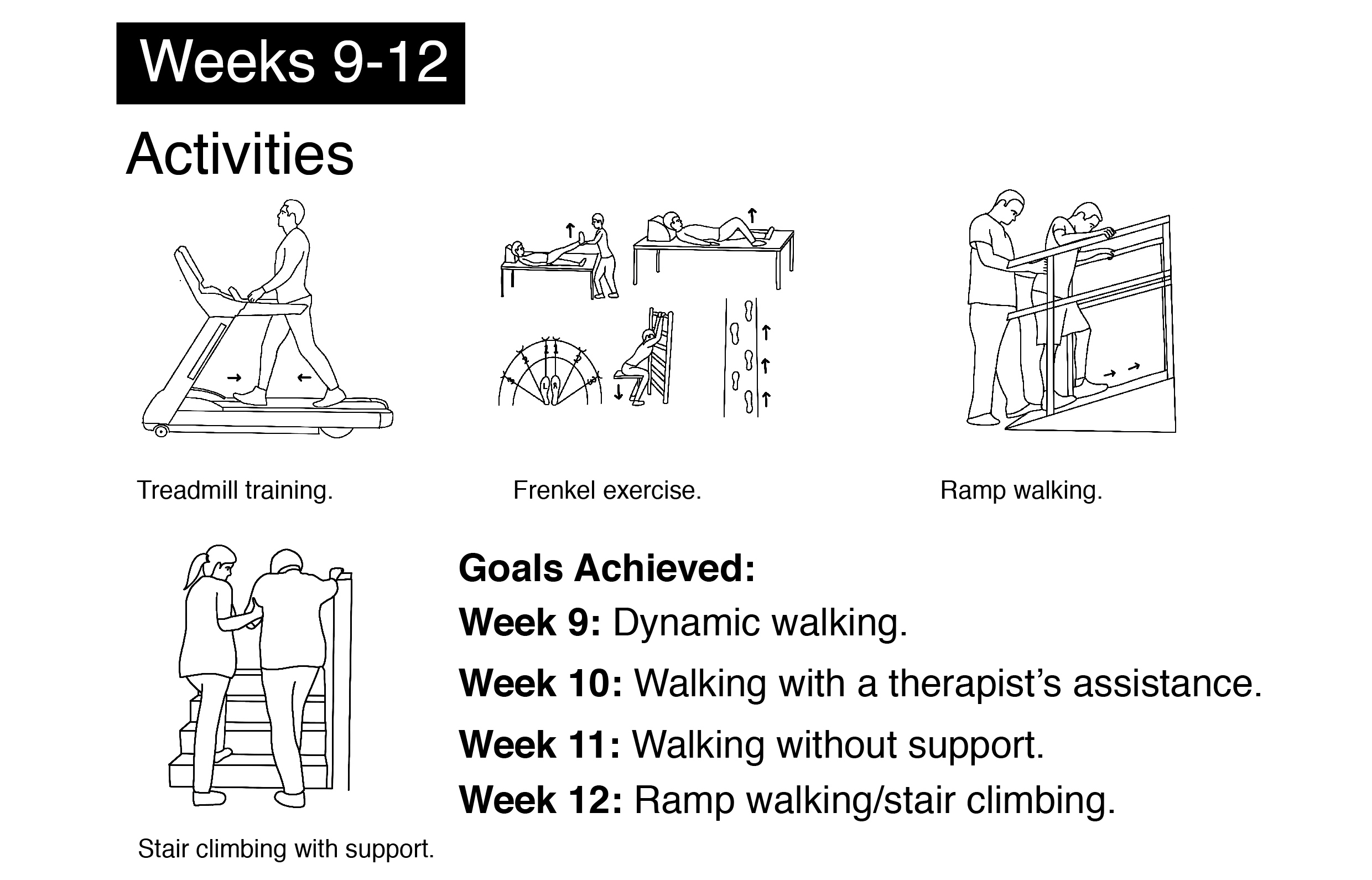 Mr.Pranesh Makes Confident Strides of Progress
Within the first 2-3 weeks of rehabilitation, it was evident that Mr.Pranesh's static standing balance was improving greatly.His balance and standing ability was only 0.5% at the time of admission to MIOT Rehab Centre. But on assessment after 10 weeks, it had improved phenomenally, to 65%. He progressed from a bed-bound state to achieving static standing balance and walking with minimal support. His muscle strength had increased from zero to nearly 100%.
Bladder and bowel training were given utmost importance during Mr.Pranesh's rehabilitation. Following this, he was taught voiding and holding techniques for bladder and bowel control. He started using the washroom by himself, following 12 weeks of successful rehabilitation.
After completing the programme with the support of MIOT Rehab Centre's multidisciplinary team, Mr.Pranesh regained 95% of his standing balance and the ability to walk independently. MIOT's rehabilitation care did not stop there. The team ensured that his training and treatment plan continued all the way back to his home in Coimbatore.
Determined to help the young man regain effortless mobility, MIOT's Rehab Board deployed a dedicated therapist to take care of him at home. He was also engaged in aquatic therapy and trained to walk on multiple terrains.
Today, Mr.Pranesh has regained the confidence to live a normal and independent life.
He says, "I am happy I came to MIOT Rehab Centre. I had minimal expectations and wanted to see how much I could improve, with no predetermined goals. But the rehabilitation team at MIOT treated me like family; they helped me improve step by step, with great encouragement. I came to MIOT on a stretcher, but after rehabilitation, I confidently walked out by myself."
About MIOT Rehab Centre
It is South India's first and only rehabilitation centre focused on complete post-hospitalisation recovery and rehabilitation of patients. The centre is backed by a dedicated and experienced Rehab Board, comprising of neurologist, spine surgeon,neuro surgeon,neuro-physiotherapists, neuro-modulation therapist, physical medicine and rehabilitation specialist, occupational therapist, respiratory therapist, intensivist, speech & swallow therapist and a psychologist. They are supported by multidisciplinary specialists who ensure holistic rehabilitation of patients.
Rehab Care for a Range of Neuro, Orthopaedic and Muscular Conditions
Pulmonary Rehabilitation
Neuro Rehabilitation (Stroke, Parkinson's Disease, Paralysis, Paraplegia)
Neuro modulation
Physiotherapy (injuries and trauma related to sports, fractures, trauma and arthritis)
Occupational Therapy
Speech & Swallow Therapy
Psychology Counselling
Cancer Rehabilitation
Acute & Chronic pain management
Cardiac Rehabilitation
Repetitive Strain Injury
For appointments

93840 83062
or Register online
Register Now