Past events at MIOT
India's 1st Ever Interactive Session on Hypothermic Oxygenated Perfusion (HOPE)
27th Feb 2020
MIOT International organised the India's 1st Ever Interactive Session on Hypothermic Oxygenated Perfusion (HOPE) on 27th February 2020 at MIOT Auditorium. With an increasing rise in fatty liver disease in the community, there is a high discard rate among donated livers, as livers with fat > 30% cannot be used for transplants safely. But with donor shortage and a rising demand for liver transplantation, the need to utilize such fatty livers has become real. Now with HOPE, fatty livers can be used for successful liver transplantation.
Eminent liver and kidney transplant surgeons from the city attended this unique session at MIOT International to explore this latest technology in organ transplantation.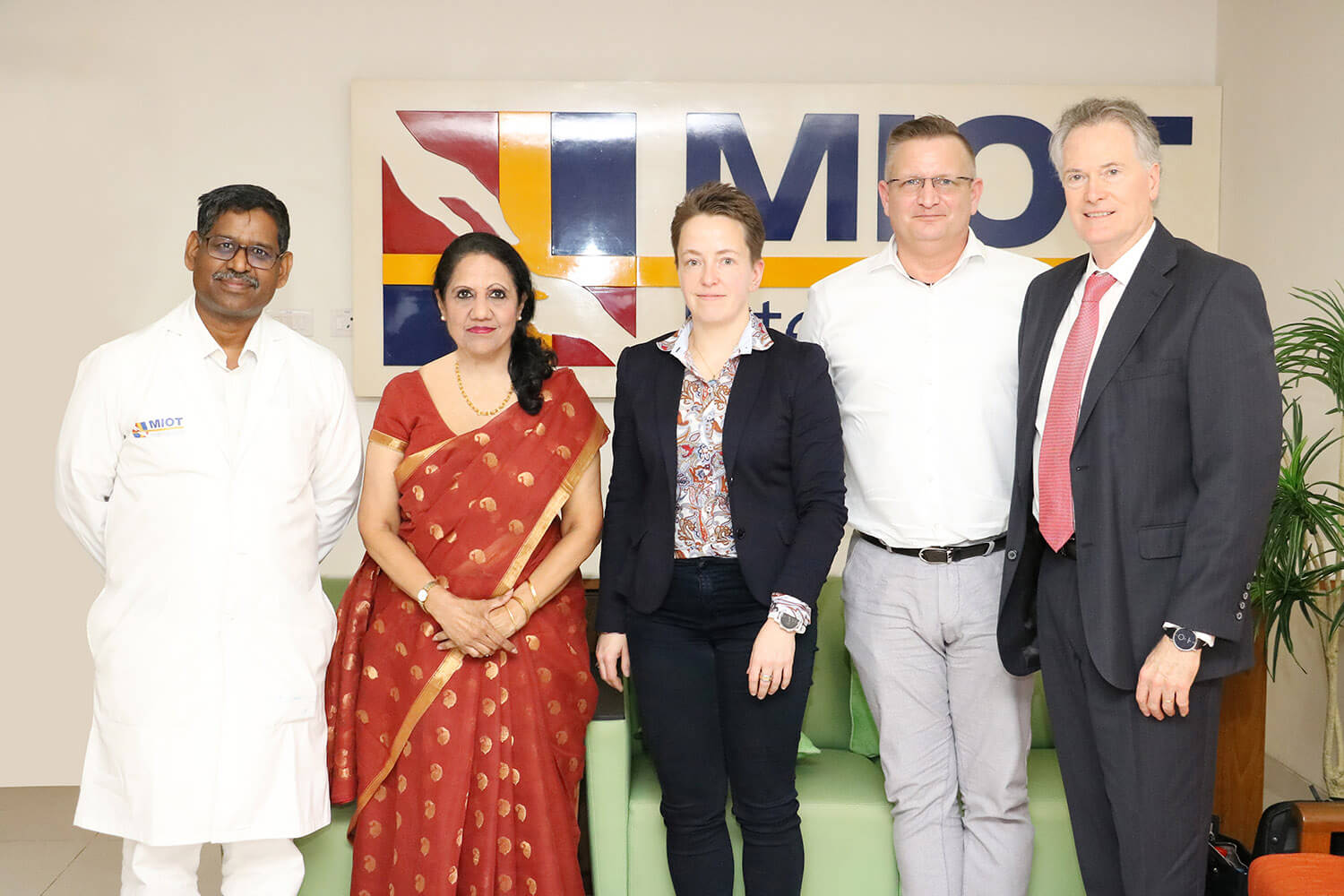 Photograph seen from left to right: Dr. Ilango Sethu, Hepato Pancreatico – Biliary Surgery & Transplant Surgeon, MIOT International., Mrs. Mallika Mohandas, Chairman, MIOT International., Dr. Andrea Schlegel, Consultant Surgeon – Liver Unit, Queen Elizabeth Hospital, UK., Mr. Karsten Benten, Senior Manager, Global Service, BTLL., Mr. Richard Birch, Director – BTLL, Owner of VitaSmart (HOPE Machine).
The Need for Hypothermic Oxygenated Perfusion (HOPE)
Since there is a shortage of donor organs globally, marginal or high-risk donor organs are accepted in order to save lives. Marginal organs are from elderly donors, either with fatty liver or some form of damage during brain death. These organs have a higher risk of failure in the immediate post-transplant period. But with cutting-edge technology like Hypothermic Oxygenated Perfusion (HOPE), these organs can be revived, allowing more patients to benefit from organ transplantation. Reviving marginal organs with HOPE reduces the risk of immediate failure of the liver graft and improves outcomes in liver transplant.
HOPE – A Revolution in Liver and Kidney Transplantation
Donor organs are normally preserved outside the body in special preservative solutions. A liver can be stored outside the body in such solutions for up to 8 hours without any damage.
But storing for longer than the prescribed period damages the organ, increasing the chances of organ failure. Hypothermic oxygenated perfusion or HOPE pumps preservative fluid into the organ at a temperature of 4 – 10 degrees, and oxygen is added to the fluid. This reloads the cells with Adenosine triphosphate or ATP (energy currency of the cell) and reduces the amount of damaging molecules released from the liver during transplantation. HOPE has  been shown to improve outcomes in fatty livers, elderly donor livers and in livers with a longer cold storage time. Such livers show improved function after transplantation leading to better patient outcomes.
Though pulsatile machine perfusion in kidney transplantation is well-established, the use of hypothermic oxygenated perfusion for marginal-quality kidneys is being intensively studied at present in multiple centres. The flow and resistance in the procured kidneys can guide the clinician to utilise appropriate kidneys and reject the kidneys that do not match goal criteria and enable utilisation of marginal kidneys based on the flow parameters.
Research on HOPE
Research on machine perfusion has been going on in the last decade in Switzerland, Birmingham and The United States, and small clinical trials have been published. Dr. Andrea Schlegel has been at the forefront of this development since its inception and has been involved in the development of this technology. As of today, specialists are able to test the suitability and capacity of the liver outside the human body.
Dr. Andrea Schlegel, Consultant Surgeon, Liver Unit, Queen Elizabeth Hospital, Birmingham, UK and a featured speaker at international conferences shared her invaluable knowledge on this cutting-edge technology.
Dr. Schlegel addressed the issue of viability assessment in livers and kidneys treated by HOPE at the interactive session with liver and kidney transplant surgeons at MIOT International. This transfer of ideas is to enable surgeons in Chennai to adapt the new technology and improve utilization of marginal organs and improve the outcomes of liver transplantation in the community.
Benefits of Hypothermic Oxygenated Perfusion:

Chances of using damaged organs are vastly reduced
Treats marginal organs, thereby increasing the availability of organs
Reduces waiting period for organ transplant patients