Nursing Courses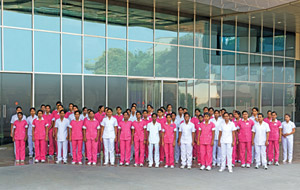 At MIOT, we pay keen attention to nursing education. Our students benefit from both theoretical as well as clinical coaching. The hands-on experience that they receive at MIOT International is an added advantage that stands them in good stead.
Our objectives
The MIOT College of Nursing has been established by the MIOT Medical and Educational Trust with the following objectives:
To make available standard, modern healthcare education to any eligible and deserving individual.
To provide facilities for advanced postgraduate healthcare education in medical and surgical nursing specialities with the intention that quality nursing care will be rendered with a human touch.
To train and equip our nurses to independently handle any emergency situations in our multi speciality and super speciality Hospital.
Courses offered
Our students graduate with excellent ranks and we are able to maintain the consistently high standards every year. At present, we offer diploma, BSc, MSc and PhD nursing programmes. In the pipeline is a Post-Basic BSc(N) course for nurses who have earned a diploma in nursing.
Currently, we offer the following courses:
Diploma in General Nursing and Midwifery – 3 years, 6 months.
B.Sc. (N) – 4 years
M.Sc. (N) – 2 years
Ph.D. Nursing – Part time: 4 years; Full time: 3 years